New Treasures: Beasts Made of Night by Tochi Onyebuchi
New Treasures: Beasts Made of Night by Tochi Onyebuchi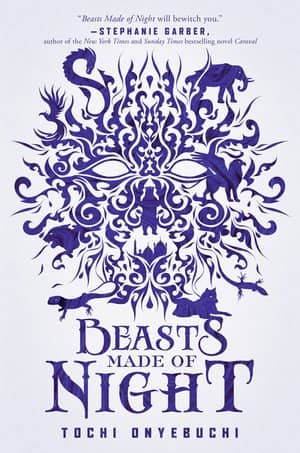 Tochi Onyebuchi lives in Connecticut. His first short story was published in 2011; since then he's appeared in Asimov's SF, Ideomancer, and a number of small press anthologies.
Beasts Made of Night is his debut novel, and I've heard a lot about it over the last few months. VOYA called it "Unforgettable," and Caitlyn Paxson at NPR says it's "The beginning of a great saga… Tochi Onyebuchi conjures up a busy market city inspired by his Nigerian heritage and populates it with a group of outcast kids who shoulder the sins of the rich and powerful." And Buzzfeed called it a "compelling Nigerian-influenced fantasy has a wonderfully unique premise and lush, brilliant worldbuilding." Here's the description.
Black Panther meets Nnedi Okorafor's Akata Witch in Beasts Made of Night, the first book in an epic fantasy duology.

In the walled city of Kos, corrupt mages can magically call forth sin from a sinner in the form of sin-beasts — lethal creatures spawned from feelings of guilt. Taj is the most talented of the aki, young sin-eaters indentured by the mages to slay the sin-beasts. But Taj's livelihood comes at a terrible cost. When he kills a sin-beast, a tattoo of the beast appears on his skin while the guilt of committing the sin appears on his mind. Most aki are driven mad by the process, but Taj is cocky and desperate to provide for his family.

When Taj is called to eat a sin of a member of the royal family, he's suddenly thrust into the center of a dark conspiracy to destroy Kos. Now Taj must fight to save the princess that he loves — and his own life.

Debut author Tochi Onyebuchi delivers an unforgettable series opener that powerfully explores the true meaning of justice and guilt. Packed with dark magic and thrilling action, Beasts Made of Night is a gritty Nigerian-influenced fantasy perfect for fans of Paolo Bacigalupi and Nnedi Okorafor.
Beasts Made of Night was published by Razorbill on October 31, 2017. It is 304 pages, priced at $17.99 in trade paperback and $10.99 for the digital edition. Read a lengthy excerpt at NPR.