Fantastical Crime Noir for the New Year: Crazy Town edited by Jason M. Waltz
Fantastical Crime Noir for the New Year: Crazy Town edited by Jason M. Waltz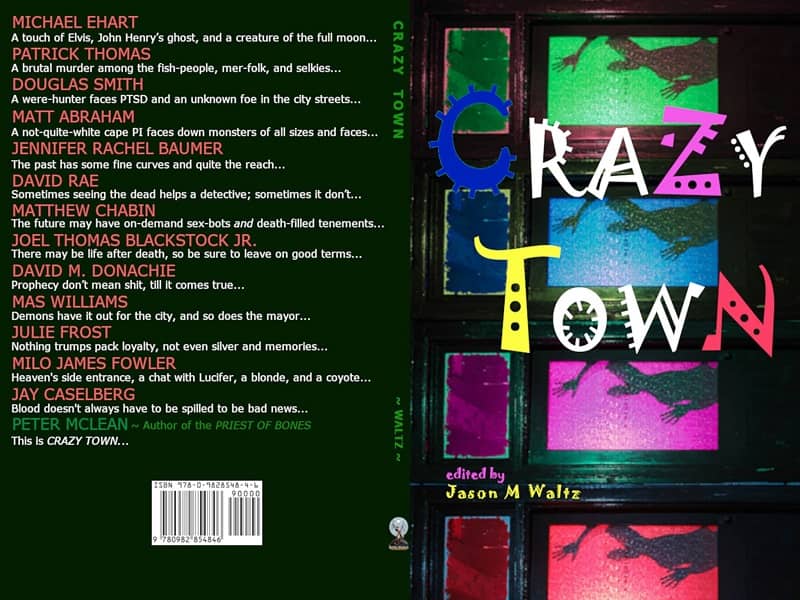 Jason M. Waltz may be our favorite independent publisher. His publishing house Rogue Blades Entertainment, newly relocated to Texas, is celebrating its first 2018 release: Crazy Town: A Dark Anthology of Fantastical Crime Noir, and it looks very good indeed.
Jason earned his rep with top-notch titles such as Return of the Sword (2008), Rage of the Behemoth (2009), Demons (2010), and Writing Fantasy Heroes (2013), with original contributions from Brandon Sanderson, Howard Andrew Jones, James Enge, E.E. Knight, Glen Cook, Orson Scott Card, Steven Erikson, Bill Ward, Mary Rosenblum, C.L. Werner, Brian Ruckley, Andrew Offutt, Richard K. Lyon, Cat Rambo, Janet and Chris Morris, and many others.
His latest book is a dark anthology of fantastical crime noir, with a forward by Peter McLean (Drake, Priest of Bones) and new and reprint tales from Jay Caselberg, Michael Ehart, Milo James Fowler, Julie Frost, Matthew Chabin, and many others. Jason has scoured far and wide for the best tales of dark urban adventure, and Crazy Town includes stories from Bards & Sages Quarterly, Dark Wisdom, Damnation and Dames, Liquid Imagination, David M. Donachie's collection The Night Alphabet, and other fine publications, plus half a dozen pieces original to this book.
Here's the back cover text and full TOC.
There are no limits inside CRAZY TOWN. You can bet or buy the farm in the same breath here. Ain't nobody believin' anyone's playing with a full deck. Every one's stacked, and in this town, some got less and some got more. If you stop in for a visit, you'll find 13 daring folks who step into the dark, then poke the dirtiest corner of it; 13 inquisitive minds who dig into the slime, then stir up whatever twitches; 13 cynical souls who may not be able to save themselves but just might redeem something outta their miserable lives. Ya gotta be crazy to hang 'round these parts. This town? Coming here might not be just what the doc ordered. 13 authors deliver explosive, haunted action high on adrenaline and low on morals. Sin, sex, shots, secrets: it's all here in spades. Think Mike Hammer meets Roger Rabbit in Karl Edward Wagner's story "Into Whose Hands." Then take it a notch closer to crazy. These are definitely not Mayberry's streets.
Here's the Table of Contents.
Foreword by Peter McLean
"All Monsters: A Gold Coast City Brief" by Matt Abraham (from the author's personal online newsletter, April 2017)
"Early's Engine Repair & Auto Body: We'll Fix It" by Jennifer Rachel Baumer (Liquid Imagination, January 2012, Issue 12)
"The Lake" by Joel Thomas Blackstock Jr
"Blind Pig" by Jay Caselberg (Damnation and Dames, 2012)
"Mary in Gadara" by Matthew Chabin
"The Fortune Teller" by David M. Donachie (The Night Alphabet, 2018)
"Lon Chaney Playing Poker, on Velvet" by Michael Ehart
"Back for Blood" by Milo James Fowler (Bards & Sages Quarterly, July 2016)
"All Our Yesterdays" by Julie Frost
"Seeing Things" by David Rae
"Out of the Light" by Douglas Smith (Dark Wisdom, Issue 11, 2007)
"Hook, Line, and Sinker" by Patrick Thomas (Mermaids 13, 2012)
"Forty Winks" by Mas Williams
Our previous coverage of Rogue Blades Entertainment includes:
Rogue Blades Entertainment releases Rage of the Behemoth
Rogue Blades Entertainment conjures Demons
Rogue Blades Entertainment Announces Winners of Challenge! Discovery 2010 Contest
Teaching and Fantasy Literature: Writing Fantasy Heroes by Sarah Avery
Teaching and Fantasy Literature: More on Writing Fantasy Heroes by Sarah Avery
Lee Kemp Reviews Writing Fantasy Heroes: Powerful Advice from the Pros by Lee Kemp
James McGlothlin Reviews Writing Fantasy Heroes: Powerful Advice From the Pros by James McGlothlin
Can't Keep a Great Buncha Folks Down by Jason M 'RBE' Waltz
RBE returns with a WWE-style SmackDown: Challenge! Discovery by Jason M 'RBE' Waltz
Sharpen Those Writing Pens: Rogue Blades Entertainment Open to Submissions for Three New Anthologies
3 New Titles at Once: Rogue Blades Entertainment's Ambitious New Agenda by Jason M. Waltz
RBE is working on several new projects for publication in 2019. Read the complete Submission Guidelines for each here:
Crossbones & Crosses
Somebody Kill the Prince!
General Guidelines
Crazy Town is Book Six of Rogue Blades Presents, and was published by Rogue Blades Entertainment on November 4, 2018. It is 158 pages, priced at $12 in trade paperback and $4 for the digital edition. The cover was designed by Jason M. Waltz, with photography by Peter Gnas.
Get all the latest RBE news at their Facebook Page.