New Treasures: Priest of Bones by Peter McLean
New Treasures: Priest of Bones by Peter McLean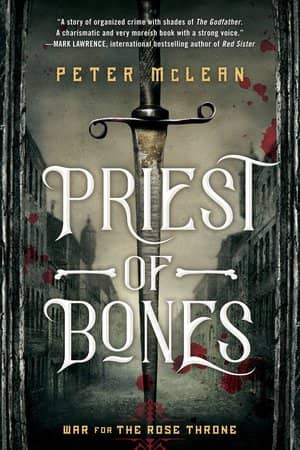 Black Gate readers took Peter McLean's debut fantasy trilogy The Burned Man to heart — and we even did an exclusive Cover Reveal for the final volume in 2016. But the public acclaim for his gritty new fantasy novel Priest of Bones is on a whole new level.
Booknest calls it "Absolutely sensational… Low Fantasy at its finest, and I wouldn't hesitate to call it the Fantasy Debut of the Year." Publishers Weekly labels it "A delightful combination of medieval fantasy and crime drama," and Fantasy Book Review says, "I can safely say that this will be the book dark fantasy and grimdark fans will be raving about at the end of this year." Even Booklist raved, proclaiming it "A pitch-perfect blend of fantasy and organized-crime sagas like Puzo's The Godfather… Expect word of mouth support from fantasy fans to turn this one into a genre hit."
Priest of Bones is the opening novel of War for the Rose Throne. The second volume, Priest of Lies, is scheduled to release in July 2019. Here's the description for Priest of Bones.
The war is over, and army priest Tomas Piety heads home with Sergeant Bloody Anne at his side. But things have changed while he was away: his crime empire has been stolen and the people of Ellinburg — his people — have run out of food and hope and places to hide. Tomas sets out to reclaim what was his with help from Anne, his brother, Jochan, and his new gang: the Pious Men. But when he finds himself dragged into a web of political intrigue once again, everything gets more complicated.

As the Pious Men fight shadowy foreign infiltrators in the back-street taverns, brothels, and gambling dens of Tomas's old life, it becomes clear:

The war is only just beginning.
Priest of Bones was published by Ace Books on October 2, 2018. It is 352 pages, priced at $16 in trade paperback and $11.99 for the digital editions. The cover was designed by Katie Anderson. Get more details at Peter's website Talonwraith, and see all our recent New Treasures here.