Birthday Reviews: Spider Robinson's "The Centipede's Dilemma"
Birthday Reviews: Spider Robinson's "The Centipede's Dilemma"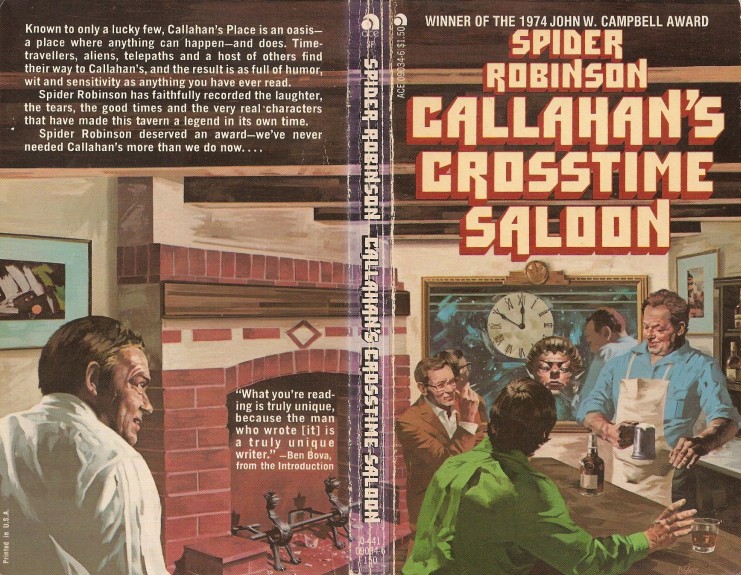 Cover by Vincent di Fate
Spider Robinson was born on November 24, 1948.
In 1974, Robinson won the John W. Campbell Award for Best New Writer. Robinson has won the Hugo Award three times. He won for Best Novella in 1977 for "By Any Other Name" and in 1983 for the Short Story "Melancholy Elephants." In 1978 his novella "Stardance," co-written with his wife Jeanne, won both the Hugo and the Nebula Awards. He received the Skylark Award from NESFA in 1978, the Robert A. Heinlein Award in 2008, and in 2015, LASFS presented him with the Forry Award. He was the guest of Honor at Worldcon 76 in San Jose in 2018. Robinson has also used the pseudonym B.D. Wyatt. He has collaborated with his wife, Jeanne Robinson (d.2010), and co-edited an anthology with James Alan Gardner. Robinson also finished Robert A. Heinlein's novel Variable Star and published a revised version of Philip Francis Nowlan's Armageddon 2419 A.D.
"The Centipede's Dilemma" was one of three original short stories Spider Robinson wrote for his collection Callahan's Crosstime Saloon. It subsequently appeared in the George H. Scithers and Darrell Schweitzer's anthology Tales from the Spaceport Bar. The story was translated into French as part of Robinson's collection and was later translated into Croatian for inclusion in the magazine Sirius #145 and into Italian for an issue of Urania which reprinted all of Callahan's Crosstime Saloon. It was also included in various omnibus reprints of the original collection.
There's a long history in science fiction and fantasy of setting tall tales in bars, from the Tales from Gavagan's Bar written by L. Sprague de Camp and Fletcher Pratt to the Tales from White Hart by Arthur C. Clarke. Scithers and Schweitzer collected several in their anthology Tales from the Spaceport Bar and its sequel, and Joshua Palmatier has done the same with After Hours: Tales from the Ur-Bar and sequel. Spider Robinson has built a successful career in part on his stories set at Callahan's Crosstime Saloon, of which "The Centipede's Dilemma" is one.
Robinson describes a dart contest that, right off the bat takes on mythic proportions when he explains that the throwing line is 30 feet from the massive board rather than the more traditional 7 feet 9¼ inches. Doc Webster is the reigning champion and shows no signs of relinquishing his title or the cases of Scotch that the winner gets to take home. When a stranger, Dink Fogerty, enters the match and proceeds to win handily while Doc suddenly can't hit the broad side of a barn, the regulars realize something is up.
Callahan figures out what the Fogerty's secret is and calls him on it. The regulars are more than willing to admit when they get snookered and are happy to accept the otherworldly explanation for his skill with darts, although Doc Webster gets an evil sort of revenge by asking Fogerty to explain how he manages to do what he does. The result is the title of the story.
Reviewed in its original appearance in the collection Callahan's Crosstime Saloon, by Spider Robinson, Ace Books, 1977.
---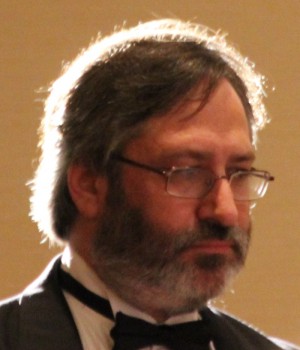 Steven H Silver is a sixteen-time Hugo Award nominee and was the publisher of the Hugo-nominated fanzine Argentus as well as the editor and publisher of ISFiC Press for 8 years. He has also edited books for DAW and NESFA Press. He began publishing short fiction in 2008 and his most recently published story is "Webinar: Web Sites" in The Tangled Web. Steven has chaired the first Midwest Construction, Windycon three times, and the SFWA Nebula Conference 6 times, as well as serving as the Event Coordinator for SFWA. He was programming chair for Chicon 2000 and Vice Chair of Chicon 7.