A Treasure Trove of Classic British Horror: Darkness Mist & Shadow: The Collected Macabre Tales of Basil Copper
A Treasure Trove of Classic British Horror: Darkness Mist & Shadow: The Collected Macabre Tales of Basil Copper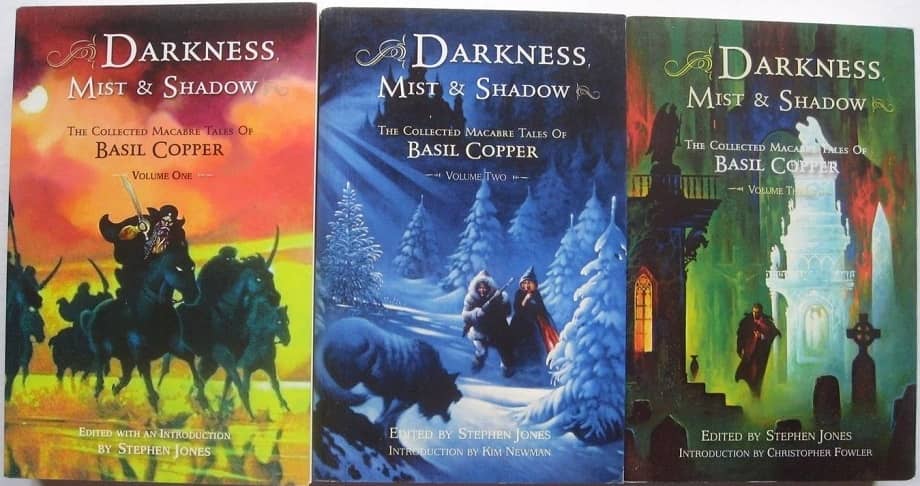 I first saw the three volumes of Darkness Mist & Shadow: The Collected Macabre Tales of Basic Copper at Greg Ketter's booth at Windy City seven years ago. It was a gorgeous set of hardcovers, with magnificent wraparound Stephen Fabian artwork, and it drew my eye immediately.
It was prohibitively expensive, however — nearly $200 for the set, if I remember correctly. Two hundred bucks buys a lot of vintage paperbacks. I put them back on the shelf with a sigh, and headed for the back of the room, where the cheap paperbacks were piled high on countless tables.
Darkness Mist & Shadow was published by Drugstore Indian Press, a division of PS Publishing in the UK, which means it wasn't widely distributed here in the US. I've always been curious about Basil Copper's fiction… not curious enough to part with $200 on an impulse purchase, but still. Bob Byrne is a fan of his Solar Pons tales (also available from PS Publishing), and Bob has good taste, so that heightened my curiosity.
I'm not always in the mood for classic British horror, but when October rolls around, with its long evenings, hot chocolate, and a cat that insists on climbing into my lap at seven o'clock and staying there, immobile, until midnight, I'm much more receptive. The promise of a virtual library of short stories and novellas — painstakingly gathered from such hard-to-find sources as the Dark Terrors anthology series, the Pan Book of Horror Stories, New Tales of the Cthulhu Mythos, and long out-of-print Arkham House volumes — gets a lot more appealing. So when PS reissued the books in beautiful trade paperback editions, priced at just £9.99 each ($17 from most US sellers), it was simply too hard to resist. I paid $45 for the complete set, and I'm very happy I did.
[Click the images for bigger versions.]
One of the draws for me, of course, was the Stephen Fabian artwork. Here's a better look at all three covers.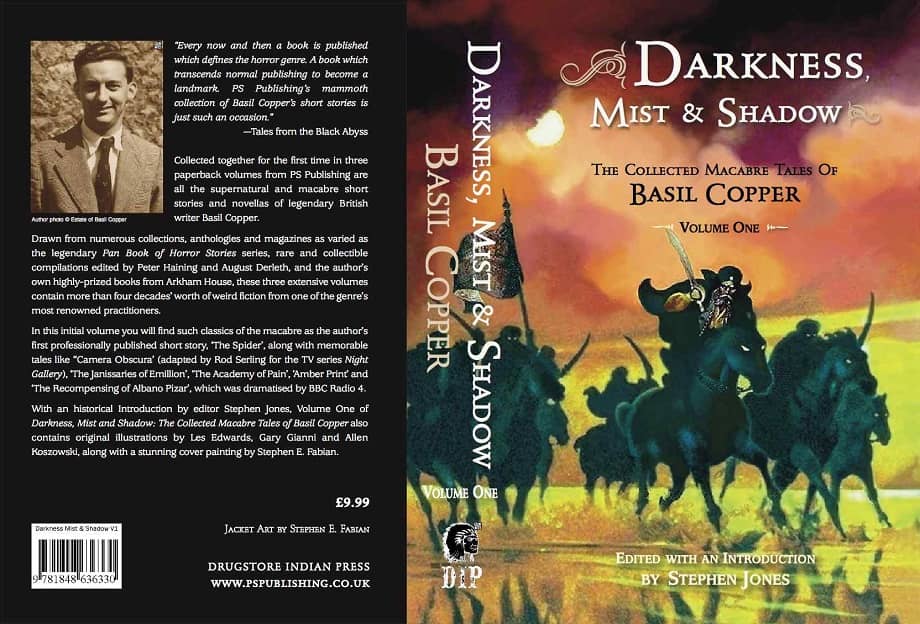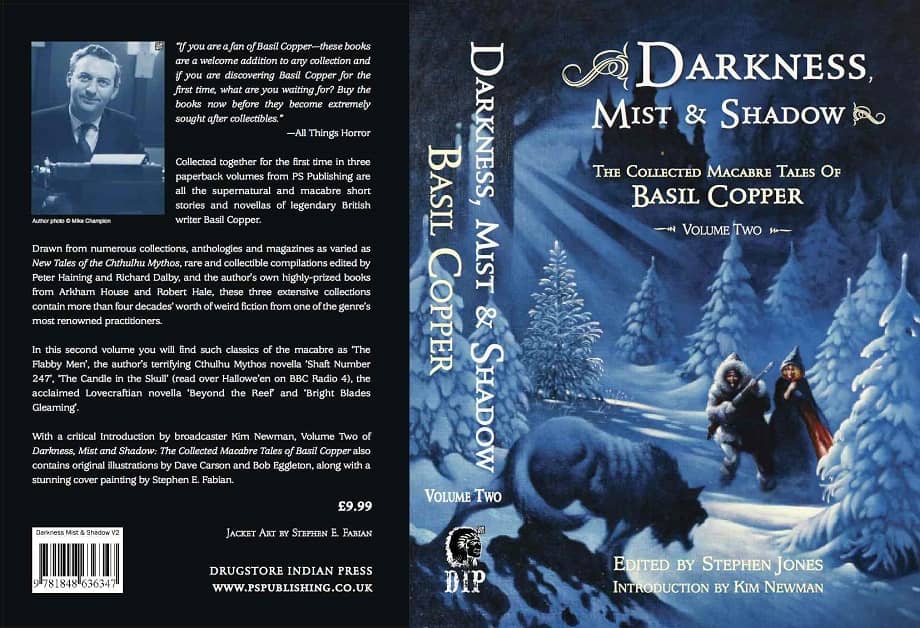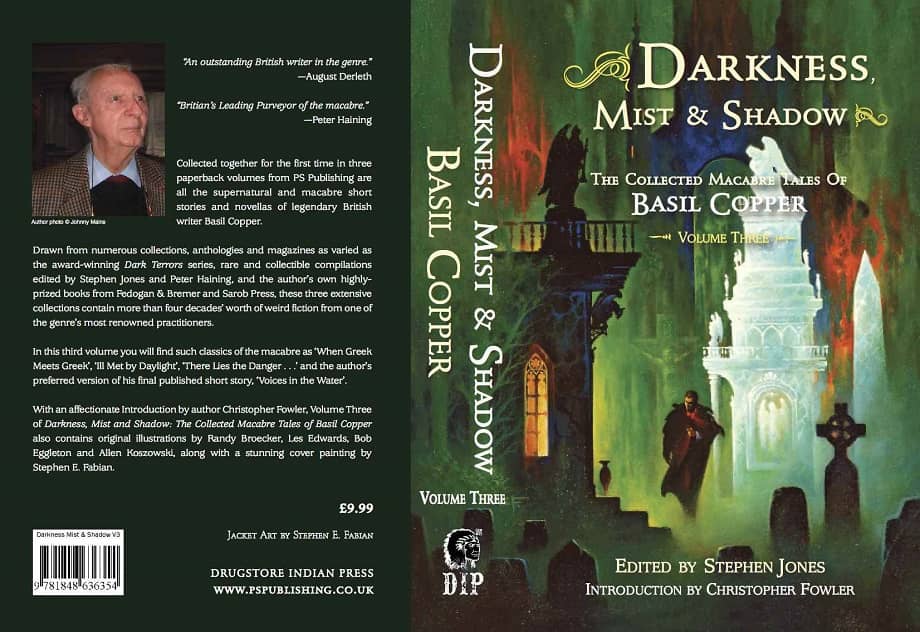 The interior artwork, by Bob Eggleton, Les Edwards, Allen Koszowski, Gary Gianni, Dave Carson, and Randy Broecker, is nearly as impressive. There isn't a lot of it (2-4 b&w pieces per volume) but what there is is magnificent. Here's an example from Volume One.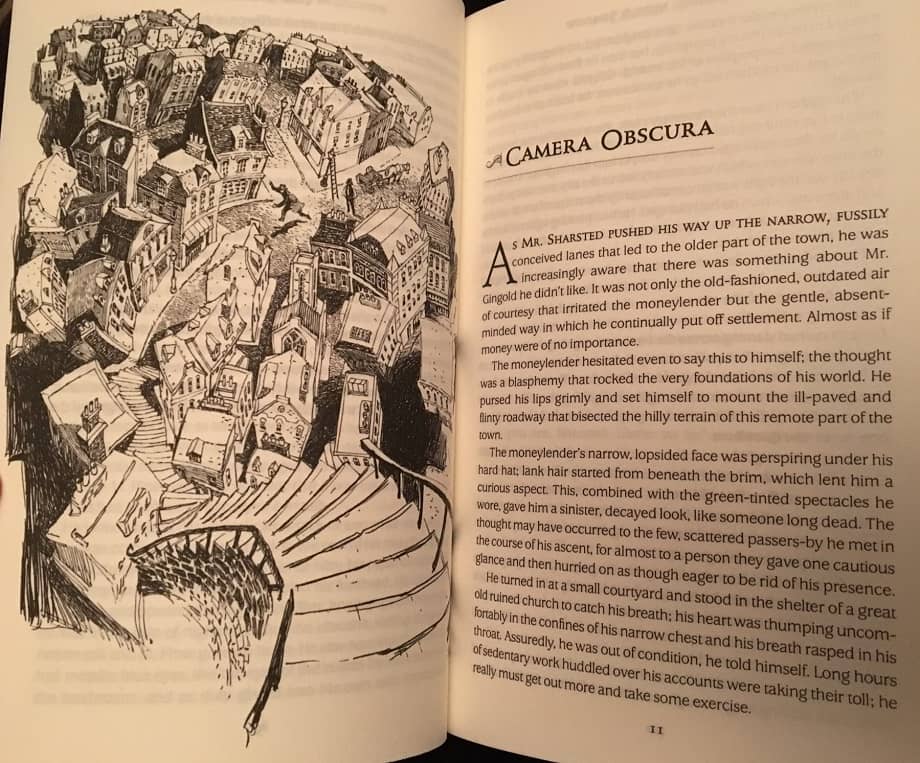 These aren't the kind of books I expect to read in one sitting. They're more volumes you dip into and savor a few times a year.
All three volumes are edited by Stephen Jones; each has an intro by a different luminary. The hardcovers were published in 2010, and the reprint editions in 2013. The covers are by Stephen Fabian. Here's the publishing details.
Volume One: 466 pages, £9.99, £5.99 digital, introduction by Stephen Jones
Volume Two: 453 pages, £9.99, £5.99 digital, introduction by Kim Newman
Volume Three: 440 pages, £9.99, £5.99 digital, introduction by Christopher Fowler
All three books were published by Drugstore Indian Press, an imprint of PS Publishing. Order from their website here.
See all our recent coverage of Fantasy Series here.