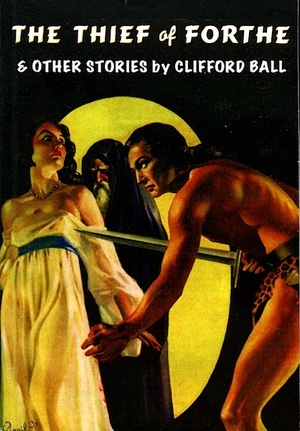 It's been a bit of a shock, even if a somewhat welcome one, to be done with Glen Cook after so many weeks. I've been so immersed in the world of the Black Company that it feels a little weird to be moving on. Fortunately, I was able to turn around and pick up the brand new collection containing all of Clifford Ball's short stories. Who's Clifford Ball, you ask? Well, let me tell you. Actually, let Dave Ritzlin tell you:
Little is known about Clifford Ball. His brief career as a writer began in 1937. Ball, a devoted reader of Weird Tales since 1925, was deeply upset by the suicide of Robert E. Howard the previous year. Presumably Howard's death motivated him to pen sword-and-sorcery stories of his own in an attempt to fill the void left by the departed master. "Duar the Accursed" appeared in the May of 1937 issue of Weird Tales, and the influence of Howard was readily apparent.
Ball wrote two more S&S tales, followed by three non-S&S fantasies, and then vanished back into the audience from which he'd arisen. A short bio from Weird Tales stated he worked all sorts of jobs, including ditch digger, factory worker, and barkeep. According to Wikipedia, he might have been born in 1896 and probably died in 1947. And that's it. That's all that seems to be known about one of the earliest S&S writers.
All Ball's S&S tales take place in the same land of ancient kingdoms, beautiful queens, conniving wizards, and demonic powers. The use of the same place names and gods in all three make it seem as if he was beginning to develop a coherent setting, but with so few stories the world doesn't get the chance to come fully to life. As with Henry Kuttner's Atlantis setting, Ball's was headed in the right direction but he didn't get the chance to achieve it, and it's a shame. There's a creative exuberance to these stories that make me wish Ball had carried on.
"Duar the Accursed" features its titular protagonist, and on the surface he's an easily recognizable Conan clone. What makes him different is his mysterious past — he has no memory before awaking on a battlefield some years ago. Since then he's taken to a roving life, but one shadowed by dark omens, including a raven that dogged his pirate galley and earthquakes that leveled a kingdom he ruled.
As the story begins he's been captured by Queen Nione of Ygoth. He has come to her land to steal the fabled Rose of Gaon — "a jewel magnificent in size and beauty" — from the Black Tower. The tower, while housing the gem, also serves as the place of punishment for citizens guilty of crimes too horrendous to allow for a clean death. They are marched in and left to powers unknown for the execution of their sentences. Needless to say, though by unexpected means, Duar manages to escape his imprisonment and makes for the Rose of Gaon, by way of the Queen's bedchamber.
---