Vintage Treasures: 5 Galaxy Short Novels, edited by H.L. Gold
Vintage Treasures: 5 Galaxy Short Novels, edited by H.L. Gold
Cover by Edward Valigursky
I love novellas. They're the perfect length for idling away those long fall evenings. I miss them in the online magazines I read today, virtually all of which have a submission cap somewhere around 10,000 words (the exception is Neil Clarke's Clarkesworld, which recently began accepting stories up to 16,000 words. Way to go, Neil!)
It was Matthew Wuertz's Saturday review of the April 1954 issue of Galaxy Science Fiction, including Fred Pohl's classic "The Midas Plague," that reminded me just how many great novellas appeared in those old print magazines. Matt's piece made me want to read the story all over again. In fact, it made me wish there was an easy way to sample Galaxy's  novellas. Galaxy editor H.L. Gold had an appetite for meaty SF epics, and his authors took ready advantage of that market. Gold showcased dozens of top-notch writers at novella length in the early days of the magazine, and it would be great to have easy access to those hard-to-find tales.
Yeah, that was dumb. As I was sorting paperbacks this morning it finally occurred to me that what I was wishing for already existed. Gold produced nearly a dozen mass market anthologies during his eleven years as Galaxy's editor, including six volumes of the Galaxy Reader of Science Fiction. He knew what his readers wanted, and he paid special attention to longer fiction, with Galaxy Science Fiction Omnibus (1955), The World That Couldn't Be and 8 Other Novelets From Galaxy (1959), Bodyguard and Four Other Short Novels from Galaxy (1960), Mind Partner and 8 Other Novelets from Galaxy (1961), and especially 5 Galaxy Short Novels, which appeared in 1958.
5 Galaxy Short Novels reprints stories by Theodore Sturgeon, Damon Knight, James E. Gunn, J. T. McIntosh, and F. L. Wallace. Even today, it makes a great introduction to the magazine.
[Click the images for bigger versions.]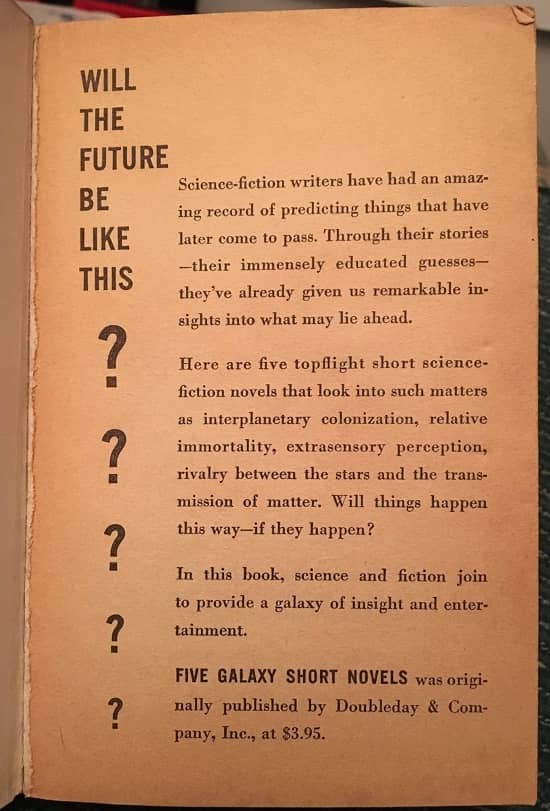 It didn't take long to track down a copy. The first surprise was that I'd read none of the stories within. Here's the table of contents.
Today's Tomorrows, by H. L. Gold
"Tangle Hold" by F. L. Wallace (June 1953)
"World Without Children" by Damon Knight (December 1951)
"Wherever You May Be" by James E. Gunn (May 1953)
"Mind Alone" by J. T. McIntosh (August 1953)
"Granny Won't Knit" by Theodore Sturgeon (May 1954)
Wallace's "Tangle Hold," the cover story to the June 1953 issue, is the one teased in the back cover copy. Here's Matt's review.
"Tangle Hold" by F. L. Wallace — Jadiver's autobath malfunctions, burning him with steam to the point that he nearly dies. A doctor replaces his skin with a synthetic version, and he's eventually released from care to continue with his life.

Jadiver used to be a robot designer on Earth, but Earth was too crowded. He moved to Venus two years ago, but his skills aren't as useful to society — except criminal society. He can design body costumes to change people's appearances to help them go wherever they want without restriction.

When Jadiver becomes aware that his entire body has been redesigned as a type of surveillance unit for the police, he tries to understand its limitations and how he might be able to escape from the planet.

Wallace's story has great pacing. There are enough questions to keep readers interested and engaged, and the answers come at the right moments, without being obvious.
Read Matt's full review of the issue here.
The book contains three cover stories, including J. T. McIntosh's "Mind Alone" by (August 1953), and Theodore Sturgeon's "Granny Won't Knit," which inspired one of Emsh's greatest pieces of cover art, for the May 1954 issue.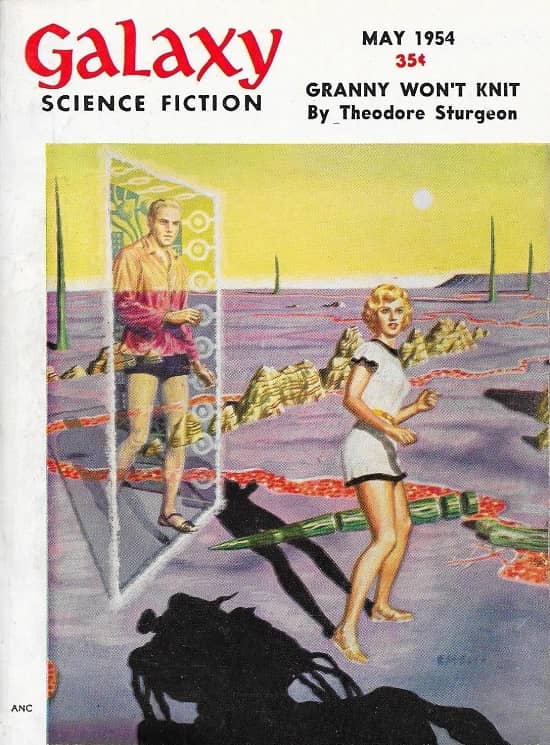 Cover by Emsh
Here's the covers for the other four stories.
Matthew Wuertz has been reviewing every issue of Galaxy since the very first one here at Black Gate; he's currently up to the April 1954 issue. Here's his thoughts on the stories within.
"World Without Children" by Damon Knight.
George is the last recorded birth for humanity, and even though that was 200 years ago, people still refer to him as The Child. The birth prohibition is firmly in place to prevent overpopulation — a reasonable precaution since scientists have figured out a way to extend a human lifespan by fifty times.

But even if it were repealed, very few of the populace would have the ability to procreate. George is part of a small group of individuals who realize that the trade-off for longevity was sterility, and since they cannot convince the government to take action, they plan to start an underground birthing organization. The story seemed to start out a bit slow, but it soon moved into a cloak-and-dagger, resist-the-all-powerful-government thriller….
"Wherever You May Be" by James A. Gunn
Matt Wright is heading to a hunting cabin in the Ozarks to write his thesis but has car problems. While he's trying to get it running again, he finds a young woman named Abbie laughing at him. She ran away from home and hopes to go with Matt, but he's not about to take in someone claiming to be 16 (she's actually 18), so he takes her home to her father. Matt expects to find signs of abuse but finds the older man wants to be rid of his daughter — as though he's afraid of her.

When Matt finally reaches the cabin (after getting lost a few times), he finds Abbie waiting for him. Given the late hour, he decides to let her stay. She tells him that sometimes things happen around her — objects moving as she thinks about them. Yet as he tests her abilities, she seems unable to do anything, unless she becomes upset…

Abbie's character anchors the entire story. But I just can't stand Matt. And I don't like the ending because I feel it cheapens Abbie's character and pardons Matt. I think there are other ways that could have led to a similar conclusion without leaving me a bit jaded. Regardless, as I said, the story stuck with me, even with the ending (or maybe because of the ending).
"Mind Alone" by J. T. M'Intosh
Muriel Martin doesn't know who she really is or that she came from the planet Murrane. She'd found out too much about the purpose of the war between Earth and Murrane, but instead of killing her, they wiped her memories and dropped her on Venus.

Though her past is erased, Muriel's intelligence and curiosity remain. And given enough time, she's formidable enough to discover those secrets again.
See all of Matt's Galaxy reviews here.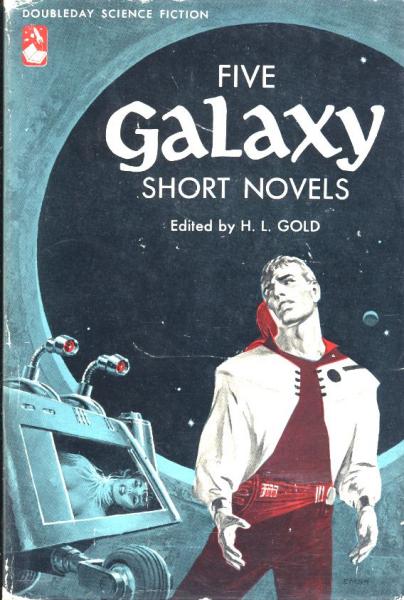 5 Galaxy Short Novels; hardcover edition (1958).
Cover by Ed Emshwiller
5 Galaxy Short Novels was published in hardcover by Doubleday in October 1958 with a cover by Ed Emshwiller, and reprinted in paperback by Permabooks in January 1960, with a cover by Edward Valigursky. The paperback is 292 pages, priced at 35 cents.
See all of our recent Vintage Treasures here.