Galaxy Science Fiction, June 1953: A Retro-Review
Galaxy Science Fiction, June 1953: A Retro-Review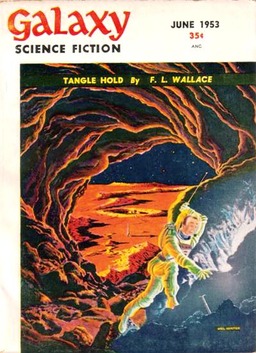 The June, 1953 issue of Galaxy didn't include any serial fiction. If you're looking for a good issue to read just to get a flavor of Galaxy without any commitment, I'd suggest this one.
"Tangle Hold" by F. L. Wallace — Jadiver's autobath malfunctions, burning him with steam to the point that he nearly dies. A doctor replaces his skin with a synthetic version, and he's eventually released from care to continue with his life.
Jadiver used to be a robot designer on Earth, but Earth was too crowded. He moved to Venus two years ago, but his skills aren't as useful to society — except criminal society. He can design body costumes to change people's appearances to help them go wherever they want without restriction.
When Jadiver becomes aware that his entire body has been redesigned as a type of surveillance unit for the police, he tries to understand its limitations and how he might be able to escape from the planet.
Wallace's story has great pacing. There are enough questions to keep readers interested and engaged, and the answers come at the right moments, without being obvious.
"The Water Eater" by Win Marks — The narrator fixes his oil stove and dumps the excess oil into a roaster. To clean the roaster, he combines multiple cleaners together with hot water.
After dinner, he finds that the combination of oil and cleaners has become gelatinous. And it expands when water is added. Not only does it expand, but it tries to reach out toward the source of water to consume more.
The narration of the story works really well. He had a strong voice.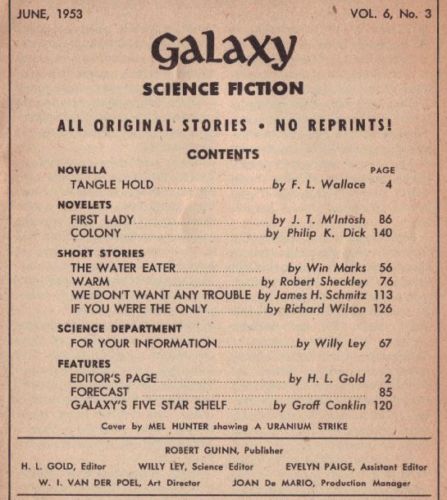 "Warm" by Robert Sheckley — While Anders gets ready for his date with Judy, he hears a voice pleading for help. The speaker doesn't know where he is but wants help in getting out. Anders isn't certain how to find a disembodied person, but the voice guides him in seeing the world differently, noting that Anders is getting warm with each discovery.
I didn't feel attached to the main character of the story. And I couldn't quite understand the conclusion. Was Sheckley trying to say something about reality or just telling a tale?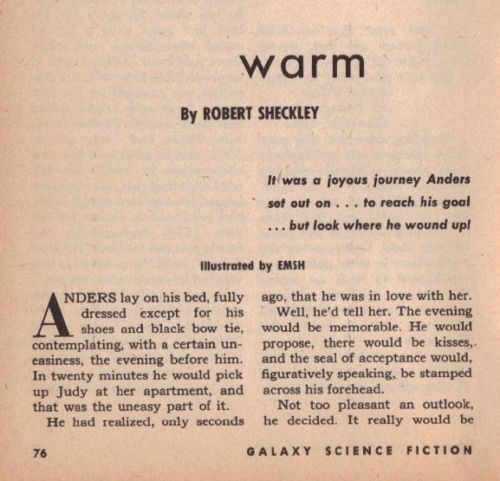 "First Lady" by J. T. M'Intosh — Joe and Ellen escort a young woman named Shirley to the planet Lotrin. Shirley will be the planet's First Lady – a symbol that the planet's society has transitioned from early explorers to a true settlement. When the First Lady and her appointed husband have their first child, scientists and doctors examine the infant and decide if the world should be settled or not. If not, then no other women are sent to the planet, and the people will live out the remainder of their days in isolation, their planet marked as a plague spot.
Ellen's character stands out far above the other two, which makes the story a bit disappointing since M'Intosh brings a strong characterization to only one of the main characters. The plot itself is less interesting than seeing the characters interact during the journey, but I was fine with that since I would gladly trade plot for characters. (By that, I mean if I was given the choice between a detailed plot or detailed characters, I'd choose the characters.)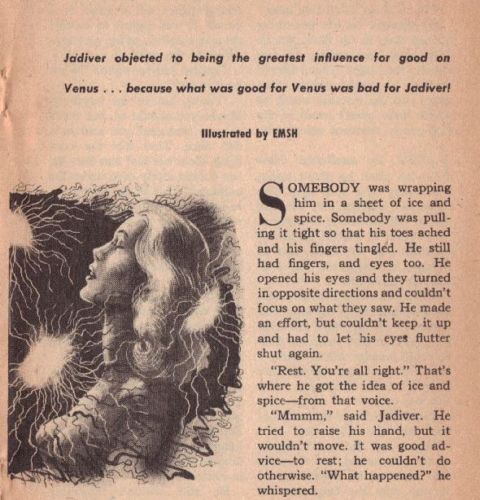 "We Don't Want Any Trouble" by James H. Schmitz — A disparate group of scientists and military personnel interrogate a captured alien. Despite various threats, the alien refuses to divulge its purposes. The group soon learns that any threats they conceive are impossible to implement, including death.
The descriptions around the alien from the main character's perspective are interesting in that they're based on fear. This adds a nice contrast from those who want to intimidate the alien. But the story itself isn't that impressive.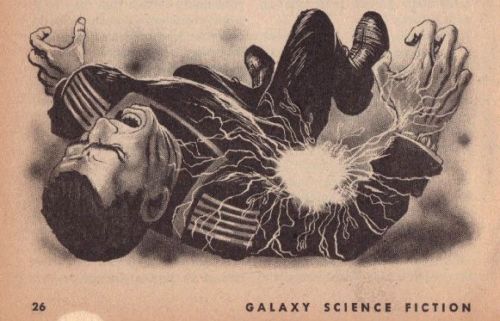 "if you were the only-" by Richard Wilson — A company builds two robots who appear to be human. When a war escalates, the project loses importance, and the robots are deactivated and placed in the locked storage area of the basement. One of the technicians is attracted to the robot that appears to be a woman, so he activates it. But the robot feels threatened and revives the other robot, which kills the man. Alone and locked in the storage area, the robots try to adjust to their new lives, learning about themselves through interactions with each other.
Wilson achieves a bit of sentimentality while maintaining the fact that this isn't a human couple — that they are robots who are always fully aware they're robots.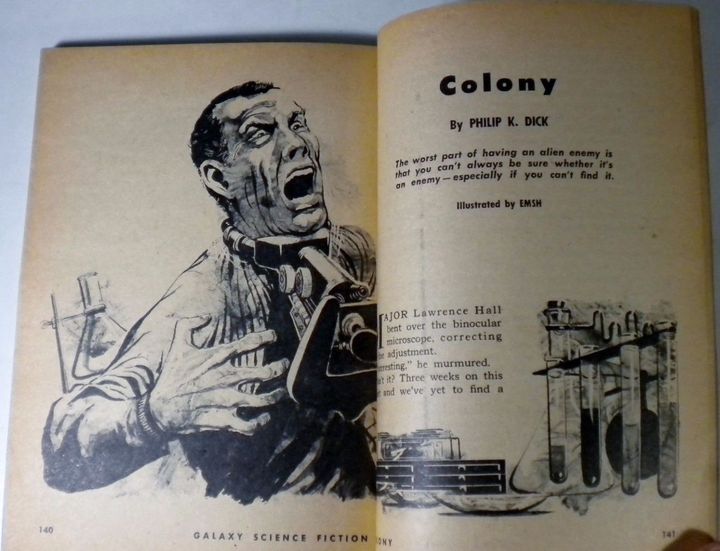 "Colony" by Philip K. Dick — A team studies a new planet, trying to find any life-forms harmful to mankind. When they seem to have completed their research, the assault begins. One man is attacked by a microscope and then a towel. Except they aren't the original microscope or towel; organisms mimic the inanimate objects. There is no way to tell the mimicry apart from the authentic until it's too late, so the only course is to abandon the planet, provided they can do so without any objects.
This seems more like horror than science fiction, especially in reading one scene where a man is returning to his vehicle — only it's not his vehicle. And the ending just made me think, "Oh no." Horror fans might be amused by this one; I tend to avoid horror stories, but I admit this is a good one.
---
Matthew Wuertz's last retro review for us was the May 1953 issue of Galaxy.