Galaxy Science Fiction, May 1953: A Retro-Review
Galaxy Science Fiction, May 1953: A Retro-Review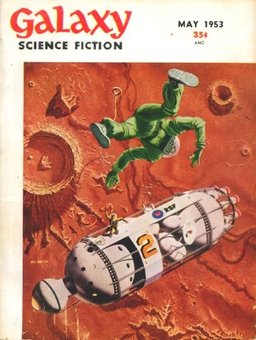 In the May, 1953 issue of Galaxy, Editor H. L. Gold opens with some thoughts on science fiction and the future. He writes:
Does good science fiction, then, pretend to describe the actual future? No, certainly not. Anyone who thinks so is missing the point… We're having fun with ideas, making first this one and then that predominant just to see what might happen if.
"Wherever You May Be" by James A. Gunn — Matt Wright is heading to a hunting cabin in the Ozarks to write his thesis but has car problems. While he's trying to get it running again, he finds a young woman named Abbie laughing at him. She ran away from home and hopes to go with Matt, but he's not about to take in someone claiming to be 16 (she's actually 18), so he takes her home to her father. Matt expects to find signs of abuse but finds the older man wants to be rid of his daughter — as though he's afraid of her.
When Matt finally reaches the cabin (after getting lost a few times), he finds Abbie waiting for him. Given the late hour, he decides to let her stay. She tells him that sometimes things happen around her — objects moving as she thinks about them. Yet as he tests her abilities, she seems unable to do anything, unless she becomes upset.
Matt decides that she will be his new research paper, though she doesn't know it. He could run all kinds of tests on her abilities. Except that it's clear that she's happy being with him — that she likes him. So he considers a way to enhance her powers — by breaking her heart.
I still can't decide how I feel about this story, so I credit it with sticking with me. Abbie's character anchors the entire story. But I just can't stand Matt. And I don't like the ending because I feel it cheapens Abbie's character and pardons Matt. I think there are other ways that could have led to a similar conclusion without leaving me a bit jaded. Regardless, as I said, the story stuck with me, even with the ending (or maybe because of the ending).
[Click the images for bigger versions.]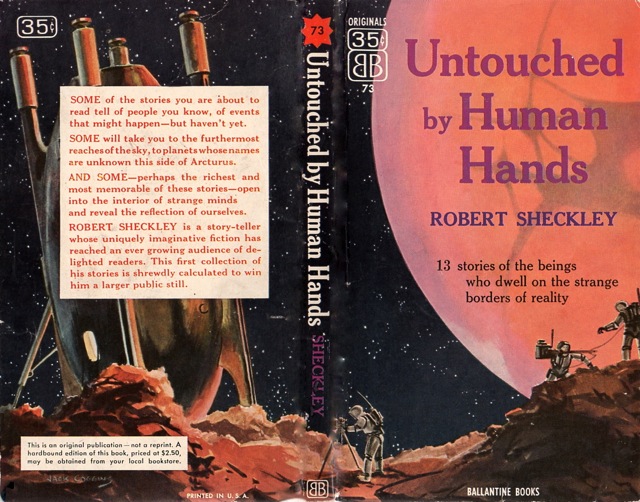 Untouched by Human Hands (Ballantine, 1954),
containing "Specialist." Cover by Jack Coggins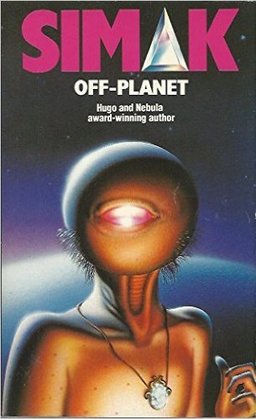 "Specialist" by Robert Sheckley — A photon storm strikes a spaceship without warning, killing one of their crew. In the ship, each crew member has a special function — Eye, Engine, Talker, Walls, etc. But without their Pusher, the ship is limited in its rate of travel. So they explore nearby systems hoping to find a planet of Pushers, no matter how primitive it may be.
There's an excellent symbiosis of the alien characters within the ship. I wasn't surprised that Earth was the planet of Pushers they find (I doubt most readers would be), but I think that by adding a human character, it helps to ground the story.
"A Gleeb for Earth" by Charles Shafhauser — A parallel world exists next to the physical one we know. The beings in that realm send one of their kind to inhabit a newborn baby, in hopes that as it develops, it will learn how to kill the entire human race.
The story is a series of letters from Glmpauszn to another being who crossed over ahead of him, updating him on his progress. It works well in this format. I couldn't find any information on Charles Shafhauser. This may have been his only published story.
"Not for Children" by Evelyn E. Smith — An alien spacecraft lingers in the asteroid belt, drawing visitors from Earth. The craft appears as another asteroid, populated by the strange aliens. But the people from Earth are only interacting with alien children who play a game – pretending to be adults living in a primitive village on the asteroid. The pretend villagers exchange random junk for metal that they value and try to keep from laughing as they fool the Earthlings. Meanwhile, the adults are all below the surface, concerned with their own affairs.
It's a lighter tale that made me smile at points. The alien children remind me of similar games of pretending I used to play with kids in my neighborhood. Except we didn't have any Earthlings to fool, which is a shame.
"Junkyard" by Clifford D. Simak — A crew lands on a remote, nearly desolate planet, exploring the wreckage of an alien spacecraft. Well, parts of its engine at any rate; the rest of the craft appears to be missing. In the weeks spent trying to understand it, the crew doesn't have any better understanding. Out of frustration, they decide to leave, but they can't. For an unknown reason, they've lost the knowledge of how to operate their own engines.
This is my favorite story of the issue. It's fun and doesn't have any clear spoilers as to what the problem is. And it's actually a unique problem — not something that became cliché over time. It also has an interesting resolution with dangling possibilities of events that could happen with the crew after the story ends.
---
Matthew Wuertz's last retro review for us was the April 1953 issue of Galaxy.