Galaxy Science Fiction, April 1953: A Retro-Review
Galaxy Science Fiction, April 1953: A Retro-Review
Galaxy's April, 1953 issue includes a story by fellow Hoosier, Kurt Vonnegut, Jr. I hadn't read any of his work previously. Gasp! So I was excited to find something of his within Galaxy.
"Made in U.S.A." by J. T. M'Intosh — Roderick began a divorce trial with his newlywed wife, Alison. The couple had been in love, but when Roderick found out she was an android, he wanted to end the marriage. Though androids are identical to humans in many ways, they lack the ability to produce children. As to why Alison withheld the truth of who she was, it was within the statutes of the law — androids have equal status in society.
[Click on the image for bigger versions.]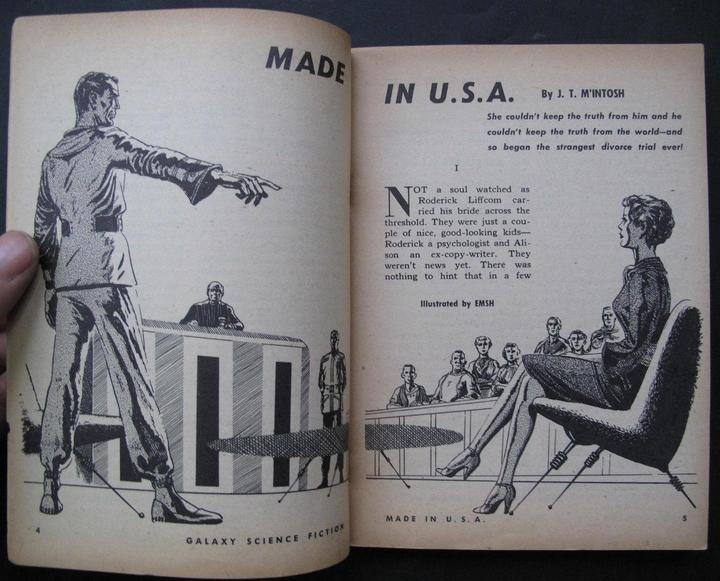 The beginning and ending worked well together. I really felt something — an attachment to the characters, especially Alison, who's struggling with her identity and trying to reconcile with the man she loves. I could see how some might see it as a bit sappy; if it is, then I guess I'm a sap.
"Seventh Victim" by Robert Sheckley — Murder is legal — if you sign up to participate in it. If you register, you must play two roles — first as a Hunter, second as a Victim. Hunters are given information about their Victims so they can find them. But the Victims can defend themselves and kill the Hunters. Frelaine begins pursuit of his seventh Victim — a woman who seems to have no defense and simply awaits the Hunter.
It's an interesting premise, and I was a bit surprised (in a good way) by where the story went.
"University" by Peter Phillips — A six-man crew argue aboard the Boomerang, which is outside the Solar System. To assuage their anger, the men drink alcohol. They come to a stop at a place resembling ancient Greece — with aliens who are far more advanced than they are.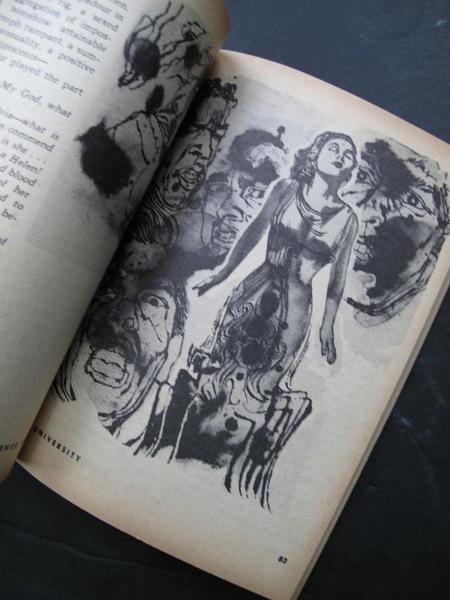 I really had a difficult time connecting with this story. At the point that they encounter the aliens, I was just lost for a while. But even once I understood what was happening, I never felt in sync with the plot. Peter Phillips had many stories published in the 1940's and 1950's, but he supposedly retired from writing after his last story was published in 1958. And he didn't appear to take up writing again for the rest of his life; he died in 2012.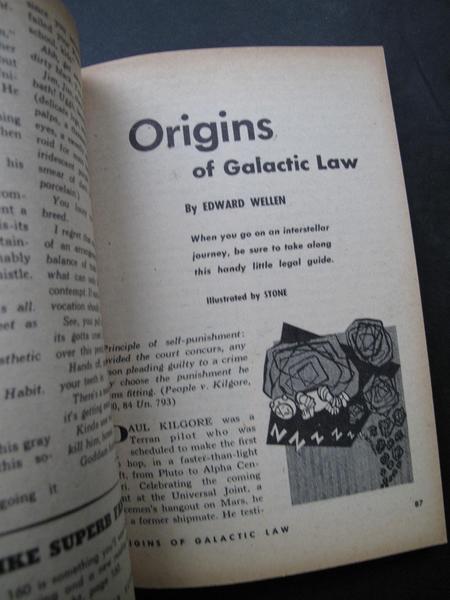 "Origins of Galactic Law" by Edward Wellen — This is another series of anecdotes, akin to what Wellen did in the July, 1952 issue. These share a theme of galactic law.
My reactions to these ranged from smirks to small chuckles. You could make these into Facebook snippets in today's world, and I think people would find them amusing in that medium.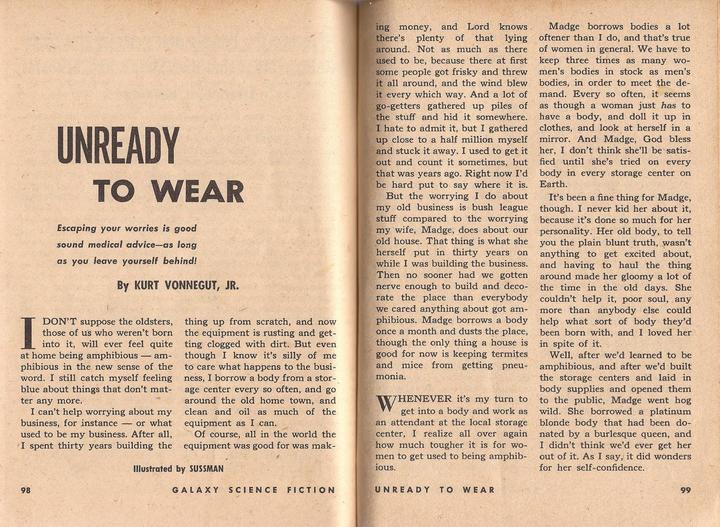 "Unready to Wear" by Kurt Vonnegut, Jr. — Some people, known as amphibians, have learned how to separate their spirits from their bodies, allowing them to live without the concern for physical needs and discomfort. They still have bodies they store and take care of, though not their original bodies. But other humans find the practice completely wrong and view the amphibians as their enemies.
I like the matter-of-fact style of the first-person narration. And I think there are some interesting points about how much our physical bodies create issues for us in relating to each other kindly; for example, how upset can we become simply out of fatigue, hunger, or becoming to hot?
"The Sentimentalists" by Murray Leinster — Newlywed aliens arrive on a distant world so that the male can observe a phenomena with the system's star. Both of them also observe humans on one of the inner planets.
Lon Simpson finds himself in an impossible situation. He came to Cetis Gamma Two to make a living farming thanar leaves. And though there are laws in place to allow people to make their own way, a crooked trading company finds ways to subdue people like Lon, such as selling faulty equipment that costs so much to maintain that there are no profits left. Fortunately for Lon, the alien newlyweds take an interest in him and intervene on his behalf.
This was my favorite story of the issue. I loved how the story of the alien characters interwove with the human characters. It's a fun read.
---
Matthew Wuertz's last retro review for us was the April 1941 issue of Unknown.