Series Fantasy: The Dagger and the Coin by Daniel Abraham
Series Fantasy: The Dagger and the Coin by Daniel Abraham
Daniel Abraham has had quite a career. Under his own name he wrote the four volumes in the Long Price Quartet for Tor, starting with A Shadow in Summer (2006). Under the name M. L. N. Hanover, he produced five novels in the popular Black Sun's Daughter urban fantasy series for Pocket, starting with Unclean Spirits (2008). And writing with Ty Franck under the name James S. A. Corey, he's released five books in the breakout space opera series The Expanse for Orbit, currently being adapted by SyFy.
On top of all of that, he also found time to complete The Dagger and the Coin, an epic fantasy series for Orbit that wrapped up last month with its fifth volume, The Spider's War. That's…. let me do the math… nineteen novels in the last decade. Throw in the additional books he dashed off in his spare time (the Star Wars novel Honor Among Thieves (2014), his 2010 collection Leviathan Wept and Other Stories, the collaborative novel Hunter's Run with George R. R. Martin and Gardner Dozois, four A Song of Ice and Fire graphic novels, plus assorted chapbooks and numerous short stories), and I quickly lose count. Suffice to say, I think you could make an effective case for Abraham as the busiest writer in fantasy.
For all his success, I first became intrigued by Daniel's work because of Emily Mah's Black Gate interview with him five years ago. Here's Emily's intro to that interview:
Daniel Abraham and I met at the Millenium PhilCon, my first ever WorldCon. I noted that he had "Albuquerque, New Mexico" under his name on his badge, so I let him know that I was from Los Alamos, and then a few caffeine fueled day/night cycles later, I found myself invited to join his writers group. I'm very glad I did. Like me, Daniel is a Clarion West graduate, though we attended different years. He is the only person, that I know of, who has had his wedding picture in Locus with a toilet prominently displayed in the foreground. That was a gift from said writers group.

I still remember the email Daniel sent when he landed his first novel deal, a four book series with Tor. I was there when he workshopped his first Jayne Heller book, for which he adopted the pen name MLN Hanover, and I was the person he and Ty Franck, the other half of the duo who writes as James SA Corey, knew in common. Ty came to New Mexico for a visit and inevitably met the rest of the writers group, which he would later join.
In his article "Fantasy Clichés Done Right" for us last year, Garrett Calcaterra quoted Ahimsa Kerp, author of Empire of the Undead and Beneath the Mantle, on Daniel's work:
Clichés go deeper than Prophesized Orphans aided by Wise Wizards squaring off against Dark Lords, but it's surprising how many best-selling books use the basic formula of Wizards find small-town villagers (who may be hobbit like, orphans, or prophesized) and train them to defeat the Dark Lord… There are a couple of notable standouts, though, that that take this cliché and transcend it.

She's not the chosen one in terms of a prophecy, but Cithrin bel Sarcour from Daniel Abraham's The Dagger and the Coin series (The Dragon's Path, The King's Blood, etc.) is an orphan who becomes quite powerful. Abraham is the master of using tropes in unexpected ways. And Cithrin is a fascinating character who uses wiles, guile, cunning, sex appeal, and the power of drunken inspiration to stand toe-to-toe against the most powerful forces in the realm, going so far as to spurn the most powerful man in the world. Cithrin is an orphan written in a post-grim dark world.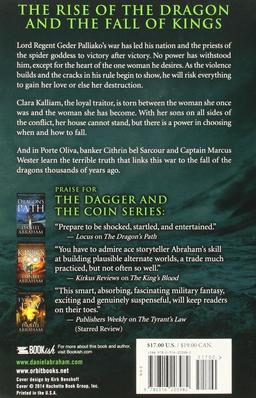 Now that The Dagger and the Coin series is complete, it's time for us to bake a cake and celebrate. The volumes are:
The Dragon's Path (576 pages, $17 trade paperback/$9.99 digital, April 7 2011) — cover by Lauren Panepinto
The King's Blood (517 pages, $17 trade paperback/$9.99 digital, May 22 2012) — cover by Kirk Benshoff
The Tyrant's Law (513 pages, $17 trade paperback/$9.99 digital, May 14 2013) — cover by Richard Jones
The Widow's House (530 pages, $17 trade paperback/$9.99 digital, August 5 2014) — cover by Kirk Benshoff
The Spider's War (516 pages, $16.99 trade paperback/$11.99 digital, March 8 2016) — cover by Kirk Benshoff
All five volumes are still available from Orbit.
If you're looking for other complete series to enjoy, old and new, you can browse some of our series coverage from the past two months.
The Books of the Raksura by Martha Wells
The Duelists Trilogy by Julia Knight
The Wave Trilogy, by Aidan Harte
The Silistra Quartet by Janet Morris
The Pendulum Trilogy by Will Elliott
The Half-Light City by M.J. Scott
The 'Mancer Series by Ferrett Steinmetz
The Chronicle of the Unhewn Throne by Brian Staveley
The Finnbranch Trilogy by Paul Hazel
The Monstrumologist Series by Rick Yancey
The Ever-Expanding Universe Trilogy by Martin Leicht and Isla Neal
The Bloodsounder's Arc Trilogy by Jeff Salyards
The Birthgrave Trilogy by Tanith Lee
The Society of Blood by Mark Morris
See all of our latest coverage of Series Fantasy here.