Vintage Treasures: The Finnbranch Trilogy by Paul Hazel
Vintage Treasures: The Finnbranch Trilogy by Paul Hazel
I don't know much about Paul Hazel, but I became curious recently when I stumbled on his complete Finnbranch Trilogy, a Celtic fantasy published between 1990 and 1985, on eBay. All three books, plus his only other fantasy novel, The Wealdwife's Tale, for just $3.99.
I dithered for a bit, but hey. What can I tell you? I'm a sucker for vintage paperbacks in perfect condition. They are now mine.
Hazel remains something of a mystery though, and there isn't a lot out there about him. I did find an entry at the online Science Fiction Encyclopedia, however. Here it is.
[Click any of the images for bigger versions.]
Finnbranch Trilogy makes use of some sf devices, though it is primarily a Celtic fantasy about a hero – and underworld god – named Finn, told in a dense, difficult style which nevertheless has very considerable power. The first two volumes, Yearwood (1980) and Undersea (1982), are moderately orthodox, though recounted with unconventional intensity, but the third, Winterking (1985), is set in an Alternate-History version of a contemporary America riven by the numinous presence of gods and threatened by terminal transformation; in this respect the book resembles John Crowley's Little, Big (1981).
That sounds pretty cool. $3.99 is starting to look like a pretty good deal.
Read the complete entry at the SFE here.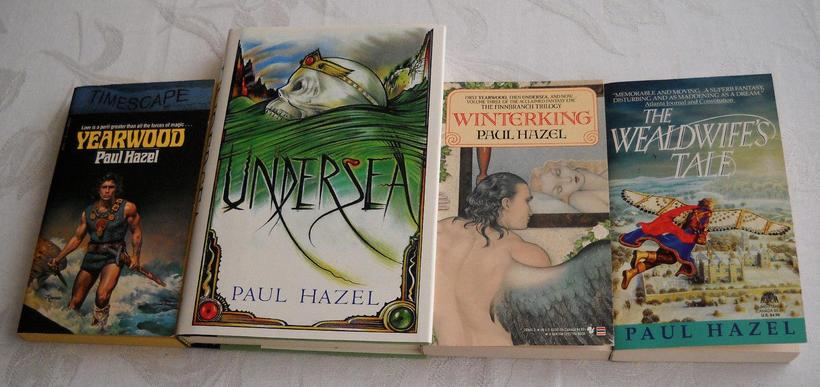 The eBay lot. Could you turn all this down for $3.99? Yeah. Didn't think so
All three volumes in the Finnbranch Trilogy were originally published in hardcover by Atlantic Monthly Press / Little, Brown, and then reprinted in paperback by Sphere in the UK. The first to appear in paperback in the US was Yearwood with a Pocket edition in April 1981, with a gorgeous wraparound cover by Rowena Morrill. (That's it in the photo above, on the left.)
Here's a closeup of the complete art (click for bigger version.)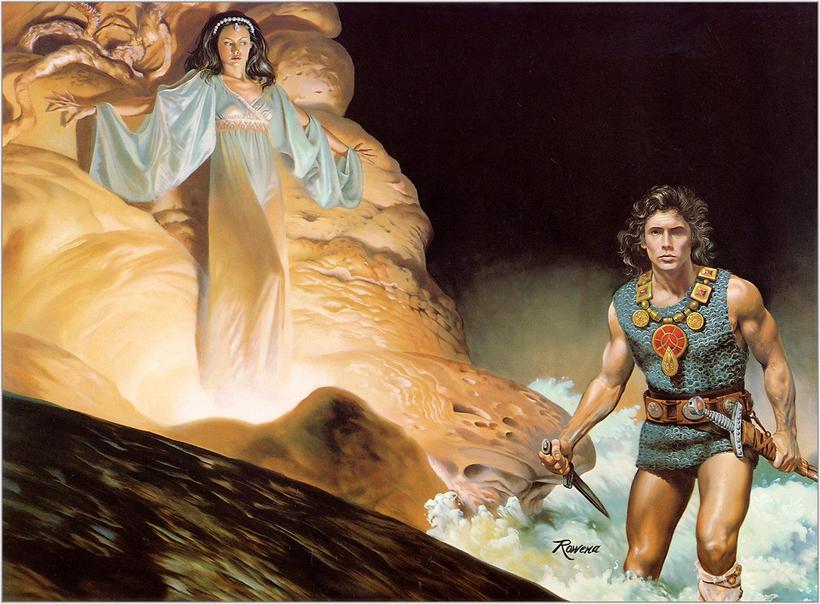 And here's the text from the back of the book:
Driven by a Dangerous Destiny

Finn, witchson, bastard, heir to kingdoms on land and undersea, must leave home to seek his true birthright. Through a perilous world of magic he roams, where crows speak riddles and beautiful witches flash into flame.

But Finn must face a danger far greater than all the forces of magic. For the truth of his own heritage is steeped in the ancient powers of murder and incest. And Finn's fall from innocence might be his only survival.
Six years later, in May of 1987, Bantam Spectra picked up the rights for the entire series, and brought all three books out in paperback for the first time, with eye-catching covers by artist Mel Odom (not the same Mel Odom who later wrote Hunters of the Dark Sea and numerous gaming novels). Here's the details on the Spectra editions:
Yearwood (261 pages, $3.95, May 1987)
Undersea (212 pages, $3.50, September 1987)
Winterking (259 pages, $3.50, December 1987)
The Bantam Spectra editions are the ones shown at the top of this article.
Yearwood was very warmly received. It placed 9th on the 1981 Locus poll for Best First Novel, and Publishers Weekly called it "One of the best High Fantasies in some time." The series grew in acclaim, and the third volume, Winterwood, was nominated for the World Fantasy Award.
In November 1986 Sphere published a one-volume omnibus edition in the UK, The Finnbranch (above right). The omnibus edition was 594 pages, priced at £4.95. The cover artist is uncredited.
See all of our recent Vintage Treasures here.