New Treasures: The Monstrumologist Series by Rick Yancey
New Treasures: The Monstrumologist Series by Rick Yancey
If you recognize the name Rick Yancey, it's probably because of his bestselling 5th Wave trilogy, the first volume of which was turned into a movie late last year.
But he's also the author of the four-volume Monstrumologist series, featuring the orphan Will Henry and his master Doctor Warthrop, monster hunters in the Industrial Age of Nineteenth Century New England. Booklist said the first volume, The Monstrumologist, "might just be the best horror novel of the year," and VOYA called it "gothic horror at its finest and most disturbing." The books were first published in hardcover by Simon & Schuster in 2009-2013, but now Saga Press has brought the entire series back into print in mass market paperback.
The first book opens as a grave robber brings Will and Dr. Warthrop the body of a young girl, entwined with the corpse of the thing that was eating her. Anthropophagi are supposed to be extinct in North American… and if they're not stopped, they could consume the world.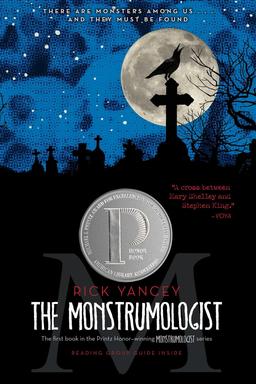 The complete series consists of four volumes, all priced at $7.99 for both the paperback and digital editions.
The Monstrumologist (434 pages, February 24, 2015)
The Curse of the Wendigo (464 pages, March 31, 2015)
The Isle of Blood (576 pages, June 30, 2015)
The Final Descent (320 pages, July 28, 2015)
Here's the description for the opening volume.
Monsters are real.

Will Henry is the orphan apprentice of a doctor with an unusual specialty: monstrumology, the study of monsters. Will has seen many things that would shock grown me, and has experience horrors that most would believe mere nightmares. But when a midnight visitor brings them the body of a young girl entwined with the corpse of an Anthropophagus, it is the start of the most terrifying case of Will Henry's life.

Anthropophagi are headless man-eating monsters with mouths full of razor-sharp teeth in their bellies, and they are supposed to be extinct in this part of the world. Now Will and the monstrumologist are in a race against time to put a stop to the plague of monsters before they kill again.
See all of our recent New Treasures here.