Future Treasures: Spira Mirabilis, Book 3 of The Wave Trilogy, by Aidan Harte
Future Treasures: Spira Mirabilis, Book 3 of The Wave Trilogy, by Aidan Harte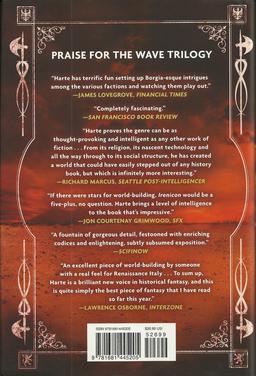 In her review of Irenicon, the opening novel in Aidan Harte's Wave Trilogy, Sarah Avery wrote:
Welcome to Rasenna, a shining city-state turned failed state, where river spirits haunt the streets and mistake themselves for the citizens they've drowned. Rasenna's people hide in their towers at night, and even by day fear the river their enemy wielded to cut their city in two…. Can a city recover from two decades of grief, madness, and self-destruction? Can these people change in time to save themselves? They'd better, because the rival city of sorcerous Engineers that smashed them before may well do so again…

Aidan Harte has been justly praised for his world-building in his debut novel. Irenicon is, almost, what we might get if Italo Calvino's classic Invisible Cities had lingered for a few hundred pages in one of its gem-perfect vignettes… Irenicon would make a perfect action film. Aidan Harte gives us a pretty good view of the movie he must have seen in his mind while he was writing. The flashing banners of Rasenna's homegrown martial art, the glorious decay of a city that breeds endless tension, the disturbing chill of Concord's purity and the darkness at its foundation, and (oh my!) the uncanny otherness of the river spirits could be the making of a summer blockbuster.
Sounded pretty dang good to me, but I resisted the urge to dive in right away. Partly because I gave Sarah our only review copy. But mostly because these days I avoid trilogies until I can hold all three titles in my greedy little hands. That resolution became harder and harder to keep as the accolades continued to pile up (click on the back cover of the third volume, at right, for some examples). But my long wait is finally over. The Warring States, the second volume, was published on April 7, 2015, and the final book, Spira Mirabilis, will be released in two weeks… and our review copy arrived last week. Interns, hold all my calls. I'm on assignment.
Spira Mirabilis will be published by Jo Fletcher Books on April 5, 2016. It is 522 pages, priced at $26.99 in hardcover. The cover is by Ghost.