Galaxy Science Fiction, December 1951: A Retro-Review
Galaxy Science Fiction, December 1951: A Retro-Review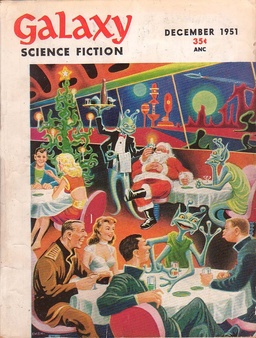 Galaxy's December issue hit newsstands with a holiday cover: Santa Claus smoking a pipe on an alien world in a restaurant patronized by humans and aliens. This was a very strong issue and I loved it.
There are other Galaxy stories I would place above those in this issue, such as Bradbury's "The Fireman" or anything by Poul Anderson, but the contents of December 1951 are amazing. I couldn't even pick a favorite story. Authors include Damon Knight, Fritz Leiber, and Jack Vance, so that might be part of the reason for its greatness.
"World Without Children" by Damon Knight — George is the last recorded birth for humanity, and even though that was 200 years ago, people still refer to him as The Child. The birth prohibition is firmly in place to prevent overpopulation — a reasonable precaution since scientists have figured out a way to extend a human lifespan by fifty times.
But even if it were repealed, very few of the populace would have the ability to procreate. George is part of a small group of individuals who realize that the trade-off for longevity was sterility, and since they cannot convince the government to take action, they plan to start an underground birthing organization.
The story seemed to start out a bit slow, but it soon moved into a cloak-and-dagger, resist-the-all-powerful-government thriller. I'm not sure if I liked the ending, though. It seemed too upbeat after everything else that took place.
"A Pail of Air" by Fritz Leiber — The earth has been ripped free from its orbit around the sun by the gravitational pull of a dark star. One family works together to survive in the frozen world.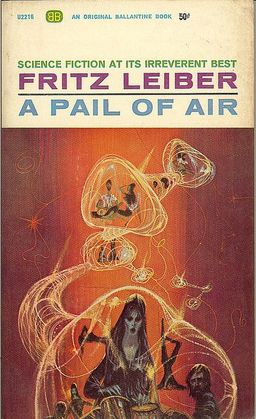 I was really uncertain around the physics of this story, but I put my reservations on hold so that I could enjoy what was there. Even with aspects that seemed implausible, Leiber has a way of guiding readers through it anyway, and the story works overall.
"With These Hands" by C. M. Kornbluth — Roald Halvorsen is a man of the past — a sculptor whose works can be made by machine. Anything machine-built lacks certain character and the precision of a true artist, but for most people, it's good enough.
Halvorsen's dwindling income is mostly from teaching art… but one of his newest students may help him find new patrons, provided he doesn't make the mistake of getting into a relationship with her.
I loved this piece. I think it's timeless. You can feel the details around the artist and his work and really connect with the protagonist.
"Winner Lose All" by Jack Vance — Human explorers discover a new world and investigate it as a possible habitat. Meanwhile, an intelligent organism known as the unigen makes the same discovery, though its purpose is to feed on the radioactive matter within the world.
By chance, the two species meet, but neither senses any danger in the other. Both are wrong.
This was another brilliant story within the issue. I loved the description around the unigen — how utterly alien it truly was. And the planet itself is more than a setting; it's almost a background character.
"Not a Creature Was Stirring" by Dean Evans — Gannett leaves the depths of his goldmine to rejoin society for a brief period. Except there is no society anymore. All he encounters are dead people — their bodies still sitting or standing in whatever were their last moments — victims of a mysterious gas weapon.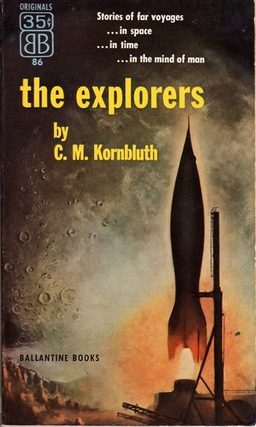 There are plenty of last-man-on-earth stories. But this one felt very real.  If it's been a while since you've read a story of that sub-genre, I recommend picking this one up.
"Pillar to Post" by John Wyndham — Terry Molton is an amputee struggling to get through a painful life. He turns to medication to ease his suffering and during one of his highs, he finds himself transported into the future.
He trades places with a physically fit man, someone with a scientific mind who has been experimenting with trading minds with people of the past. But when the scientist wants to trade back bodies, Terry puts up a fight, leading to a battle of wits to determine who will remain in Terry's body and who will remain in the future.
I wasn't captivated so much by Terry's trip into the future, but I loved the part when the future man is trying to trade bodies back. Without spoiling too much, the way the future man trades back is by creating a cruder model of the invention he has in the future, so the trick is to use the device (in order to get the future body) and then set up a way for the device to be destroyed (so that whoever is in the past is trapped in the past). Or whatever options one might think of to outwit the other.
The two characters go back and forth, each trying to trick the other into becoming trapped in the amputee's body. I think that part of the story plays out really well. Also, the ending was unexpected, though perhaps a bit foreshadowed by the prologue.
---
Matthew Wuertz's last retro review for us was the November 1951 issue of Galaxy Science Fiction.