Galaxy Science Fiction, November 1951: A Retro-Review
Galaxy Science Fiction, November 1951: A Retro-Review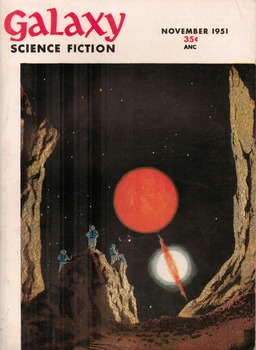 Galaxy s November, 1951 issue began (as it usually does) with a foreword from the editor, Horace Gold. Gold addresses the purpose of science fiction, stating:
What science fiction must present entertainingly is speculation. Not prophecy, but fictional surmises based on present factors… When a story hits a future development on the head, it should be considered a minor accident; its main job was not to predict but to conjecture what might happen if certain circumstances followed certain lines of development.
Regarding the basic plotlines around science fiction, such as interplanetary flight, time travel, and the like, he writes: "Will these worlds ever exist? They may or may not; it doesn't matter. The possibility is what counts in science fiction, not the certainty." He concludes that writers "are examining prospects, pleasant and unpleasant alike, and that, if it produces good stories, is the legitimate province of science fiction."
"Sea Legs" by Frank Quattrocchi — Robert Craig leaves a life of deep space service to live on Earth. But Robert has never known that world; in fact, he has never known constant gravity. He finds there are many more regulations on Earth than in space and that loyalty to the government is of utmost concern. Soon, Robert ends up breaking rules he never knew existed and he flees into radioactive territory to try to escape incarceration.
It took me some time to get into this story, but by the point Robert is on the run, I was finally rooting for him. I think there was enough setup for this to be the opening chapters of a novel, so it seemed like too much to me.
"Tiger by the Tail" by Alan E. Nourse — A pocketbook can hold anything without bulging or gaining weight. The mysterious item ends up in the hands of researchers who find that anything aluminum disappears inside the hole, but they don't know where it goes. Anything not of aluminum is pushed back, regardless of how much force they use.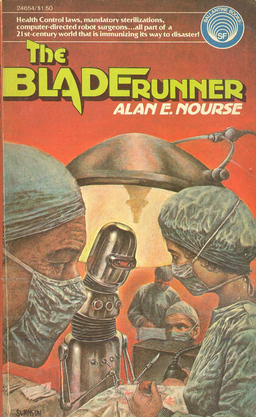 This is a clever tale, and I've seen similar notions elsewhere, which makes me think this story stuck with people through the years. The characters don't matter, but the concept is what drives the story.
An interesting note about Alan E. Nourse is that he wrote a novel titled The Bladerunner (also published as The Blade Runner), but this was not the basis for the 1982 movie Blade Runner. That movie was based on Philip K. Dick's story "Do Androids Dream of Electric Sheep?" There was a screenplay for Nourse's novel, but it was never produced. However, Hampton Fancher, a screenwriter for the movie Blade Runner, had a copy of the Nourse screenplay and preferred that title for the film adaptation of Dick's story. Ridley Scott (director of Blade Runner) subsequently bought any rights to the title "Blade Runner" that might have arisen from either the Nourse novel or its screenplay.
"Zeritsky's Law" by Ann Griffith — Freezing people began with the accidental freezing of a cat. The Zeritskys start the business, and it solves a lot of problems for people: allowing criminals to escape punishment for their crimes, waiting for a rich inheritance, or to suspend your life between Hollywood acting projects (so as to prevent aging). But it only takes one emotional case to bring the business crashing down.
The story reads like a magazine article that chronicles a business. It held my attention.
"Self Portrait" by Bernard Wolfe — Oliver works in cybernetics, but he's in the prosthetics labs, which isn't where he wants to be. His ambition is to get into MS, working on the perfect cybernetic mind, not working on artificial legs. Oliver decides to tackle problems in his labs that will draw grand attention from the press and use that as leverage to get into the most prestigious area.
I think this was intentionally written to draw the reader against Oliver from the beginning, and it's effective. But it feels odd to read a story where I'm not rooting for the protagonist — not because he's a villain, but simply because he whines. As a result, I never really connected with the piece.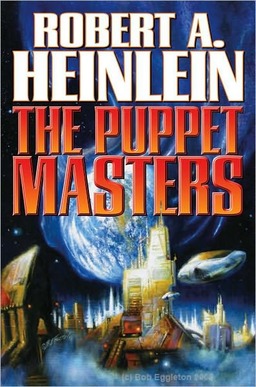 "Psycho Tennis, Anyone?" by Lloyd Williams — Grant invented the game of psycho tennis, where two players use their mental powers to control the ball. The game is innocent enough, until one of the up-and-coming players named Slag begins killing his opponents with his high-speed shots. Grant believes such attacks are impossible, given the ball's design; any player ought to be able to block such attacks with simple mental efforts. When Slag's latest victim is one of Grant's friends, Grant investigates the cause and eventually comes out of retirement to challenge Slag himself, hoping to finally learn the secret of Slag's murderous success.
I enjoyed the way this story played out. It reads a bit like a detective story, but with science fiction elements as well.
"The Puppet Masters" (Part 3) by Robert A. Heinlein — The war against the Titans turns worse. Showing a bare back isn't enough of an indicator that someone is hag-ridden. The slugs can control a person as long as they are in contact with any part of the person. So now everyone is either nude or close enough to it that leaves no room for slugs.
Given how much of the country (and likely parts of the world) are under the control of the aliens, the only option is to find or create an illness that would kill the slugs without killing their human hosts. But it's a tricky proposition — it has to be an illness the human would be susceptible to, and it must be deadly but with some possibility of survival.
I'm trying not to spoil the plot too much. I know; this story is over 60 years old, but I still try to avoid spoilers for those who are considering reading these stories.
I like the way the novel concludes. It's a great action/science fiction tale, bordering on horror. I recommend reading it if you have the chance.
---
Matthew Wuertz's last retro review for us was the October 1951 issue of Galaxy Science Fiction.