Galaxy Science Fiction, October 1951: A Retro-Review
Galaxy Science Fiction, October 1951: A Retro-Review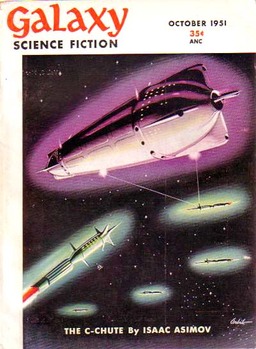 Galaxy began its second year of publication with the October 1951 issue. With contributions from both Asimov and Heinlein, it continued to show the strength of its fiction content.
"The C-Chute" by Isaac Asimov — A disparate group of space travelers become prisoners when their ship is stormed by enemy aliens. The Kloro secure the men in a room and leave only two of their own to pilot the ship back to their territory, where it can be prepared for battle.
Not content to sit idly by and become prisoners of war for an indeterminate amount of time, the men formulate a plan. Someone could suit up and go outside the ship, walking the hull to the steam tubes, in order to re-enter the ship at the control room, hopefully surprising the enemy pilots. The only dilemma is figuring out which of the men has the wherewithal and courage to succeed.
There was a lot of point-of-view shifting throughout the story, allowing the reader to enter the mind of each character. I thought this was done well and honestly there was greater variety in these characters than what Asimov produced in his novel The Stars, Like Dust.
"Pleasant Dreams" by Ralph Robin — Chief Watcher Gniss invites a childhood friend to witness how his group uses technology to spy on criminal suspects. Through the telepathic instrument, they can witness the suspects' dreams, allowing them to learn of co-conspirators without the need for interrogation.
I found the story curious, but it was hard to really get into it. The story itself flowed like the dreams within it, remaining a bit fuzzy in my mind.
"Ambition" by William L. Bade — Maitland awakens in the future, captive to a scientist named Swarts. Swarts wants to understand why men like Maitland have an interest in traveling to the moon – why anyone would have an interest in space exploration. Space travel (as well as time travel) in the future is such a trivial thing that scientists instead spend their time and energy toward researching humans. Maitland agrees to answer whatever questions Swarts has, if he can at least have the opportunity to travel to the moon, and Swarts accepts the proposal.
It was interesting to see the difference between Maitland and Swarts, but I had some trouble accepting that scientific curiosity pointed firmly toward mankind when space travel was so easily possible. Otherwise, the story unfolded well and the ending was unexpected (in a good way).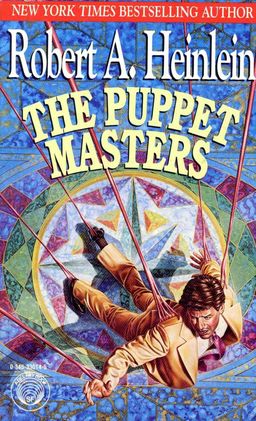 "Spacemen Die at Home" by Edward W. Ludwig — Ben is part of the first graduating class of the U.S. Academy of Interplanetary Flight. His friend Mickey and he have their choice of exciting and dangerous assignments, but Mickey gives up the chance to be a spaceman in order to be a cargo supervisor – a safer life that would allow him to have a family. Ben spends the weekend with his friend and meets Mickey's sister, Laura. Against his will, Ben finds himself drawn to her and they soon begin courting. Now he finds himself unable to choose; should he chase after the stars as he always dreamed or take a dull job teaching at the academy in order to marry the young woman he's fallen in love with?
I loved this story. It's my favorite of the issue. I didn't mention one of the best characters in my synopsis, but his name is Charlie — Ben's adopted father. Charlie is a retired spaceman (if they ever really retire), and he's lived a rough life of adventure that's taken its toll on his body. I couldn't predict where this story was going, either, or maybe I just didn't want to think about it because I was enjoying the ride too much. Either way, this was a great read.
"The Celestial Hammerlock" by Donald Colvin — A series of letters are exchanged between Jed Michaels and Mr. Horrocks, his employer. Jed leads a small crew of wrestlers who entertain people on various planets as part of the Interplanetary Amusement Corporation. A miscommunication sent Jed and his wrestlers to Eros, a planetoid of philosophers who incarcerate the wrestlers. The letters from Jed ask for help, while the letters from Mr. Horrocks fume at Jed's mistakes.
I liked reading something humorous in the issue and I think it was placed well, location-wise (between Ludwig's "Spacemen Die at Home" and Heinlein's continuation of The Puppet Masters). The letter-writing style allows for extra fun as you start to notice things like the varying postage demands (from First Class to Postage Due) and greetings. I wouldn't say I was laughing out loud, but it was funny.
The Puppet Masters (Part 2) by Robert A. Heinlein — The President addresses Congress to tell them of the dangerous slugs from Titan, but they won't believe him. Fortunately, one of them is controlled and Sam and the team expose the alien in full view of everyone. The President is granted special powers and he implements "Schedule Bareback" across the country — ordering everyone to be shirtless or wear a halter-top (for women). But the videos from the President aren't played in the controlled areas of the U.S.
Meanwhile, the Midwest has turned into enemy territory, though they can't be certain how bad things really are. Sam goes in alone to find out what he can and he discovers that almost everyone is controlled by a slug. He narrowly escapes and returns with the information, but there's uncertainty on how to combat the enemy. Not only does it control key leaders, but the slugs can divide themselves through asexual reproduction so quickly that they could completely control the planet in a matter of weeks, provided they can make contact with each person.
This part of Heinlein's novel is a thriller. There's a lot of tension, especially when Sam heads into the Midwest alone. There's a bit more complexity thrown into Mary's character, but I don't know if it was necessary. In fact, the plot itself runs well enough that I'm not sure character development matters that much. The slugs from Titan are the real character, I think: one that can't be fully understood, other than knowing they mean to overpower humanity.
---
Matthew Wuertz's last retro review for us was the September 1951 issue of Galaxy Science Fiction.