The Verge on 13 Enthralling Science Fiction and Fantasy Books You Need to Check Out This June
The Verge on 13 Enthralling Science Fiction and Fantasy Books You Need to Check Out This June
Andrew Liptak at The Verge has dipped into the thundering production pipelines at America's publishing houses for the month of June, and returned with a secret list of the 13 very best science fiction and fantasy books — including novels by Paul Tremblay, Yoon Ha Lee, Peter Watts, Katie Williams, Alex White, Rob Boffard, Melissa F. Olson, and Black Gate's own Todd McAuty. Many bothans died to bring us this information. Use it wisely.
The Robots of Gotham by Todd McAulty (John Joseph Adams/Houghton Mifflin Harcourt, 676 pages, $26 in hardcover/$12.99 digital, June 19, 2018)
In this future, the United States waged — and lost — a war against a coalition of machines, and it's now under robotic occupation. A businessman named Barry Simcoe meets a Russian medic working with the occupying armies after his hotel is attacked. Together, they learn of a plot to unleash a plague that could wipe out humanity once and for all. Publishers Weekly gave the book a starred review, saying that the book has a "breathless momentum," and that McAulty "extrapolates a scary AI-overrun 2083 that's only a few steps removed from today's reality."
Todd McAulty was the most popular writer in the print version of Black Gate. His stories included "There's a Hole in October" in Black Gate 5, which Locus labeled "magnificent storytelling, begging expansion into a novel," and Tangent Online called "one of my favorite stories so far this year." It was reprinted this month in Lightspeed.
[Click the images for bigger versions.]
The Book of M by Peng Shepherd (William Morrow, 496 pages, $26.99 hardcover/$12.99 digital, June 5, 2018)
In India, something strange happens: a man's shadow disappears, and scientists are at a loss to explain why. The phenomenon becomes an epidemic known as the Forgetting, granting the afflicted strange powers but robbing them of their memories. Ory and his wife Max have escaped the Forgetting by hiding in an abandoned hotel for years, but eventually, Max's shadow vanishes, and she flees. Ory follows her across a vastly changed and dangerous world as rumors of war and a mysterious savior arise. Publishers Weekly says that "Shepherd's debut is graceful and riveting, slowly peeling back layers of an intricately constructed and unsettling alternate future."
This is Peng Shepherd's debut novel. The Book of M is also an Amazon Best Book of June 2018. Booklist calls it "Eerie, dark, and compelling… will not disappoint lovers of The Passage and Station Eleven."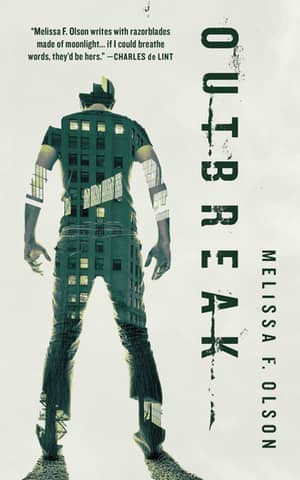 Outbreak by Melissa F. Olson (Tor.com, 240 pages, $16.99 trade paperback/$4.99 digital, June 5, 2018)
In Nightshades and Switchback, Melissa F. Olson introduced a world in which vampires exist (they're called Shades) and a Bureau of Preternatural Investigation is tasked with hunting them down. The bureau's Chicago field office has faced violent attacks as well as an inexplicable, violent escape by a suspect. In Outbreak, the latest installment of this episodic series, Agent Alex McKenna finds himself the target of an internal investigation as well as several dangerous escapees.
We covered Nightshades, the opening volume in Melissa F. Olson's FBI vampire procedural series, back in 2016.
Summerland by Hannu Rajaniemi (Tor Books, 304 pages, $25.99 hardcover/$12.99 digital, June 26, 2018)
Finnish author Hannu Rajaniemi earned a considerable amount of acclaim for his hard science fiction Jean Le Flambeur trilogy (The Quantum Thief, The Fractal Prince, and The Causal Angel). His latest novel, Summerland, is set in 1938 after spiritualists discovered that there is an afterlife: Summerland. The recently deceased end up in the alien-built metropolis and communicate with Earth via mediums. The British Empire has firm control over this afterlife, and they've learned that the Soviet Union has its own plans, and the technology to attempt to attempt to build their own God. When British agent Rachel White learns of a high-placed Soviet mole in her agency, she'll have to go rogue to stop him. Kirkus Reviews says that the novel is a "jaw-dropping, knowing, hyperintelligent yarn."
We previously discussed Hannu Rajaniemi's short fiction collection Collected Fiction (Tachyon Publications, 2015) and The Causal Angel (Tor, 2014).
Read Andrew's complete June recommendations at The Verge.
Andrew's previous dispatches on the best SF and fantasy include:
Andrew Liptak Selects the Best Science Fiction and Fantasy Novels of 2016
Andrew Liptak on 39 SF, Fantasy, and Horror Books to Read in June (2017)
Andrew Liptak on 16 SF, Fantasy, and Horror Books to Read in July (2017)
Andrew Liptak on 18 Science Fiction and Fantasy Books to Read this January (2018)
Andrew Liptak on 18 Science Fiction and Fantasy Books to Read in February (2018)
See all our coverage of the best new books here.