Future Treasures: The Causal Angel by Hannu Rajaniemi
Future Treasures: The Causal Angel by Hannu Rajaniemi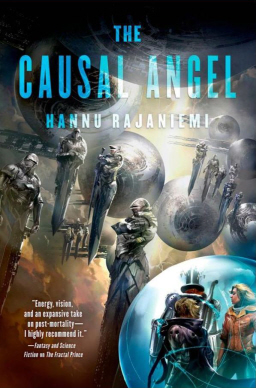 Two years ago, Matthew David Surridge posted a review of The Quantum Thief, the first novel in Hannu Rajaniemi's far future adventure trilogy. We focus on fantasy at Black Gate, but the magical and baroque setting Rajaniemi created seemed more science fantasy than SF and it caught my attention. Here's how Matthew summed up the book:
Centuries in the future, Jean le Flambeur is a master thief, imprisoned in a virtual-reality jail: every day he makes choices, and dies, and is reborn. Until he's freed by a violent woman named Mieli from the edge of the solar system, and taken to Mars. There, he must regain old memories he locked away from all possible recovery when he was literally a far different person than he is now. A youthful detective, hi-tech superheroes, and posthuman intelligences are waiting to complicate his task, which seems to have ramifications on an interplanetary scale…

It's primarily, I think, within a lineage that goes back at least to Arthur C. Clarke, fusing precise language and dramatic plots with a sense of the sublime clothed in scientific theory… it also plays with another lineage, older than sf, one at least as old as Robin Hood: the righteous outlaw thief.
The second volume, The Fractal Prince, was published in hardcover in November 2012. I just received a copy of the third (and final?) volume: The Causal Angel, which goes on sale next week. The blurb promises this volume contains "the ultimate fates of Jean, his employer Miele, the independently minded ship Perhonnen, and the rest of a fractured and diverse humanity flung throughout the solar system." Sign me up.
The Causal Angel will be published by Tor Books on July 15th. It is 292 pages, priced at $25.99 in hardcover and $12.99 for the digital edition. The cover is by Kekai Kotaki.