CJ Henderson, December 26, 1951 – July 4, 2014
CJ Henderson, December 26, 1951 – July 4, 2014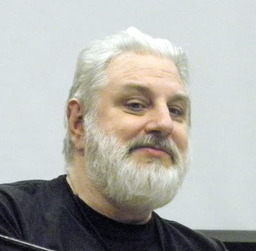 Neil Baker, publisher of The Dark Rites of Cthulhu, informs us that fantasy short story writer and novelist CJ Henderson lost his battle with cancer earlier this week.
His first novel, Brooklyn Knight, was published by Tor in 2010; it was followed by one sequel, Central Park Knight (2011); his short story collection, Where Angels Fear, was released by Dark Quest Books in 2010. I first encountered him with Kolchak and the Lost World (Moonstone, May 2012), one of several licensed tie-in novellas he wrote featuring the great occult investigator Carl Kolchak, which I bought at the Moonstone booth at the Windy City Pulp and Paper show in April.
Neil writes:
A prolific writer for decades, CJ had a successful collection of novels to his name, numerous short stories for a wide selection of publishers and comic books for Marvel, DC and others. He also wrote books featuring Kolchak, wrote for Clive Barker's Hellraiser series and collaborated with William Shatner on Man of War.

Personally, I only got to know him through my first publication, and he was an open and generous soul. He fought the disease all the way to end, determined to make it out to future conventions to sell more books and meet more fans, and in his many emails to me he would discuss his fight, his deep love for his wife and his passion for writing.

CJ leaves a legacy filled with hard-boiled characters, ripping yarns and good humor. He will be missed.
CJ Henderson died on July 4, 2014. He was 62 years old.