Birthday Reviews: Harlan Ellison's "Pennies, Off a Dead Man's Eyes"
Birthday Reviews: Harlan Ellison's "Pennies, Off a Dead Man's Eyes"
Cover by Jack Gaughan
Harlan Ellison was born on May 27, 1934.
Ellison has received 8 Hugo Awards, beginning with his short story "'Repent Harlequin!' Said the Ticktockman." His other Hugo Award winners include the short stories "I Have No Mouth, and I Must Scream," "The Beast that Shouted Love at the Heart of the World," "The Deathbird," "Adrift Just Off the Islets of Langerhans: Latitude 38° 54′ N, Longitude 77° 00′ 13″ W," "Jeffty is Five," and "Paladin of the Lost Hour." His screenplay for the Star Trek episode "City on the Edge of Forever" also earned him a Hugo. Ellison has also won four Nebula Awards for his stories "'Repent Harlequin!' Said the Ticktockman," "A Boy and His Dog," "Jeffty is Five," and "How Interesting: A Tiny Man." SFWA has also given him the Bradbury Award for 2000x, in collaboration with Yuri Rasovsky and Warren Dewey. He has also won the World Fantasy Award, Bram Stoker Award (5 times), British Fantasy Award, British SF Association Award, the Jupiter Award (twice), the Prometheus Hall of Fame Award, and has three Worldcon Special Convention Awards.
LASFS presented Ellison with the Forry Award in 1970. He received a Milford Award for Lifetime Achievement in 1986, a World Fantasy Lifetime Achievement Award in 1993, an International Horror Guild Living Legend Award in 1995 and he received a Bram Stoker Lifetime Achievement Award the following year. He won the Gallun Award from I-Con in 1997. Ellison was named a World Horror Grandmaster in 2000. SFWA named him a Grand Master in 2006. In 2011, he was inducted into the Science Fiction Hall of Fame and received the Eaton Award for Lifetime Achievement. He was a Worldcon Guest of Honor at IguanaCon II in 1978 and a World Horror Con Guest of Honor in 2005.
"Pennies, Off a Dead Man's Eyes" was originally purchased by Ejler Jakobsson and published in the November 1969 issue of Galaxy Magazine. It was reprinted the next month in the British edition of the magazine, and in 1970 Ellison included it in his collection Over the Edge: Stories from Somewhere Else. Ellison also included it in his 1971 collection Alone Against Tomorrow and that same year, Norman Spinrad reprinted it in The New Tomorrows. It was selected for The Best of Galaxy, Volume I in 1972. In 1974, Ellison included it in The Time of the Eye. When Over the Edge was included in the omnibus Edgeworks 1: Over the Edge / An Edge in My Voice, the first volume of Ellison's work reprinted by White Wolf in the 1990s, it was included. An audio version of the story appears on the collection Midnight in the Sunken Cathedral, first issued in 2001 by Fantastic Audio. The story was translated into French in 1971, Italian in 1976, and German in 1980.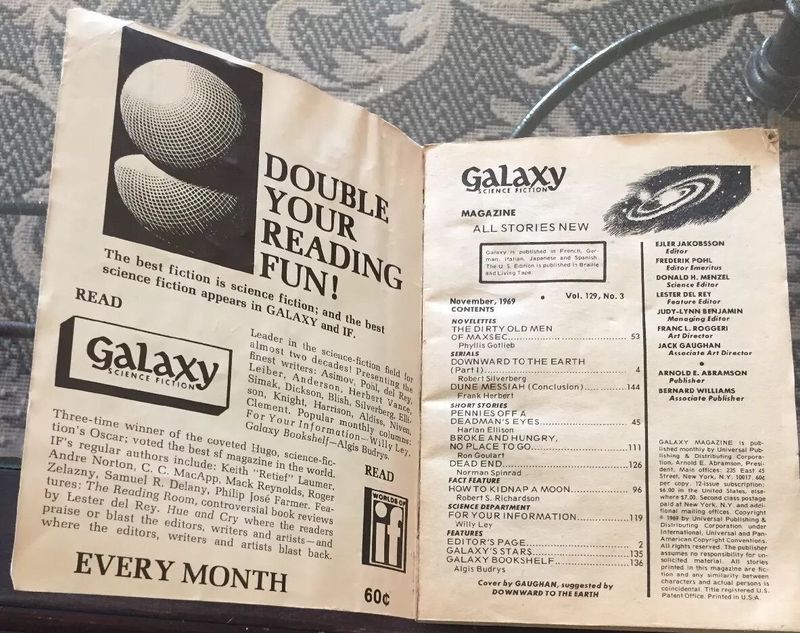 Ellison's story looks at the death of Jedediah Parkman, an 82 year old black man who helped people he came into contact with. Once of the people he helped returned for the funeral, keeping his distance so none of the other mourners could see him and making use of the ability to disappear under certain circumstances to help him maintain his anonymity. After the funeral, but before he could pay his respects to Parkman, he watches a white woman in mourning clothing remove the coins from Parkman's eyes and leave.
Following her to Kansas City, he confronts her to find out why she would steal the coins off Parkman's eyes, thus consigning his soul to Hell. He learns that the charity someone shows to people isn't always universal and in some cases is used to atone for hidden sins.
Reprint reviewed in the collection Edgeworks 1: Over the Edge/An Edge in My Voice, by Harlan Ellison, White Wolf 1996.
---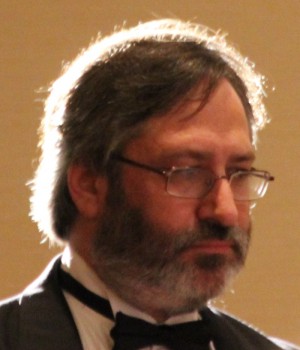 Steven H Silver is a sixteen-time Hugo Award nominee and was the publisher of the Hugo-nominated fanzine Argentus as well as the editor and publisher of ISFiC Press for 8 years. He has also edited books for DAW and NESFA Press. He began publishing short fiction in 2008 and his most recently published story is "Doing Business at Hodputt's Emporium" in Galaxy's Edge. Steven has chaired the first Midwest Construction, Windycon three times, and the SFWA Nebula Conference 5 times, as well as serving as the Event Coordinator for SFWA. He was programming chair for Chicon 2000 and Vice Chair of Chicon 7. He has been the news editor for SF Site since 2002.