Birthday Reviews: Damien Broderick's "Under the Moons of Venus"
Birthday Reviews: Damien Broderick's "Under the Moons of Venus"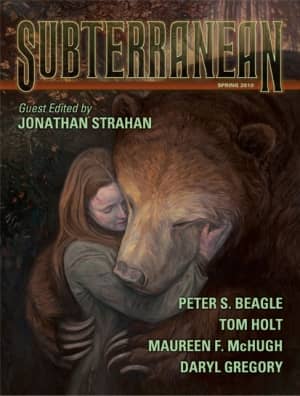 Damien Broderick was born on April 22, 1944.
Broderick has won the Aurealis Award four times, for his short story "Infinite Monkey" and his novels The White Abacus, Transcension, and K-Machines. He has also won four Ditmar Awards, for his novels The Dreaming Dragon, White Abacus, Striped Holes, and the collection Earth Is But a Star. The Dreaming Dragon was also a John W. Campbell Memorial nominee and his story "This Wind Blowing, and This Tide" was one of two Theodore Sturgeon Memorial Award nominations. In 2005, he received a Distinguished Scholarship from the IAFA and in 2010, he was awarded the A. Bertram Chandler Memorial Award.
"Under the Moons of Venus" was originally published in Subterranean Online in the Spring 2010 issue, edited by Jonathan Strahan. Strahan included the story in his The Best Science Fiction and Fantasy of the Year Volume 5 and it also appeared in David G. Hartwell and Kathryn Cramer's Year's Best SF 16, Rich Horton's The Year's Best Science Fiction 7 Fantasy 2011, Gardner Dozois's The Year's Best Science Fiction: Twenty-Eighth Annual Collection, and Allan Kaster's audio anthology The Year's Top Ten Tales of Science Fiction 3. Broderick included it in his 2012 collection Adrift in the Noösphere: Science Fiction Stories. The story was nominated for a Theodore Sturgeon Memorial Award.
The title of Broderick's "Under the Moons of Venus" evokes Edgar Rice Burroughs's "Under the Moons of Mars," the first Barsoom story, later reprinted as A Princess of Mars. The story itself, while it has elements that are reminiscent of John Carter's exploits, is actually quite different, focusing its attention on Robert Blackett, who is wealthy in a seemingly depopulated world, working with a therapist, Clare Laing, who he is convinced is trying to seduce him, and consulting with his friend, Kafele Massri.
At best, Blackett is an unreliable narrator, not because he is intentionally lying about his world and his experiences, but because his perception of his world and his memories of what has happened to him are unreliable. It is quite possible that Blackett has experienced what he thinks has happened, but it is just as possible that he is suffering from some post-traumatic stress disorder, for which Clare is attempting, unsuccessfully, to treat him. Blackett practically suggests this is the case himself, when he declares that both Clare and Kefele are crazy.
Broderick has written a story entirely about questioning perceived reality, not only in the story itself, but in the world around the reader. It isn't a story of paranoia or conspiracy, but rather a chance to reflect on the way the reader understands and remembers what has occurred.
Reprint reviewed in the anthology Year's Best SF 16, edited by David G. Hartwell and Kathryn Cramer, HarperVoyager, 2011.
---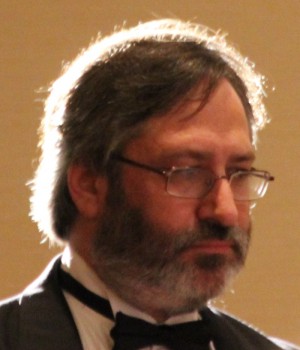 Steven H Silver is a sixteen-time Hugo Award nominee and was the publisher of the Hugo-nominated fanzine Argentus as well as the editor and publisher of ISFiC Press for 8 years. He has also edited books for DAW and NESFA Press. He began publishing short fiction in 2008 and his most recently published story is "Doing Busines at Hodputt's Emporium" in Galaxy's Edge. Steven has chaired the first Midwest Construction, Windycon three times, and the SFWA Nebula Conference 5 times, as well as serving as the Event Coordinator for SFWA. He was programming chair for Chicon 2000 and Vice Chair of Chicon 7. He has been the news editor for SF Site since 2002.