Congratulations to Ryan Harvey on his 300th Blog Post!
Congratulations to Ryan Harvey on his 300th Blog Post!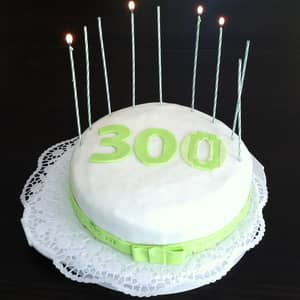 If you stopped by the blog earlier today, you may have noticed a brief notice from our Saturday morning blogger Ryan on the occasion of his 300th post at Black Gate.
If you're not a regular, you can be forgiven for not appreciating just what a big deal this is. But here's a few facts to put it into perspective: over the last decade we've welcomed well over 250 different bloggers and guest writers, many of whom have become regular contributors. Only three others have produced the volume of content Ryan has: Matthew David Surridge (332 articles), Sue Granquist (408), and myself.
Here's another one: Ryan has been writing for us for ten years, and in the past 12 months alone has produced 100,000 words at Black Gate. That's the rough equivalent of 10 volumes of lively journalism on John Carpenter, monster movies, Edgar Rice Burroughs, Clark Ashton Smith, sword-and-sandal epics, and other topics of vital national interest.
But Ryan's accomplishment isn't just a matter of statistics, as impressive as they are. Unlike Matthew, Sue, and me, Ryan was one of our founding contributors on the blog, recruited by Howard Andrew Jones to create the leading online magazine of modern fantasy a decade ago. In a very real way he led the way, defining our identity and showing just what we could accomplish. With his boundless enthusiasm for the best in both modern and classic fantasy, and his relentless pursuit of excellence in the art of fantasy journalism, he blazed a path for the rest of us to follow.
So today I hope you'll raise a glass in honor of the spiritual leader at Black Gate, the man whom I'm proud to call my friend. Ladies and gentlemen, I give you Mr. Ryan Harvey.