Unbound Worlds on the Best Sci-fi and Fantasy Books of December
Unbound Worlds on the Best Sci-fi and Fantasy Books of December
It that's time of year again. You know what I'm talking about. That time when everyone and their grandmother publishes a Best of the Year list. Why do they do it? Why??
I'll tell you why. Because we love them. We love Best of the Year lists, and probably always will. We've got a few days left until the end of the year, and we'll cover as many of them as we can. Starting with Unbound Worlds and their Best Sci-fi and Fantasy Books of December 2017, written by Matt Stags.
The Chaos of Luck by Catherine Cerveny (Felicia Sevigny, Book 2; Orbit, 432 pages, $16, December 5, 2017)
A Brazilian tarot card reader and a Russian crime lord race to stop a conspiracy in this steamy science fiction adventure – the sequel to the exciting series that began with The Rule of Luck.
I completely missed the first Felicia Sevigny novel, The Rule of Luck, released last November from Orbit. I guess that means I have more to look forward to. This series about Brazilian tarot card reader Felicia Sevigny and Russian crime lord Alexei Petriv, the most dangerous man in the TriSystem, is set in the year 2950, after humanity has survived devastating climate shifts and four world wars. Petriv will trust only Felicia to read his cards, but the future she sees is dark indeed.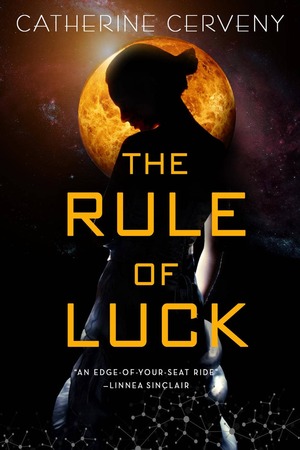 [Click the images for bigger versions.]
Fleet Insurgent by Susan R. Matthews (Book #8 of Under Jurisdiction; Baen, 576 pages, $16, December 5, 2017)
Novellas, short stories, and more in the critically acclaimed under jurisdiction series from John W. Campbell Award finalist Susan R. Matthews. Together for the first time, here are the novellas, novelettes, and short stories that complete Matthews' epic science fiction series. Plus, supplemental materials that flesh out Matthews' characters and detailed worldbuilding.
Susan R. Matthews' Under Jurisdiction series, tales of a doctor of conscience who is a faithful servant of the Bench, where institutionalized torture is an instrument of State, began with An Exchange of Hostages, first published by Avon Books in 1997 and nominated for both the Philip K. Dick Award and the John W. Campbell Award. Baen returned the entire series to print last year, we surveyed them all back in January.
The Girl in the Tower by Katherine Arden (Winternight, Book 2; Del Rey, 384 pages, $16, December 5, 2017)
A remarkable young woman blazes her own trail, from the backwoods of Russia to the court of Moscow, in the exhilarating sequel to Katherine Arden's bestselling debut novel, The Bear and the Nightingale.
We covered the first book in the series, The Bear and the Nightingale, last December. The third book in the trilogy, The Winter of the Witch, is due August 14, 2018.
There's more to Matt's list than ongoing series — although if that's your thing, he also highlights The Wrong Dead Guy by Richard Kadrey (Book 2 of Another Coop Heist), The Dreamer's Song by Lynn Kurland (Book 11 in The Nine Kingdoms), God's Last Breath by Sam Sykes (Book 3 of Bring Down Heaven), and more from Faith Hunter, Ken Scholes, Mercedes Lackey, Alex Marshall, K.J. Parker, and many others. Check out the complete list here.
Matt Staggs organized Facebook's The Swords and Sorcery League, and has written for Random House's Suvudu and Unbound World sites. He interviewed me for Suvudu way back in 2011, when the print magazine was still alive. Our previous coverage of his work includes:
Unbound Worlds on 7 Great Occult Detectives
Black Gate at Suvudu
See all our previous New Treasures here.