Black Gate at Suvudu
Black Gate at Suvudu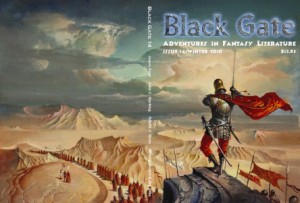 Black Gate is featured this week as part of Suvudu's Magazine Mania series.
Suvudu is a division of Random House, and promotes a rich variety of science fiction, fantasy, comics, graphic novels, and gaming titles from Del Rey, Spectra, Pantheon Books, and Random House Children's Books, all part of Random House.
They also do a fine job covering film news, independent bloggers, and books and comics of interest from many other publishers. Suvudu has previously highlighted Fantasy & Science Fiction, Fangoria, Electric Velocipede, and the extremely cool Kobold Quarterly in their Magazine Mania column, helping bring print magazines to the attention of new SF & fantasy readers. The articles are written by Matt Staggs.
We're proud to be featured this week. Here's part of Matt's commentary:
While the web offers a lot of wonderful stuff for sci-fi, fantasy and horror fans, it's important to remember that there are plenty of print magazines on your local bookstore shelves that deserve your attention. Some of them have been steadily supplying news and features to fandom for decades, while others are new publications bravely stepping into the breach. Over the next few weeks, I'll be featuring a few of these magazines for your consideration. Today's magazine is Black Gate. Launched in 2000, Black Gate specializes in tales of swords, sorcery and high adventure.
The complete post is here, including a brief interview with me in which I yak on for a bit on why you should try Black Gate. I'd quote a bit of it here, but quoting an article that quotes yourself is a bit weird.  Even for me.