My All-Story Story, or, A Tale of Tarzan (Not Triumphant)
My All-Story Story, or, A Tale of Tarzan (Not Triumphant)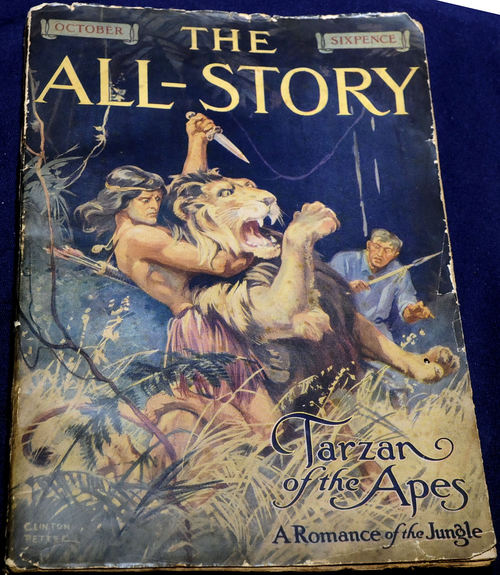 Those who know me well are aware that I'm not a morning person (to put it mildly). Accordingly, they'd be shocked to learn that not only did I get up on Saturday, November 25th morning at 5:00 a.m., I did so voluntarily and eagerly! As collectors will attest, however, no price – even missing hours of delightful sleep! – is too great to pay in the pursuit of one of your collecting grails. Of course, it's much more gratifying when the pursuit pays off. Unfortunately for me, it did not. Even so, I'm glad I got up to give it a shot.
About a week ago, I learned that an auction house in England would be auctioning off a copy of the October 1912 issue of The All-Story, which features Edgar Rice Burroughs' complete novel, Tarzan of the Apes. All other things being equal in terms of condition, that issue is the most valuable of all the pulp magazines (the nicest copy I'm aware of having sold at auction, in fine condition, sold over a decade ago for nearly $60,000). This auction house clearly had no idea of its value, as their pre-sale estimate was between 20 and 40 pounds! A decent copy of this pulp has been my number one pulp grail for decades, and I hoped that this one would slip through the collecting cracks on its way to me. The auction house only had one photo of it online, and I couldn't obtain any other photos of it, so condition was a bit of a guess, which complicated bidding. The front cover had some overall wear, but generally looked decent, but I had no clue on the condition of the spine, back cover or paper. See the photo above.
What made this particularly interesting was that it was the British edition of The All-Story, rather than the American edition. For a period of time in the teens (and I think going back a little earlier than that), The All-Story was also published in Britain, with the same cover date as the American edition. The covers noted that the price was Six Pence, rather than Ten Cents, and I believe the ads were different, but the fiction content was the same. I assume that the British edition was published at least a few days later than the American edition (the October 1912 American edition actually went on sale on September 10, 1912), but I don't know how much of a delay there was. My guess is that it was later than the American edition, so technically this was not the first printing of the story, unlike the American.
However, given that far fewer copies would have been printed in Britain, and the number of pulps that were destroyed in Britain during the World Wars, it's probably much scarcer than the American edition. I'd never seen a British edition of the October 1912 issue offered before, at any rate. I'd be curious to know if anyone else has ever seen the British edition of this previously. But given that it was likely to have been published at least a few days after the American edition, I spent a lot of time speculating as to how much that should affect its value, as I was getting ready for the auction.
Due to advance internet bidding, the auction opened at 1,400 pounds (or 35 times higher than the pre-auction high estimate). At that point I was in the lead, and with only five people watching it online (one of which was me, while another was a non-pulp collector friend of mine), I was hoping that my grail quest would soon have a successful conclusion! By now, Deb had gotten up as well, and was with me at my computer, cheering me on. As a result of the pre-auction activity, the auctioneer was clearly pretty excited, and just before the auction commenced, he mentioned that the item had been consigned to them by a charity house, which had recently received it as a donation. Obviously their donor also had no idea of what they had! As the bidding progressed, it became apparent from the auctioneer's commentary that there were two internet bidders from America (of which I was one) and a bidder who was physically attending the auction. At the end of the day, the bidder in Britain prevailed, with a hammer price of 9,000 pounds. With the conversion rate, auctioneer's fees and VAT, that came to just over $17,000.
So, sadly (for me, at any rate), the pulp is remaining in its native land and not crossing the pond. But hope springs eternal that one day, the grail will find its way into my collection!
---
Doug is a collector of pulps, as well as of pulp, science fiction and fantasy art. He co-founded and co-organizes the Windy City Pulp and Paper Convention. For many years his Tattered Pages Press published the pulp fanzine Pulp Vault, as well as other books on the pulps. He was one of the authors of The Adventure House Guide to Pulps, and has edited several pulp anthologies, including the Best of Adventure series. His book, Uncovered: The Hidden Art Of The Girlie Pulps, an in-depth study of the spicy pulps and their art, was named ForeWord Magazine's 2003 Popular Culture Book of the Year. In 2013, Bob Weinberg, Bob Garcia and he collaborated on The Collectors' Book of Virgil Finlay, a collection of Finlay's gorgeous art. His last post for us Why You Should Go to Conventions.