Why You Should Go to Conventions
Why You Should Go to Conventions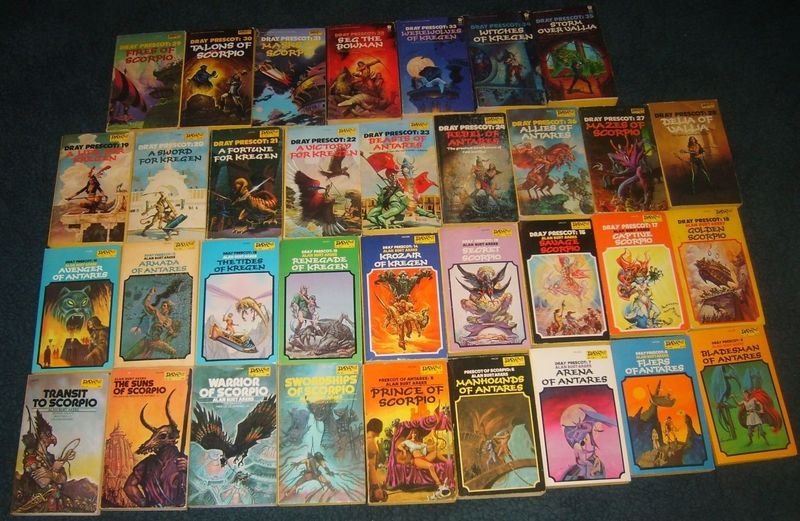 The Dray Prescot series, by Alan Burt Akers
Last month, I posted in a couple of Facebook groups a piece of new art that Deb and I had bought. In response to the post, one person asked how to go about acquiring illustration art, and I mentioned that one good venue was going to conventions such as The Windy City Pulp and Paper Convention (shameless plug) or PulpFest for vintage art, or IX or Spectrum Fantastic Art Live for new stuff. And many of the larger comic conventions also have some dealers who specialize in vintage illustration art, or artist attendees doing current work. And several SF/fantasy conventions, such as World Fantasy, Boskone or Worldcon still have good art rooms (and Boskone in particular has strong vintage art components to their art shows), though in most cases SF cons are not what they used to be when it comes to art. In addition to conventions, I also mentioned various auction houses, eBay and dealers, which are more typical day-to-day places to find illustration art, as cons are scattered throughout the year and most of us can't attend all of them.
Of course, this is only my opinion, and others may have different experiences, particularly when it comes to collecting newer illustration art. Our focus is on older illustration art, and while we do have several pieces that have been created in the past few years, the bulk of our collection is illustration art that's at least 30 years old, with the majority of it at least 60 years old and some over 100 years old.
[Click the images for bigger versions.]
In thinking about it further, I think that my answer was unintentionally deficient in one regard, tied in to conventions. While conventions are often a great place at which to find art, perhaps even more importantly, they're an incredible place to meet dealers, artists and fellow art collectors and make friends. A network of collecting friends is invaluable if you want to collect; I think that's likely true no matter what it is that you collect. At least I've found that to be true when it comes to collecting pulps – my first collecting passion – as well as illustration art. I've probably bought or traded for dozens of pieces of art (and bought thousands of pulps), not at conventions, but through friends that I made at conventions.
Beyond the hopeful results (acquiring art) that you might have as an initial goal, many lifelong friends are made just by going to cons and meeting folks who share the same interests that you do. Where else are you going to find a batch of people who don't think you're odd for hanging up paintings of spaceships, or of Buck Rogers-types blasting aliens with rayguns, or futuristic cityscapes, or whatever art (or anything else) it is you collect? Even if it doesn't lead to new acquisitions, the payoff for going to conventions is still well worth it.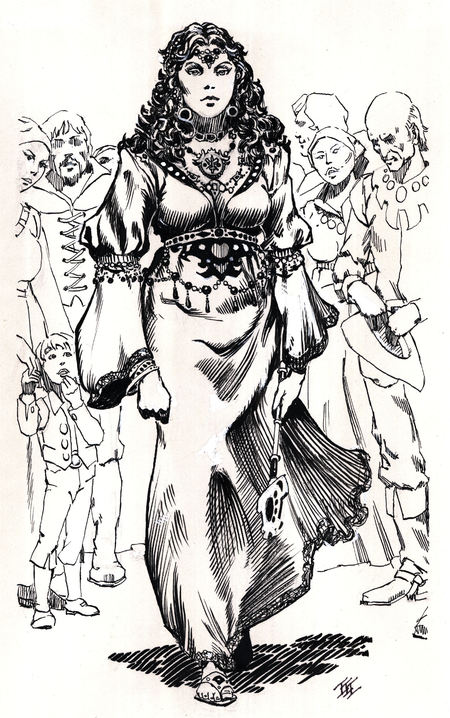 Above is a Michael Whelan black and white illustration that he did back in 1976 for the paperback The Tides of Kregen by Alan Burt Akers, from DAW Books. This is one of the Dray Prescot series, which I discovered as a 13 year old and loved reading throughout my teenage years. One of my collecting obsessions is art from the series, and our dining room walls are devoted to it (it took me awhile though to convince Deb to let me hang it there!)
I bought this piece at the World Fantasy Convention in 2006 in Austin, TX. However, I would never had the chance to acquire it there if I hadn't made friends with a husband and wife collecting duo I'd first met at Chicago area conventions years earlier.
| | |
| --- | --- |
| | |
As I was walking around the dealer room the Saturday afternoon of that WFC, my friend Alex (the husband of the duo) came up to me and asked if I had a few minutes to go with him to the hotel lobby. He explained that a local friend of his – who was not attending WFC – was about to stop by the lobby for a short visit with Alex and he was bringing a portfolio of art that he'd decided to sell. Most of it was art that his friend had acquired at cons during the 1970's and 1980's. Alex had first dibs on the art, but if he didn't want something, then I could buy it. Needless to say, I accompanied him to the lobby where we met his friend. He had brought around a dozen pieces, and there were two that I was interested in which Alex didn't want – a small but very nice Roy Krenkel color preliminary and this Whelan interior. I knew what the Whelan was immediately – it wasn't tough to figure out, as it had the publication info on the back, and given that it was for the Dray Prescot series, it was right up my alley. I asked Alex' friend how much he wanted for each of the two, he told me a fair price and I told him I'd take them; I just needed to go back to the dealer room and liberate the checkbook from my wife.
Had I never attended those Chicago conventions and become friends with Alex, I'd never have seen or acquired those pieces at WFC. I'm sure most collectors who have friends in their collecting community have similar stories. But to make those friendships, you need to meet folks, and in my book, conventions are one good way to do that. So, go out there and mingle with fellow fans!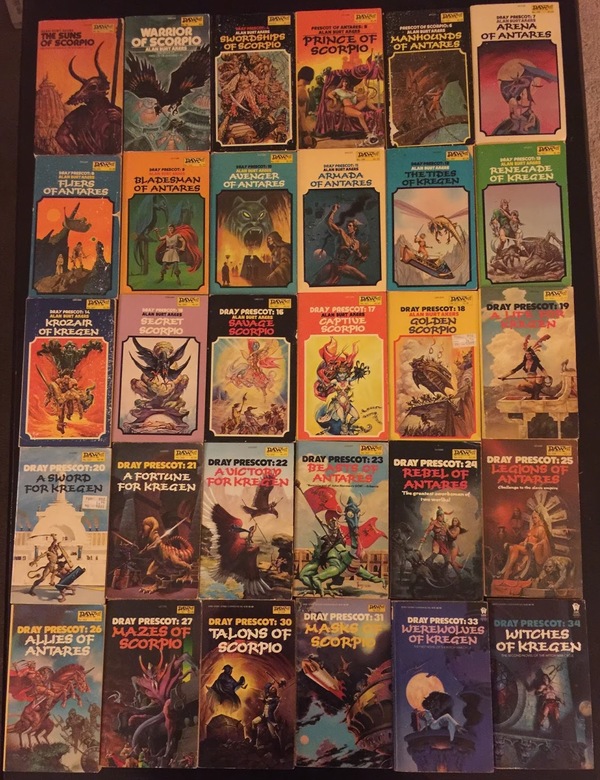 As a postscript to the story about this Whelan, as I was standing with Alex and his friend in the hotel lobby, after coming to an agreement on the price but prior to my giving Alex' friend a check for the pieces, two women who were also WFC attendees wandered by, glanced at the art (which was on a table) and stopped to look at it. One of the women picked up the Whelan and asked if it was for sale. Alex' friend told her that he'd brought it and others for sale, but that I was buying that one. She asked him how much he'd asked for it, and when he told her the price, she said, "Oh, I'll pay you more than that for it." But fortunately for me, he told her that a deal was a deal and that was the end of it.
---
Doug is a collector of pulps, as well as of pulp, science fiction and fantasy art. He co-founded and co-organizes the Windy City Pulp and Paper Convention. For many years his Tattered Pages Press published the pulp fanzine Pulp Vault, as well as other books on the pulps. He was one of the authors of The Adventure House Guide to Pulps, and has edited several pulp anthologies, including the Best of Adventure series. His book, Uncovered: The Hidden Art Of The Girlie Pulps, an in-depth study of the spicy pulps and their art, was named ForeWord Magazine's 2003 Popular Culture Book of the Year. In 2013, Bob Weinberg, Bob Garcia and he collaborated on The Collectors' Book of Virgil Finlay, a collection of Finlay's gorgeous art.