Saucer Country
Saucer Country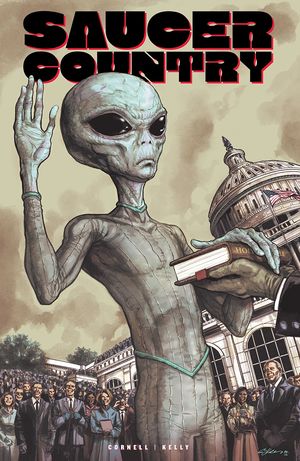 Read this book. Go to your nearest comic shop and pick up the trade paperback collection. Don't know where your nearest comic shop is located? Go to the Comic Shop Locator, type in your zip code and find out. Is it just easier to order a copy online and have it delivered to your home? Then go to IDW Publishing and order a copy. You can even order a digital copy if you don't want to wait for delivery.
Why do you need to read this book? Because this comic book is about what's going on right now.
The story begins with Arcadia Alvarado, governor of New Mexico and Presidential candidate. It's a story about a woman running for President. It's a story about the daughter of Mexican immigrants. It's also a story about a woman who was abducted by aliens. So, yeah, this is a comic book (written in 2012, by the way) that deals with the possibility of a woman running for President as the candidate of a major political party. It's also a comic book about a Presidential campaign where immigration reform is a key issue. It's also a comic book about a Presidential campaign mired in conspiracy theories that leave people uncertain about what to believe. But that's not what's going on right now. That's what went on in 2016.
Arcadia Alvarado was forcibly removed from her car by strangers. She was stripped naked and had a foreign object inserted in her anus. She was told afterwards that no one would believe her story if she said what happened and even if someone did believe her, there was nothing anyone could do about it. Either way, if she tells anyone about what happened, she believes that her career will be over.
Saucer Country is a story about rape. It's about a group of powerful individuals who routinely abuse people and suffer no consequences for their actions. It's about victims too afraid to speak out until one woman finds the courage to name her abusers. And it's about the friends, family, and co-workers who urge her to stay quiet for her own good. If none of that sounds hauntingly familiar, you haven't been paying attention to current events.
Saucer Country is more relevant today than when it was originally written. Find a copy and see for yourself.
---
Michael Penkas is an infrequent contributor to Black Gate. His mystery novel, Mistress Bunny and the Cancelled Client, is available in lots of different places. He maintains a website that you should check out.