It's Alive! Classic Horror and Sci-Fi Art from the Kirk Hammett Collection
It's Alive! Classic Horror and Sci-Fi Art from the Kirk Hammett Collection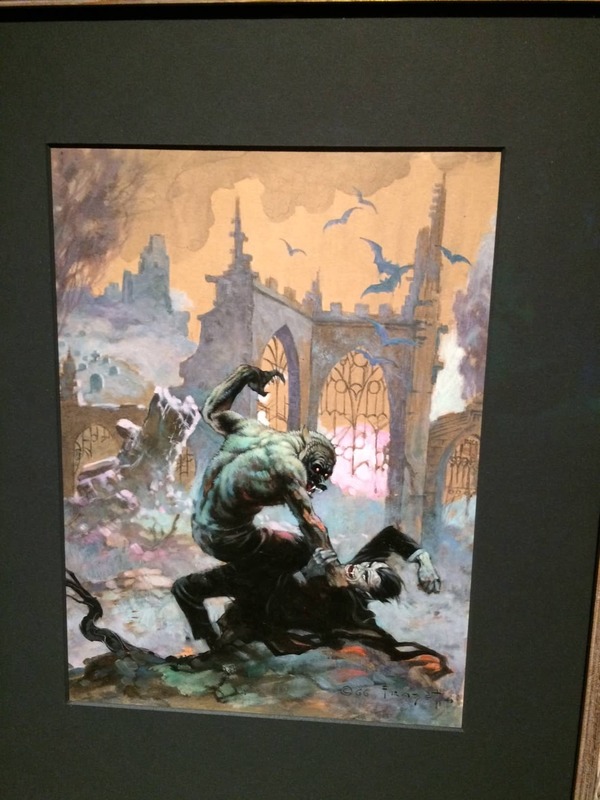 Now that Halloween's over, those of us who enjoy a dark streak in our entertainment will seek out ways to stretch out the spooky season, even as the tidal wave of Christmas ads begins to crest.
Those in New England seeking a last taste of horror would do well to seek out "It's Alive! Classic Horror and Sci-Fi Art from the Kirk Hammett Collection" at the Peabody-Essex Museum in Salem, MA.
Kirk Hammett is best known as being the lead guitarist for Metallica, but his years touring with a multi-Platinum band has afforded him the opportunity to collect horror and sci-fi memorabilia. The exhibit is a natural progression from Too Much Horror Business, Hammett's 2012 book showcasing his collection.
[Click images to embiggen.]
The stars of the exhibit are the classic movie monster posters: The Mummy, Dracula and Frankenstein, and their sequels and derivatives. The first section of the exhibit showcases The Mummy "It comes to life!" poster. It's large with a unique layout, and is reportedly the only known surviving copy. With vibrant colors and art-deco style, it's a powerful piece. Film historians are fascinated by it because it's a window that tells us something about the film that the film itself does not: the mummy's makeup was largely green, a fact not conveyed in a black-and-white feature. This work is also one of Hammett's favorites, as evidenced by the fact that it's featured on one of his main stage guitars.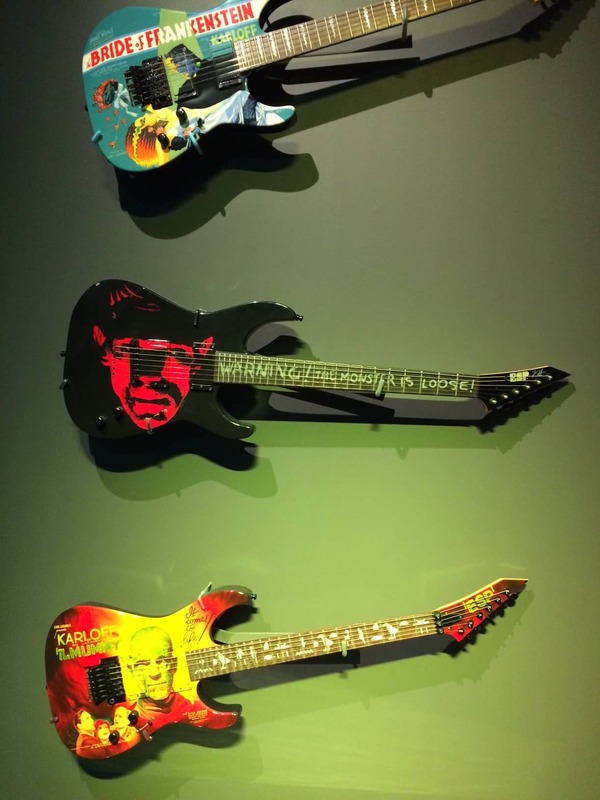 The art deco movie monster aesthetic should be familiar to Black Gate readers; it's a common style that's regularly borrowed for Indiana Jones-style adventure serials, and 1920's and 1930's Lovecraftian horror. Seeing the source material is fascinating, however. It's compelling to view these posters and realize that this style was at once common, but also reveling in the spectacle of the silver screen.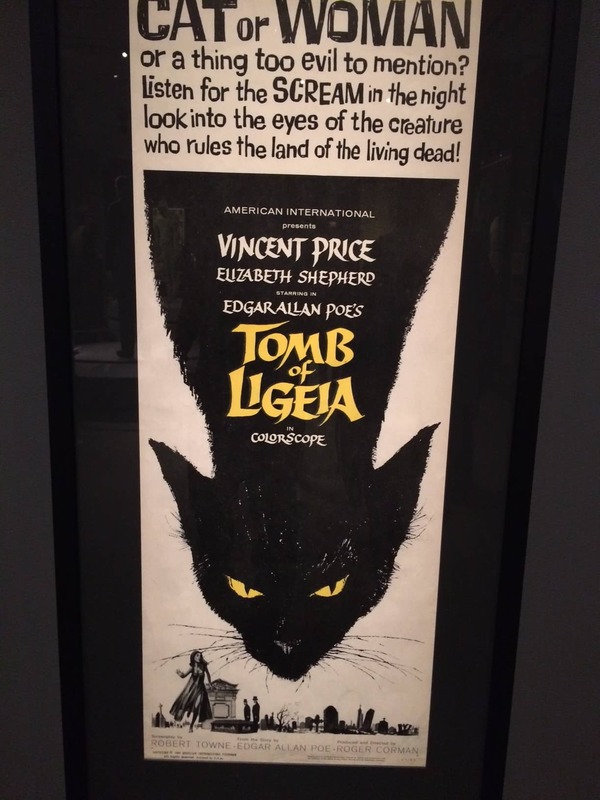 With multiple posters for the same movie placed side-by-side, one can see that these were the "movie trailers" of their day. You know how there will be several trailers for a film, and watching different ones will give you a different perception of what the film's about ("Trailer A made it look like action, and Trailer B make it look more like a mystery")? In the mid-20th century, that was done with posters. Seeing a print of a Dracula poster that stresses the romantic longing, next to one that emphasizes Dracula's monstrous nature, tells us some things about the movie business haven't changed. The poster's job was to get ticket buyers in seats, and they are willing to portray a movie as nearly all things to all audience members to do so.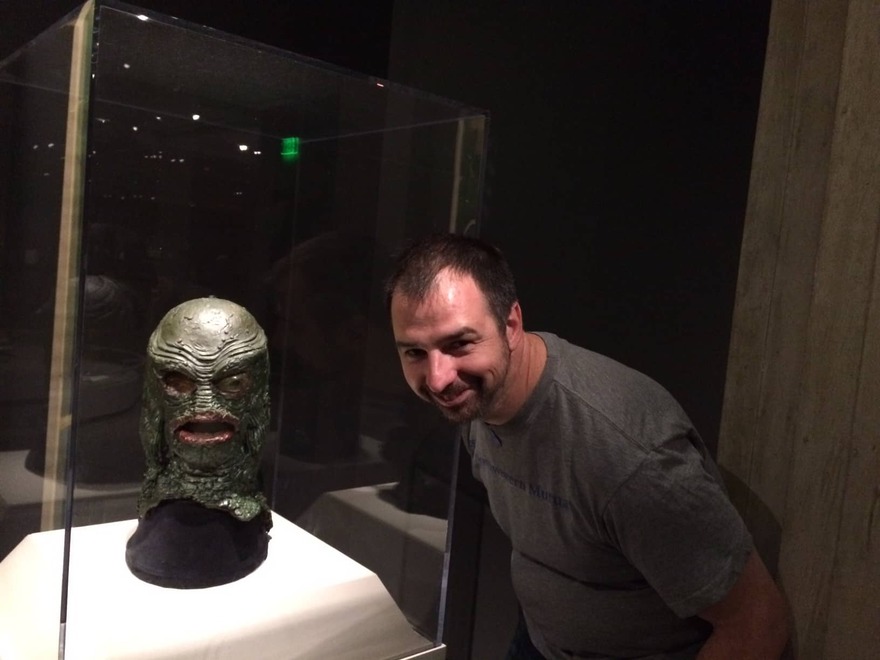 The exhibit features a wall of horror-inspired guitars of Hammett's, all based on the ESP M2s he's been playing for years, as well as a looping video of how horror inspires his music. There's a number of props, including an underwater mask from The Creature from the Black Lagoon, as well as a few monster-themed toys from the 60's, but the exhibit focuses squarely on the posters.
Tucked next to the guitars, however was a true gem that I didn't know was included in the exhibit: a trio of Frank Frazetta originals, including Dracula vs. Wolfman and The Beserker. Seeing them up close, and the ability to read the texture in the paint is thrilling in a way that is not captured in a mere print. But be forewarned, the energy and epicness captured in Frazetta paintings probably gives the impression of great size; like the Mona Lisa, they're smaller in real life.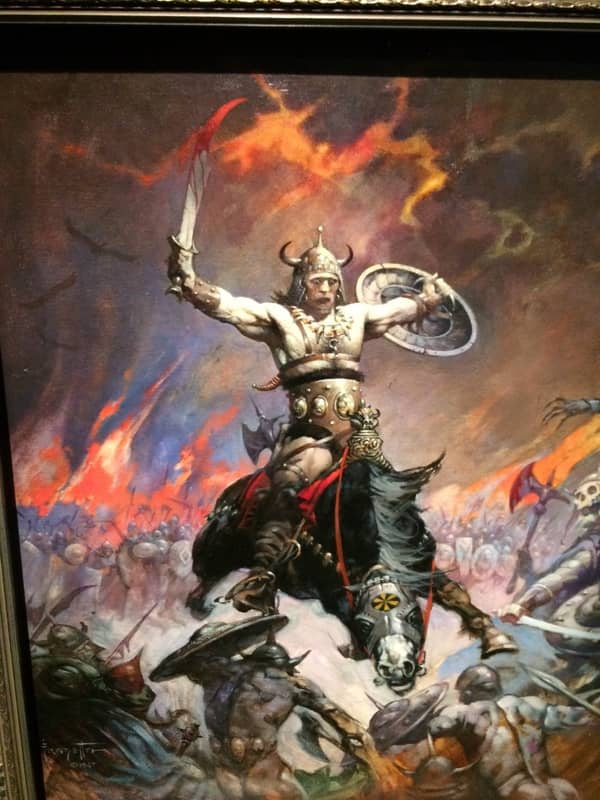 Towards the end of the exhibit, more sci-fi is mixed in, featuring early posters for such classics as Star Wars and Alien. A short segment uses some lesser examples as a mini-tutorial in poster design, showing by example why certain color combinations are regularly used. Another short video has Hammett talking about his introduction to horror, when the then-5 year old Kirk was placed in front of a TV to keep from worsening an injury and was exposed to The Day of the Triffids.
There was one flaw in the exhibit that caused me to miss a modern gem. There's no signage that I saw, but when leaving the exhibit there's an empty space where some music can be heard. It's not just "some music," however, but an original Kirk Hammett composition called "The Maiden and the Monster." At seven-and-a-half minutes, and described as a score to an imaginary horror movie, it's probably the most concentrated Hammett guitar slinging we'll see in a while. Sadly, it's easy to miss, as I only took passing notice of it as we discussed our follow on plans, and I failed to take the time to listen to the whole thing. To date, I've failed to find it available online anywhere.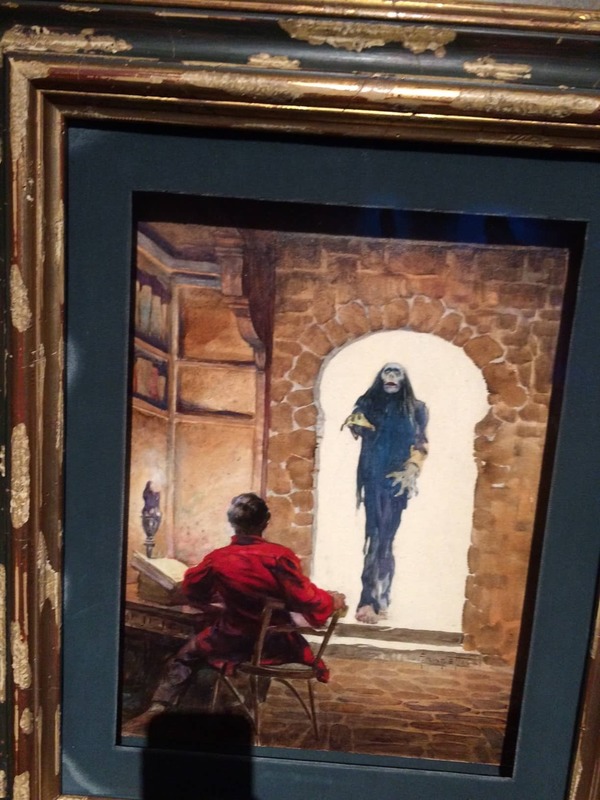 A quick sidenote: I attended the exhibit in late October, and Salem truly goes all-in on the witches-horror-Halloween shtick. Based purely on the signage, I'd guess Salem has the most psychics, fortunetellers and tarot card readers per capita in the United States. I suspect that aesthetic will have toned down post-October 31, but will definitely still be present. I hoped I might be in for a Goth Chick sighting (where else would Goth Chick be in October, but Salem, MA?), but the Goth element was so pervasive it's possible I couldn't pick her out.
As a history of horror movie posters weighted towards the early days, the exhibit is essential, and it also serves as window into a musician's inspirations.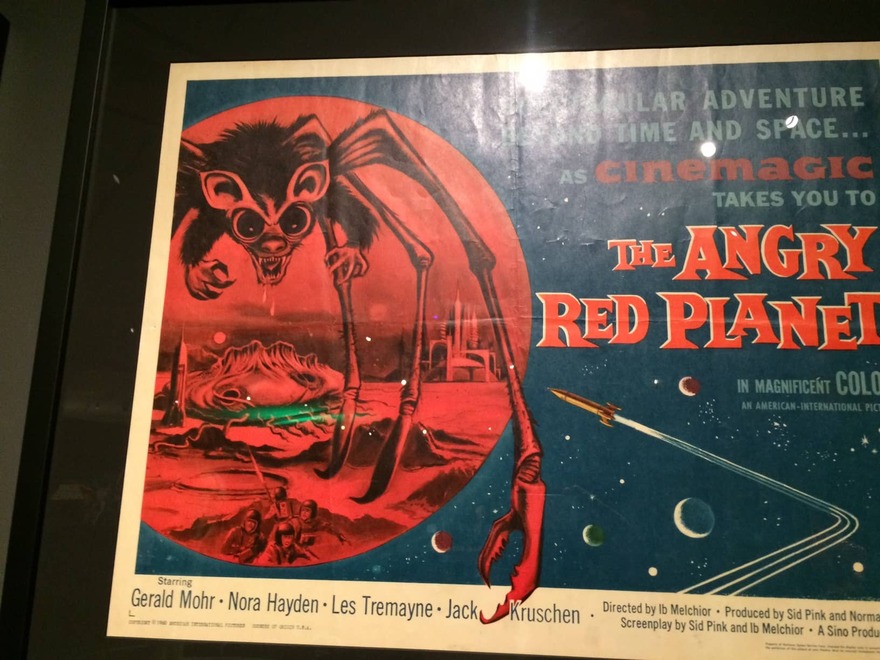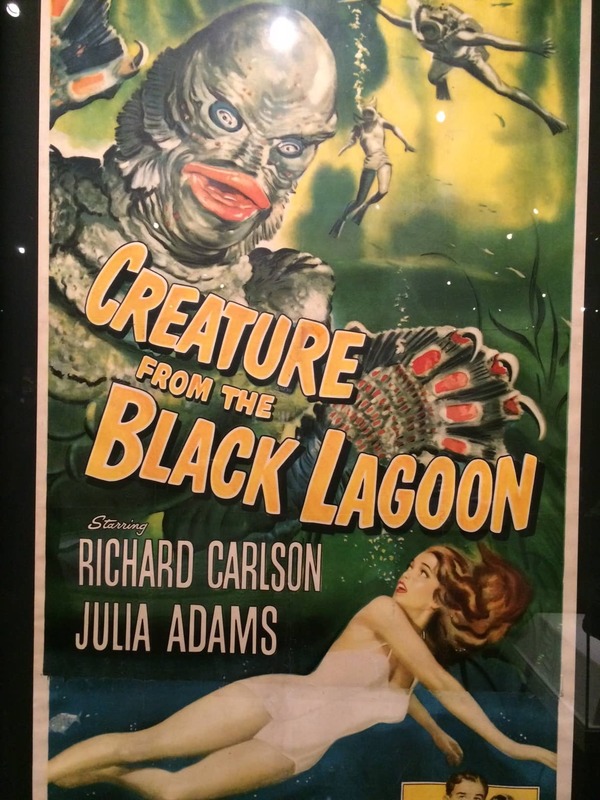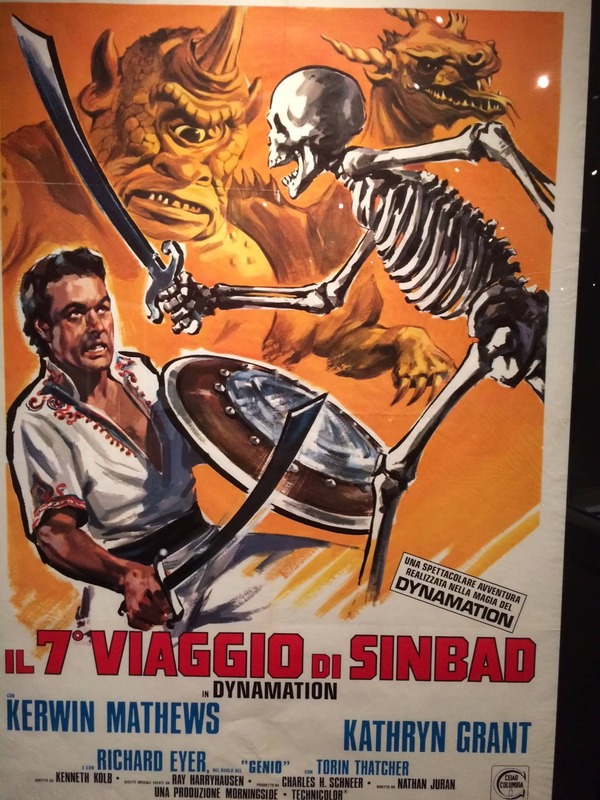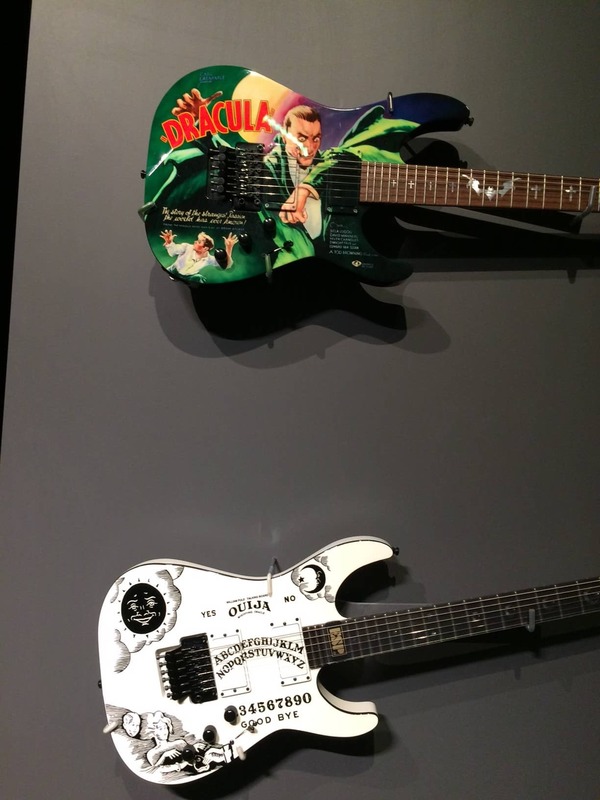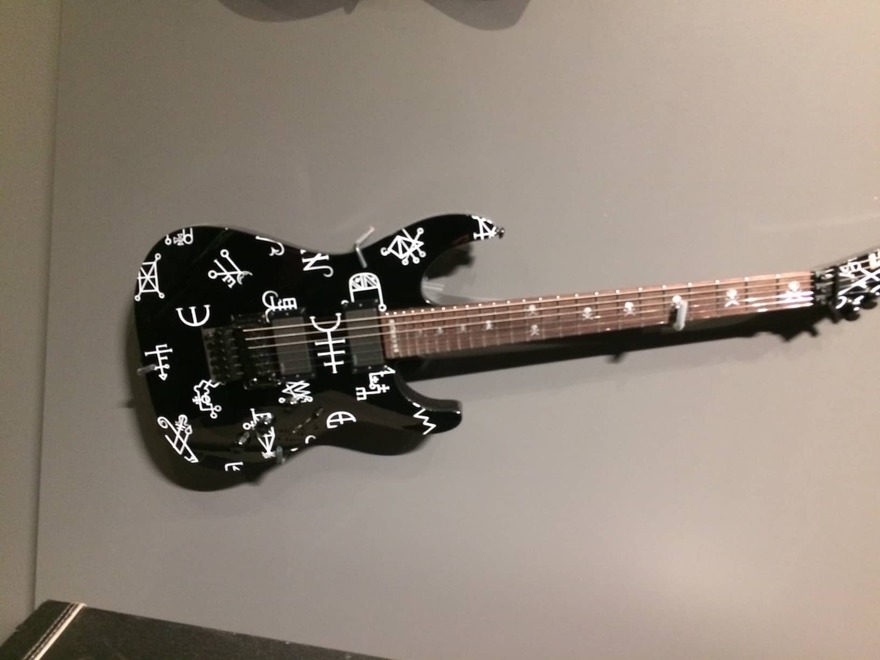 The exhibit runs until November 26. Admission is $20 for adults, and tickets, hours and other information are available at www.pem.org.
---
Mick Gall is a government bureaucrat by day, Military Intelligence officer in the Army Reserves by weekend, and writer of adventure fiction by (occasional) night. His last post for Black Gate was Cthulhu in Metallica.
He can be found on the web at www.mickgall.com.