Vintage Treasures: The Cockatrice Boys by Joan Aiken
Vintage Treasures: The Cockatrice Boys by Joan Aiken
Twenty years ago this week I received the artifact above in the mail, with a news release from Tor Books tucked inside: a trade paperback re-issue of Joan Aiken's The Cockatrice Boys, with a 100% gonzo cover and interior art by Jason Van Hollander.
Joan Aiken, the daughter of the Pulitzer prize winning poet Conrad Aiken, was the author of many novels for young adults, including Black Hearts in Battersea, The Cuckoo Tree, and the 4 million-copy bestselling The Wolves of Willoughby Chase. According to the press release that came with my copy, The Cockatrice Boys was her "first adult fantasy novel… a weird, and wonderful adventure that combines the horror of Salem's Lot with the fantasy and charm of Alice in Wonderland." That certainly sounds gonzo, anyway.
[Click the images for bigger versions.]
The Cockatrice Boys was published in hardcover by Tor in September 1996, and reprinted in trade paperback in November 1997, both times with a wraparound cover. There are a few descriptions floating around, but by far my favorite comes from Amazon:
The idea for this book might have come from National Enquirer: hideous demonic monsters invade England, laying it waste and devouring most of the inhabitants. Embargoed by the rest of the world, the English barricade themselves underground. After five years on the defensive, an armored, heavily-armed train is built to attack and, if possible, find the source of the plague: the Cockatrice Belle and her crack Cockatrice Corps crew. The train sets out for Manchester, and by chance it picks up Sauna, a young girl who embodies both cause and cure.

Joan Aiken's characters are evocatively Dickensian and strange — Sauna, Dakin, Clipspeak, Bellswinger, Tom Flint. This send-up of every other alien-invasion story is a quirky, inventive fantasy.
As delightfully off-the-wall as the whole thing sounds, I admit that my decades-long fascination with this book come chiefly from Van Hollander's marvelous artwork. There are nearly a dozen full-page illustrations; here's a handful.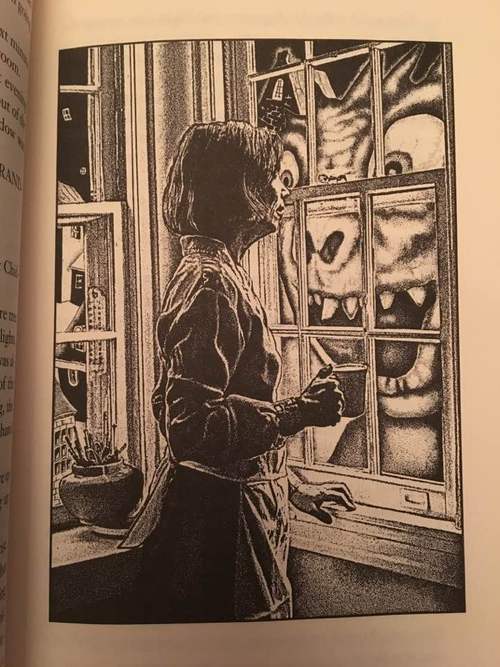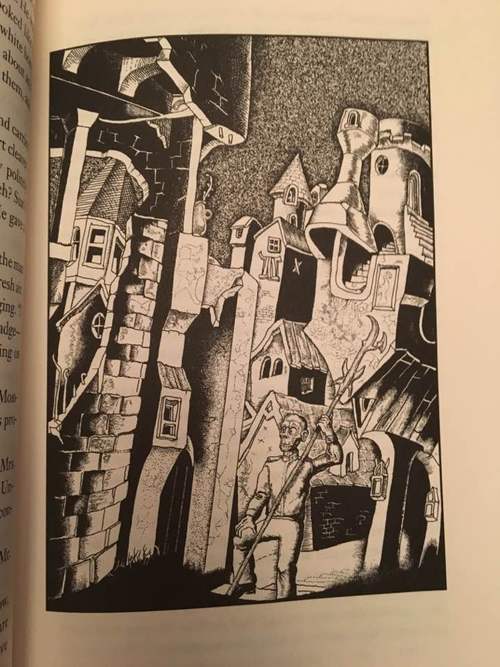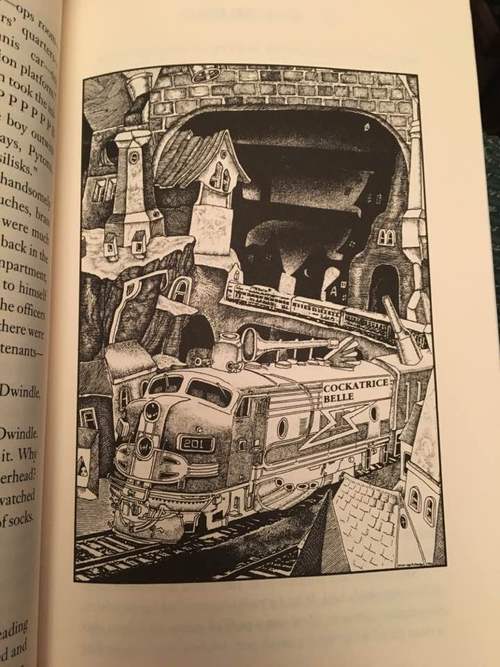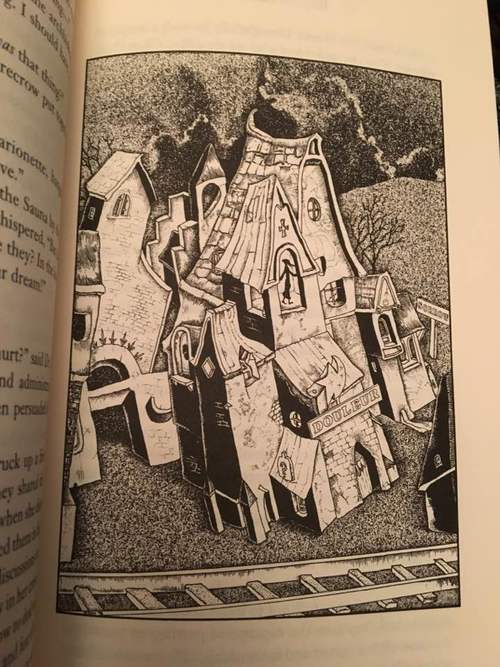 And here's the complete text of that release I mentioned (front and back).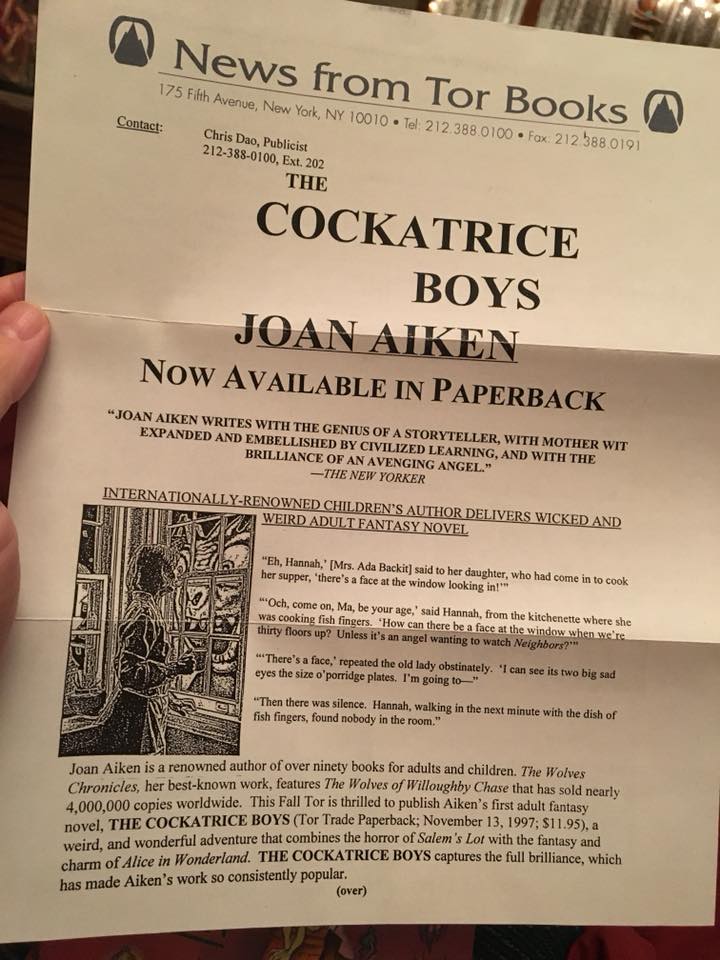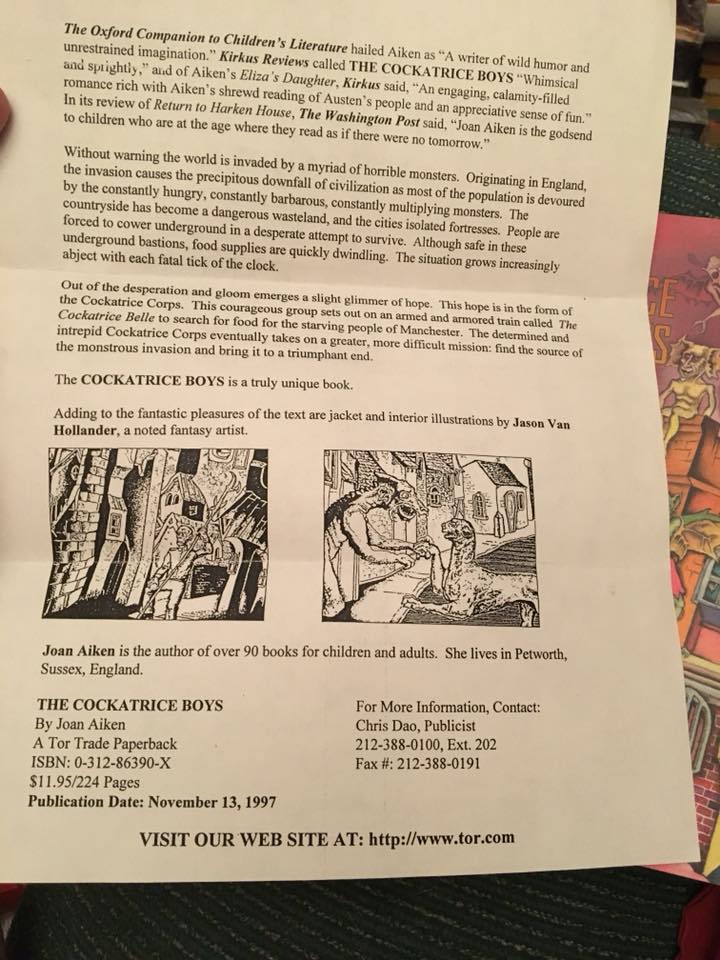 Joan Aiken died in 2004. Our previous coverage includes:
The People in the Castle by Joan Aiken
Check Out the Latest Fantasy Fiction at Tor.com
The Cockatrice Boys was published by Tor Books on November 13, 1997. It is 221 pages, priced at $12.95 in trade paperback. The wraparound cover and interior art is by Jason Van Hollander. It was reprinted again by Starscape in 2002; a digital version of that edition is available for $7.99.
See all of our recent Vintage Treasures here.