New Treasures: Creatures of Will and Temper by Molly Tanzer
New Treasures: Creatures of Will and Temper by Molly Tanzer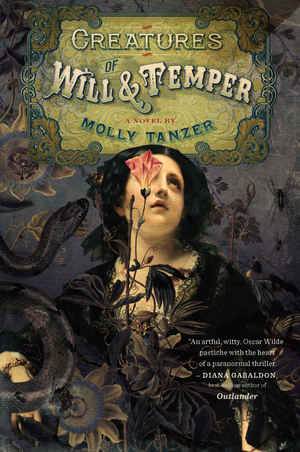 When you've been covering the genre for decades, you start to get a sense for the break-out books. Neil Gaiman's Neverwhere. John Scalzi's Old Man's War. Patrick Rothfuss' The Name of the Wind.
Molly Tanzer's Creatures of Will and Temper looks like a breakout book. It's got all the classic elements — fabulous setting, swordplay, and the supernatural — while also being totally original. And there's no doubt in my mind that Molly is poised for a break-out. Her first novel Vermilion received rave reviews ("A splendid page-turner of a Weird West adventure… hugely entertaining" — Publishers Weekly), and her most recent book was the anthology Swords vs Cthulhu, co-edited with Jesse Bullington. How cool is that?
Creatures of Will and Temper is already starting to generate buzz at the top levels of the industry ("A delightful, dark, and entertaining romp… Molly Tanzer is at the top of her form" — Jeff VanderMeer). It arrived in trade paperback this week from ace editor John Joseph Adams's imprint, John Joseph Adams Books. Don't wait too long to check it out.
Victorian London is a place of fluid social roles, vibrant arts culture, fin-de-siècle wonders… and dangerous underground diabolic cults. Fencer Evadne Gray cares for none of the former and knows nothing of the latter when she's sent to London to chaperone her younger sister, aspiring art critic Dorina.

At loose ends after Dorina becomes enamored with their uncle's friend, Lady Henrietta "Henry" Wotton, a local aristocrat and aesthete, Evadne enrolls in a fencing school. There, she meets George Cantrell, an experienced fencing master like she's always dreamed of studying under. But soon, George shows her something more than fancy footwork — he reveals to Evadne a secret, hidden world of devilish demons and their obedient servants. George has dedicated himself to eradicating demons and diabolists alike, and now he needs Evadne's help. But as she learns more, Evadne begins to believe that Lady Henry might actually be a diabolist… and even worse, she suspects Dorina might have become one too.

Combining swordplay, the supernatural, and Victorian high society, Creatures of Will and Temper reveals a familiar but strange London in a riff on Oscar Wilde's The Picture of Dorian Gray that readers won't soon forget.
Creatures of Will and Temper was published by John Joseph Adams Books on November 14, 2017. It is 368 pages, priced at $16.99 in trade paperback and $9.99 for the digital edition. The cover designer is Eduardo Recife. See our previous coverage of Molly's work here.