A Mashup Between 2001 and The Walking Dead: Illuminae by Amie Kaufman and Jay Kristoff
A Mashup Between 2001 and The Walking Dead: Illuminae by Amie Kaufman and Jay Kristoff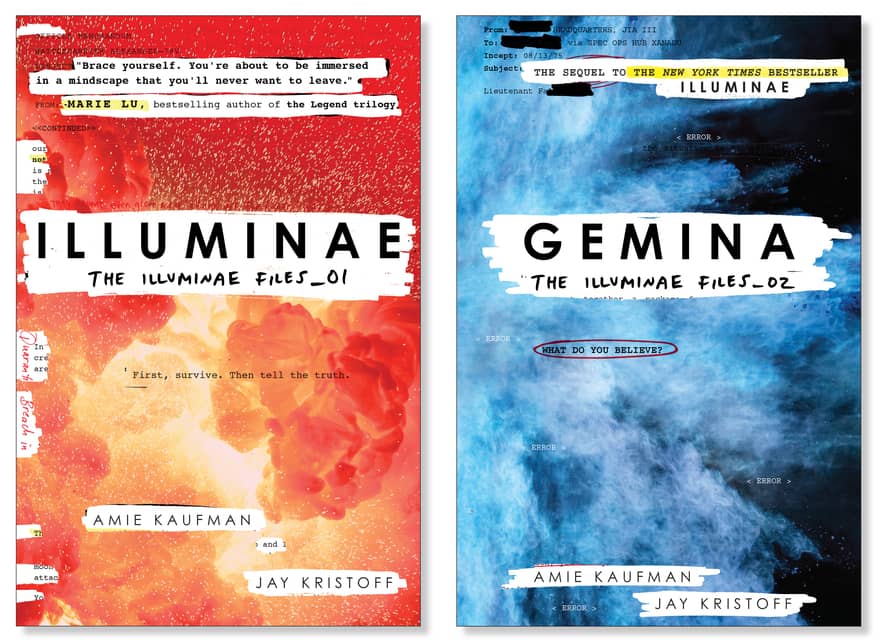 When you crack open the cover of Illuminae (Alfred A. Knopf, 2015), the first thing you read is a memo to Executive Director Frobisher written by someone with a ghost ID. The memo explains that the rest of the book contains public documents exposing a secret corporate war. You don't know who Executive Director Frobisher is. You also don't know who's using the ghost ID. But you will by the last page of the book, and this information will make you want to start re-reading the novel all over again.
But for now, all you've read is the memo. Turning the page, you encounter an interview filed with the United Terran Navy between an anonymous staffer and sarcastic teenager Kady Grant. Yes, Kady has a bad attitude. No, Kady isn't a team player. But you'll roar with laughter as she figuratively pies the interviewer in the face time and time again when he asks questions about her escape from the violent invasion of her planet. You'd be unwise to underestimate her. She might be short, but she's good with computers.
Interspersed with Kady's interview is another with Ezra Mason, the guy she broke up with the morning of the invasion. (At one point, Kady explains to her interviewer, she and Ezra were dodging explosions and ground troops when he says to her: "You picked a hell of a day to dump me, Kades.")
Since you're reading transcripts of interviews that took place after the carnage, you know both Kady and Ezra managed to get off the planet. But they're far from safe. Paging through classified documents, schematics of the relevant spaceships, a "unipedia" entry, illegal texts and unsent emails, you learn that the invader's last dreadnought is still chasing the refugees' convoy, determined to kill every last witness of the hostile takeover.
The survivors are going to have to fight to survive, so Ezra, who's on board the heavy battlecarrier Alexander, is drafted as a fighter pilot. Kady, who's on board the science vessel Hypatia, plays dumb to avoid conscription as a hacker. She tries to get herself transferred to the third ship in their convoy, the freighter Copernicus, to be with her mother, a pathologist who was sent there to combat a virus. (Yes. A VIRUS.) But her application is repeatedly denied.
That's when the Alexander's AI goes rogue, arms its nukes, and blows Copernicus into its component parts. The casualty list goes on for pages.
A mashup between 2001 and The Walking Dead, YA science fiction bestseller Illuminae deserves to have a large crossover audience of adult sci fi fans. If you like action-packed page-turners that will prohibit you from getting to sleep at a decent hour, you should read it.
Amie Kaufman is the award-winning and internationally bestselling author of several young adult and middle grade science fiction and fantasy series. Judging from (also award-winning and internationally bestselling author) Jay Kristoff's official website, he's the primary source of the duo's snark.
Illuminae was published by Knopf Books for Young Readers on October 20, 2015. It is 608 pages, priced at $18.99 in hardcover, $12.99 in trade paperback, and $9.99 for the digital edition. Due to the book's unique presentation style, which is full of drawings that ignore the usual rules of page layout, a print copy is probably to be preferred. An excerpt can be found here.
While Illuminae provides the satisfying ending of a standalone novel, the good news is that the sequel, Gemina, provides more of the same addictive entertainment. A third book in the series, Obsidio, is slated for publication on March 13, 2018.
---
Elizabeth Galewski is the author of The Wish-Granting Jewel, a fantasy novel, and Butterfly Valley, a tale of travel and transformation based on true events. To learn more, please visit her official author's website at www.elizabethgalewski.com. Her last review for us was Brave New Girl by Rachel Vincent.