What to Read after The Handmaid's Tale: Brave New Girl by Rachel Vincent
What to Read after The Handmaid's Tale: Brave New Girl by Rachel Vincent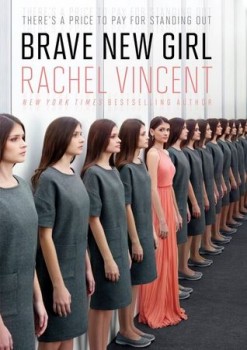 What should you read after Margaret Atwood's The Handmaid's Tale? Rachel Vincent's Brave New Girl.
First-person narration in the present tense plunges readers into the surreal world of Dahlia 16. Raised in a training facility with 4,999 identical sisters, Dahlia doesn't realize she's a clone. All she knows is that she should be like her identicals, happily and unquestioningly serving her home city without distinction.
At least, that's what she's supposed to do. Dahlia figures she must be defective since she takes pride in being at the top of her class, and arrogance isn't permissible in a laborer. Worse, she's started breaking the rules. Stuck in a broken elevator with Trigger 17, a handsome teenage soldier, she actually talks to him. And now she can't stop thinking about him…
Clearly there's something wrong with her. If the authorities discover her secret, they'll liquidate the genome, slaying the entire cohort of 5,000 girls. Meanwhile, Trigger 17 makes himself even more difficult to forget by leaving her forbidden gifts. He must be flawed, himself, to behave so recklessly.
If you're hearing echoes of Aldous Huxley in Vincent's title, it's for good reason. Brave New Girl is a high-concept YA dystopia. Although it features clones with bar codes tattooed on their wrists and renegade geneticists, file it under speculative rather than science fiction. (On GoodReads, the author herself describes the genre as "sci-fi lite.") Most of the reading pleasure comes from figuring out how this world works right along with the protagonist, whose learning curve drives the story. A paragon of "show, don't tell," the narrative is filtered through Dahlia's perspective. This generates moments of cognitive dissonance when the reader understands what's going on better than Dahlia herself and vice versa. If you're a hard-core sci fi reader who prefers fictional worlds to make sense right from the beginning, then this novel will likely frustrate you. Even after the volume has finished, many explanatory details remain missing, held in reserve for future books.
If you liked Amy Ewing's Lone City series or Lauren Oliver's Delirium trilogy, then you'll love this book. But reader beware: Brave New Girl doesn't deliver a clean ending. You'll be panting for more, and you'll have to wait until 2018 to get the sequel, entitled Strange New World.
Rachel Vincent is the New York Times bestselling author of several YA urban fantasy novels, including The Shifter Series, The Menagerie Series, and The Stars Never Rise duology. Delacorte Press first released Brave New Girl as a 272-page hardcover on May 9, 2017. While the official list price is $17.99, Amazon is currently selling the hardcover for $10.94 and the ebook for $10.99. For an excerpt, point your browser here.
---
Elizabeth Galewski is the author of The Wish-Granting Jewel, a fantasy novel, and Butterfly Valley, a tale of travel and transformation based on true events. To learn more, please visit her official author's website at www.elizabethgalewski.com. Her last review for us was Starflight by Melissa Landers.