Future Treasures: Vallista by Steven Brust
Future Treasures: Vallista by Steven Brust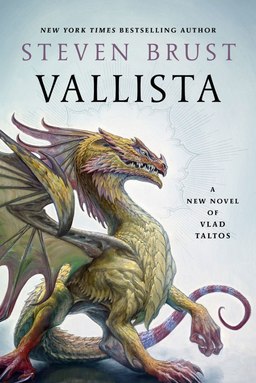 I read Jhereg, the first book in Steven Brust's long-running Vlad Taltos series, when my brother Mike thrust it on me in 1983. It was fun, fast-paced, and totally different from anything I'd ever read before.
Steven Brust was a fast-rising literary star in 1983, but Jhereg, and the series it spawned, established him as a major name. He's produced numerous popular and acclaimed novels in the intervening years — including To Reign in Hell (1984), Brokedown Palace (1985), The Phoenix Guards (1991), and his ongoing Incrementalists series with Skyler White — but it's the Vlad Taltos series that he remains most closely associated with. There have been thirteen additional novels in the series since Jhereg appeared 34 years ago, and this month marks the arrival of the fifteenth, Vallista, a deep dive into the mysteries of the world of Dragaera.
Vlad Taltos is an Easterner ― an underprivileged human in an Empire of tall, powerful, long-lived Dragaerans. He made a career for himself in House Jhereg, the Dragaeran clan in charge of the Empire's organized crime. But the day came when the Jhereg wanted Vlad dead, and he's been on the run ever since. He has plenty of friends among the Dragaeran highborn, including an undead wizard and a god or two. But as long as the Jhereg have a price on his head, Vlad's life is…messy.

Meanwhile, for years, Vlad's path has been repeatedly crossed by Devera, a small Dragaeran girl of indeterminate powers who turns up at the oddest moments in his life.

Now Devera has appeared again ― to lead Vlad into a mysterious, seemingly empty manor overlooking the Great Sea. Inside this structure are corridors that double back on themselves, rooms that look out over other worlds, and ― just maybe ― answers to some of Vlad's long-asked questions about his world and his place in it. If only Devera can be persuaded to stop disappearing in the middle of his conversations with her…
The entire series has been kept in print by Ace in deluxe trade paperback omnibus editions — pretty extraordinary for a series that's over three decades old.
[Click the images for bigger versions.]
We've covered a lot of the novels over the years, but that doesn't mean that I remember them all. Here's the complete list.
1. Jhereg
2. Yendi
3. Teckla
4. Taltos
5. Phoenix
6. Athyra
7. Orca
8. Dragon
9. Issola
10. Dzur
11. Jhegaala
12. Iorich
13. Tiassa
14. Hawk
15. Vallista
Our previous coverage of Steven Brust includes:
A Review of Jhereg by Isabel Pelech
A Hero in the Service of Organized Crime: A Review of Jhereg by Fletcher Vredenburgh
A Rogue's Early Days: Yendi by Fletcher Vredenburgh
Steven Brust's Jhegaala by Bill Ward
New Treasures: Hawk
The Omnibus Volumes of Steven Brust: The Adventures of Vlad Taltos
The Skill of Our Hands, Book 2 of The Incrementalists, by Steven Brust and Skyler White
Steven Brust's Five Roger Zelazny Books that Changed His Life
Vallista will be published by Tor Books on October 17, 2017. It is 334 pages, priced at $25.99 in hardcover and $12.99 for the digital edition. The cover is by Stephen Hickman.
See all our recent coverage of the best upcoming fantasy here.