A Mutiny in Space, and an Emperor of the Stars: High Adventure #153: Classic Stories from Wonder Stories
A Mutiny in Space, and an Emperor of the Stars: High Adventure #153: Classic Stories from Wonder Stories
I began collecting pulp magazines in my early teens. Back then I wasn't too concerned about condition or rarity… I just wanted to read them. Books like Jacques Sadoul's 2000 A.D. Illustrations From the Golden Age of Science Fiction Pulps and Asimov's Before the Golden Age ignited an intense curiosity about these early science fiction tales of alien invasions, space explorers, killer robots, and scientists with labs that would make Reed Richards green wth envy.
Pulps were hard to find in those pre-eBay days, and mostly I had to make do with tattered anthologies. I would have appreciated a magazine like High Adventure very much at the time, let me tell you. The magazine reprints about a half-dozen short stories and novelettes from the pulps in each themed issue; the reprints are facsimiles shot right from the original pages, with art, ads, and all. The theme for issue #143 is Classic Stories from Wonder Tales, and it contains hard-to-find fiction by Manly Wade Wellman, Clark Ashton Smith, Nathan Schachner and Arthur L. Zagat, Gawain Edwards, and R.F. Starzl.
[Click the images to embiggen.]
Wonder Tales was one of the most storied of the early pulps. It was founded by Hugo Gernsback after he lost Amazing Stories in a 1929 bankruptcy. The first issue appeared in June 1930, with editor David Lasser at the helm; he lasted three years before Gernsback fired him and replaced him with 17-year old Charles Hornig, who worked for less than a third of Lasser's exorbitant $65/week paycheck.
Despite all the ups and downs, Wonder Stories published some great stories in those early days, including tales by Captain S. P. Meek, P. Schuyler Miller, H. P. Lovecraft, Charles R. Tanner, Clark Ashton Smith, Edmond Hamilton, Stanton A. Coblentz, David H. Keller, Donald A. Wollheim, Raymond Z. Gallun, Ray Cummings, Jack Williamson, Fletcher Pratt, Clifford D. Simak, John Taine, John W. Campbell, Jr., and many, many others — not to mention an unbroken string of knockout covers by the great Frank R. Paul.
High Adventure #153 reprints five tales from two very early issues, April and September 1931 (click the covers for bigger versions).
The cover story for the April issue (above left) is one of the greatest SF horror tales ever written, Edmond R. Hamilton's classic "The Man Who Evolved."
High Adventure #153 doesn't contain "The Man Who Evolved" (which has been reprinted over a dozen times, including in Before the Golden Age). Instead, it contains five vastly lesser known works, most of which have rarely, if ever, been reprinted. (The exception is Clark Ashton Smith's "An Adventure in Futurity," which, like most of CAS's work, has been kept in print for decades.)
Here's the complete table of contents.
"A 20th Century Medusa" by R.F. Starzl (Wonder Stories, September 1931)
"The Mutiny in Space" by Gawain Edwards (Wonder Stories, September 1931)
"The Disc-Men of Jupiter" by Manly Wade Wellman (Wonder Stories, September 1931)
"The Emperor of the Stars" by Nathan Schachner and Arthur L. Zagat (Wonder Stories, April 1931)
"An Adventure In Futurity" by Clark Ashton Smith (Wonder Stories, April 1931)
The issue also contains full-page interior artwork by M. Marchioni and Leonard.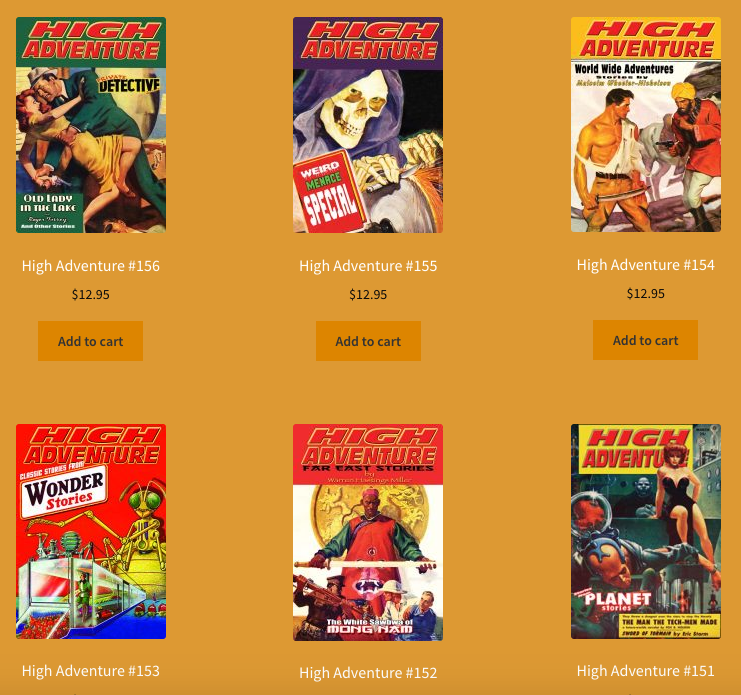 Editor John P. Gunnison does a fine job selecting the themes for High Adventure, keeping the issues fresh. It's really an excellent resource for anyone who wants to take a tour of the American pulp scene, and the issues are very reasonably priced. Here's the rundown of the last six issues:
High Adventure 151 — Planet Stories
High Adventure 152 — Far East Adventures of Warren Hastings Miller
High Adventure 153 — Classic Stories from Wonder Stories
High Adventure 154 — World Wide Adventures
High Adventure 155 — Weird Menace Special
High Adventure 156 — Private Detective
High Adventure #153 was edited by John P. Gunnison and published by Adventure House. It is 118 pages, priced at $12.95. The cover is by Frank R. Paul. Order directly from Adventure House here.
See all our recent Pulp coverage here.