New Treasures: New Fears, edited by Mark Morris
New Treasures: New Fears, edited by Mark Morris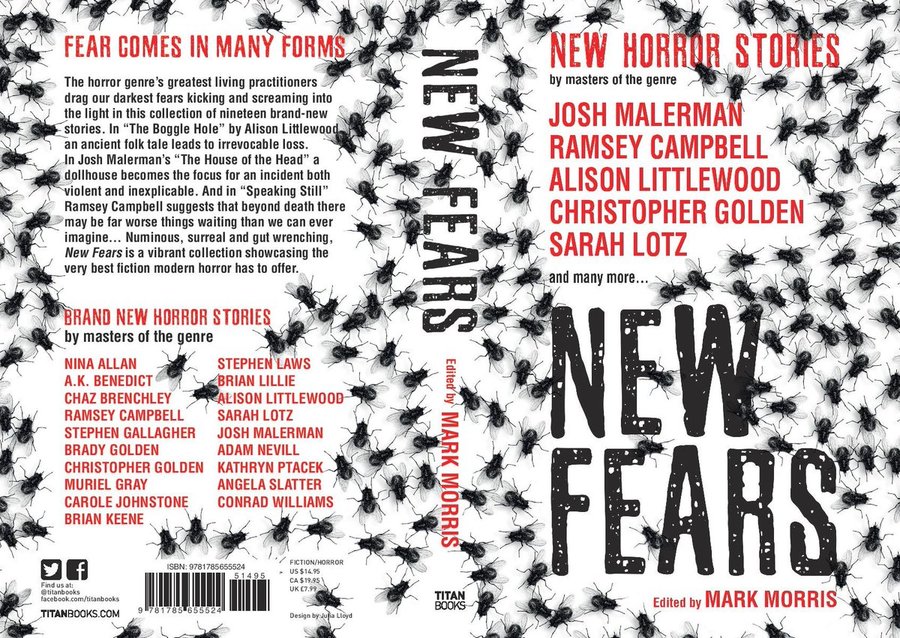 This delightful treasure showed up unbidden in my mailbox this week. It's advertised as the first of a new series of original horror anthologies, which would be a major addition to the field. Editor Mark Morris (Toady, Vampire Circus, and The Society of Blood) gave the scoop to Ginger Nuts of Horror earlier this year.
Having grown up reading the Pan and Fontana Books of Horror and Ghost Stories, plus numerous other anthologies edited by the likes of Peter Haining, Michel Parry, Richard Davis and Mary Danby, it has always been one of my keenest ambitions to edit an annual – and hopefully long-running – non-themed horror anthology of new, never-before-published stories for the mass market.

Now, thanks to Titan Books, I've finally got that chance. I've signed an initial contract for two volumes of New Fears, with hopefully more to come in the future… In the first volume you'll find stories which explore ancient myths in new and innovative ways, stories of human evil, stories of unnamed and ambiguous terrors, and stories where the numinous and the inexplicable intrude upon what we perceive to be reality in unexpected ways. You'll find humor, and hope, and grief, and sadness, and regret, and impenetrable darkness. You'll find stories that surprise you, unsettle you and shock you. But most of all, you'll find stories that grab you and draw you in and compel you to keep turning the pages.
New Fears contains brand new fiction from Adam Nevill, Ramsey Campbell, Angela Slatter, Nina Allan, Chaz Brenchley, Kathryn Ptacek, Christopher Golden, Alison Littlewood, and many others. See more details here.
Here's the complete TOC.
"The Boggle Hole" – Alison Littlewood
"Shepherds' Business" – Stephen Gallagher
"No Good Deed" – Angela Slatter
"The Family Car" – Brady Golden
"Four Abstracts" – Nina Allan
"Sheltered in Place" – Brian Keene
"The Fold in the Heart" – Chaz Brenchley
"Departures" – A.K. Benedict
"The Salter Collection" – Brian Lillie
"Speaking Still" – Ramsey Campbell
"The Eyes Are White and Quiet" – Carole Johnstone
"The Embarrassment of Dead Grandmothers" – Sarah Lotz
"Eumenides (the Benevolent Ladies)" – Adam Nevill
"Roundabout" – Muriel Gray
"The House of the Head" – Josh Malerman
"Succulents" – Conrad Williams
"Dollies" – Kathryn Ptacek
"The Abduction Door" – Christopher Golden
"The Swan Dive" – Stephen Laws
New Fears was published by Titan Books on September 19, 2017. It is 408 pages, priced at $14.95 in trade paperback and $7.99 for the digital version. The cover was designed by the prolific Julia Lloyd.
See all our recent New Treasures here.