In Alone Against the Flames You Face the Horror of Cthulhu the Way the Universe Intended: By Yourself
In Alone Against the Flames You Face the Horror of Cthulhu the Way the Universe Intended: By Yourself
I'm a huge fan of solitaire role playing adventures. They're a great way to exercise your imagination and sample an immersive RPG experience when you can't find any other players — or just can't convince them to try out a new game with you.
Of course, the biggest drawback of solo RPGs (aside from the fact that they're relatively thin on the ground these days) is that most expect you to be fully conversant with the system. That's why I'm so delighted with Alone Against the Flames, the newest solo adventure for Call of Cthulhu. You don't need to read the (rather daunting) rulebook before you start playing. Just settle in a comfy chair with some lucky dice, open the book, and follow the instructions. It dumps you right into the story and teaches you the game as you go.
Call of Cthulhu is a horror RPG based on the work of HP Lovecraft, and Alone Against the Flames is a complete tale set in the 1920s in which you are the main character, and your choices determine the outcome. Although it's designed to walk you through the basics of the game as you go, a copy of the Call of Cthulhu Seventh Edition QuickStart Rules (which you can download for free here) is required to play.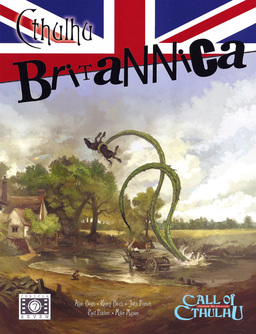 Our latest coverage of Call of Cthulhu (and its sister game Trail of Cthulhu from Pelgrane Press) includes:
Shadows of Yog-Sothoth from Chaosium (1982)
Cthulhu By Gaslight from Chaosium (2012)
Achtung! Cthulhu from Modiphius Entertainment (2012)
The House of R'lyeh from Chaosium (2013)
Out of Space from Pelgrane Press (2013)
Eternal Lies from Pelgrane Press (2013)
Cthulhu Britannica: Shadows Over Scotland from Cubicle Seven (2014)
Horror on the Orient Express (second edition) from Chaosium (2014)
Mythos Expeditions from Pelgrane Press (2014)
Punktown from Miskatonic River Press (forthcoming)
Trail of Cthulhu: Mythos Expeditions from Pelgrane Press
Cthulhu Apocalypse, Pelgrane Press (2015)
The Print Version of the 7th Edition of Call of Cthulhu is Now Available (2017)
Need Some Cthulhu? by Bob Byrne
Alone Against the Flames: A Solo Adventure for the Call of Cthulhu 7th Ed. Quick-Start Rules was published by Chaosium on August 1, 2016. It was written by Gavin Inglis. It is 48 pages, priced at $12.95 in trade paperback. The cover is by Petr Stovik. You can download the free PDF version right from the Chaosium website, and there's a video walkthru here.
See all of our recent Games articles here.