Goth Chick News: Holy Cosplayer Batman! Wizard World Comic Con Lands in Chicago
Goth Chick News: Holy Cosplayer Batman! Wizard World Comic Con Lands in Chicago

There are enough pop culture fanatics and spandex in the city of Chicago to necessitate multiple comic book conventions along with all the celebrity guests, panels and mountains of merchandise that comes with them. While C2E2 dominates the spring season, the end of the summer is the domain of Wizard World Comic Con, where a dizzying array of cosplayers mingle with thousands of guests at the Donald E. Stephens Convention Center in Rosemont, IL.
Founded in 1972 as Nostalgia '72 by local comic dealer / school teach Nancy Warner and housed in a local Chicago hotel banquet room, this year's con boasted an estimated 110K attendees over the four-day event at the end of August. Wizard World Chicago is now the third largest such event in overall attendance in the US, behind only the New York Comic Con, and Comic-Con International in San Diego.
Originally showcasing comic books and related popular arts, the convention has expanded over the years to include a larger range of pop culture elements, such as professional wrestling, science fiction/fantasy, film/television, horror, animation, anime, manga, toys, collectible card games, video games, webcomics, and fantasy novels.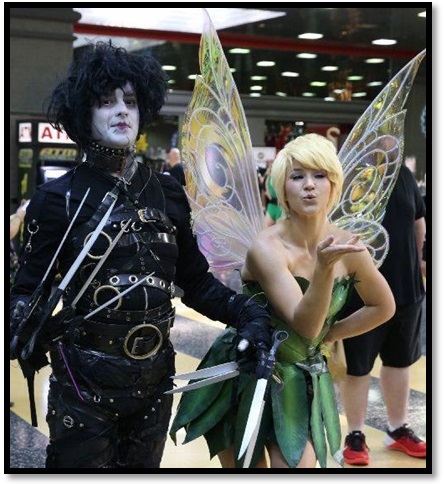 Black Gate photog Chris Z and I were thrilled to once again be invited to WWCC as part of the local press contingent, which we have done every year since 2010. However, in spite of our best efforts we continue to be banned from covering the speed dating event.
Baffling…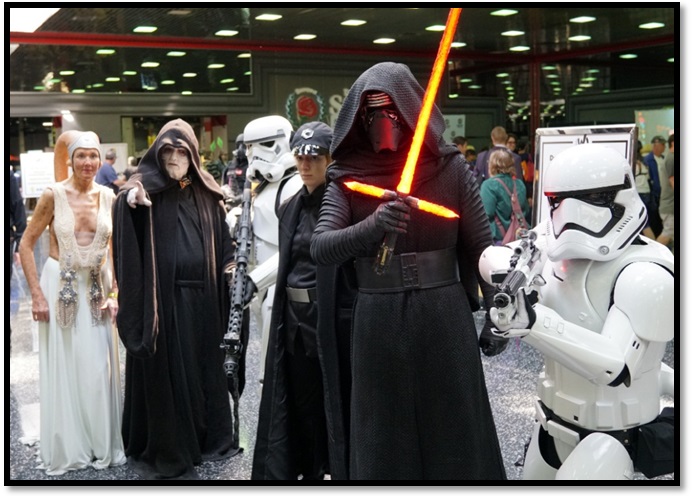 Based on the sheer quantity of material to be gathered, covering WWCC in one post seems downright criminal. Along with panels, seminars, and workshops with comic book professionals, there were teases of upcoming feature films, portfolio review sessions with top comic book and video game companies, and evening events such as awards ceremonies and a costume contest.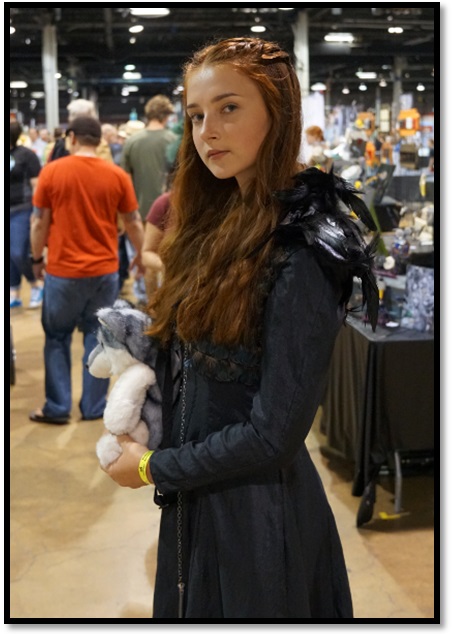 The cosplayers were out in force and it's always interesting to see the latest trend in "costume play." As you would expect, there were almost as many Khaleesi's and Shame Nuns as there were Wonder Woman's and Batman's. Perhaps most intriguing was how many witch trios were present from the Disney movie Hocus Pocus. I seem to remember this being one of Disney's "meh" releases, but Chris Z explained that the film has quietly been gaining a cult following over the years, experiencing a renaissance of sorts. Sure enough the three witches, Winnie, Mary and Sarah are prominently featured in this year's Spirit Halloween store promotions.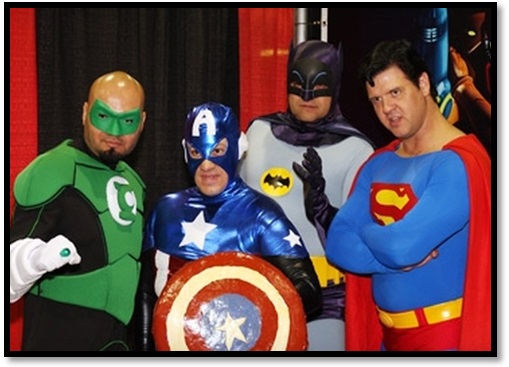 Go figure.
WWCC 2017 boasted nearly 200 vendors selling everything from jewelry to knickers. Artist's Alley housed a dozen wall-to-wall, double-sided rows of artist creating work covering any topic and in every medium imaginable.
Even if you've attended a large comic convention in the past, increase its size by at least a third and you're approaching the bacchanalia that is WWCC. It is because of this that narrowing the vendors down to a select few to showcase here is immensely difficult. But this year's selection literally stood out from the crowd, so here they are in no particular order.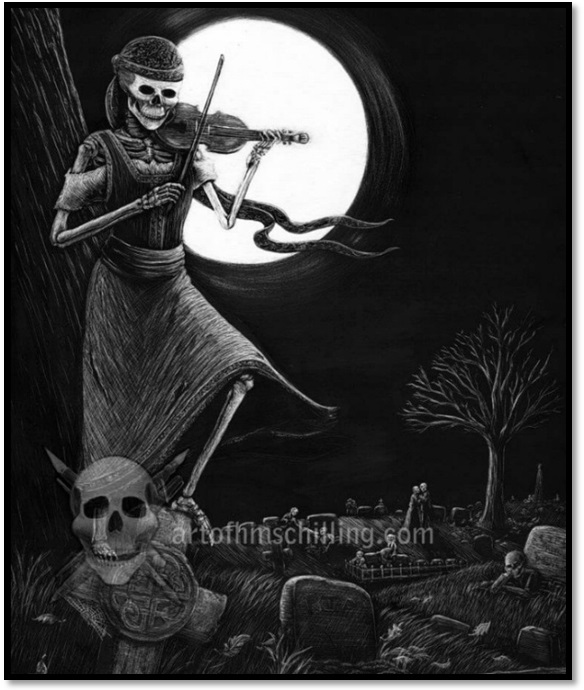 Knife artist H.M. Schilling is a Michigan born illustrator who literally draws with a knife. Since discovering it in art school, her medium of choice has been scratchboard, a form of direct engraving. What is a scratchboard you ask? You probably did this in grade school by coloring a piece of paper with crayons then washing black watercolor paint over the wax. You might have then taken a bent-open paperclip and scratched away the black paint revealing the colorful wax below. Schilling uses the adult version of these scratchboards produced commercially, but also handmakes her own boards to create her black and white illustrations.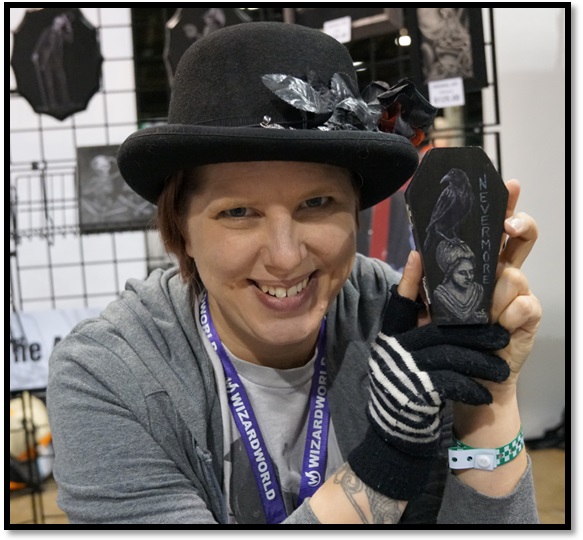 H.M. Schilling
Known for her graceful and sophisticated skeletons as well as the overall delicate "etching" quality of her work, Schilling turns her knife on tee-shirt designs, postcards and stationary as well as wall art. Contact her via Facebook to purchase a one-of-a-kind piece for yourself.
UMakeIt! Character Creator started as a daydream and a doodle by inventor Jake Minor in 2007. Countless reiterations and prototypes later Jake's dream is now available for everyone to enjoy and was one of the most unique offerings at the con.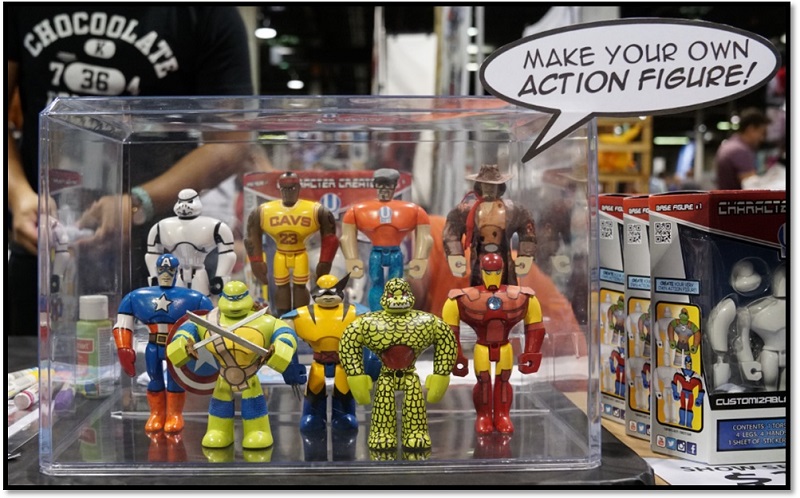 Character Creator is the first product that combines a modular action figure with mix and match components allowing you to create a variety of body types. You can also draw and color on your creation using different mediums such as readily available markers or paints, resulting in a completely unique action figure of your own invention, or recreating ones from your favorite comics.
Character Creator is essentially a blank 3-D canvas ready to be imprinted by your imagination and kits are available for $19.99

Alex Wer: The Pumpkin Geek Tattoo artist Alex Wer started his "Orange Empire" in 2009, quite by accident when his wife asked him to carve a pumpkin for her office. He decided to hit up Michaels craft store for a foam pumpkin that wouldn't rot and the company logo he created using a Dremel tool with various bits, was a huge hit. He soon had orders pouring in for business logos and children's portraits.
Wer started experimenting with what is called "4 color" carving… 1 area is completely cutout, 2 different levels of depth, and finally, a layer untouched for the darkest portion of the image. He found this style gave him great versatility and the most realistic final product that impressed his clients. Each hand-carved pumpkin design takes anywhere from 4-6 hours, depending on the complexity.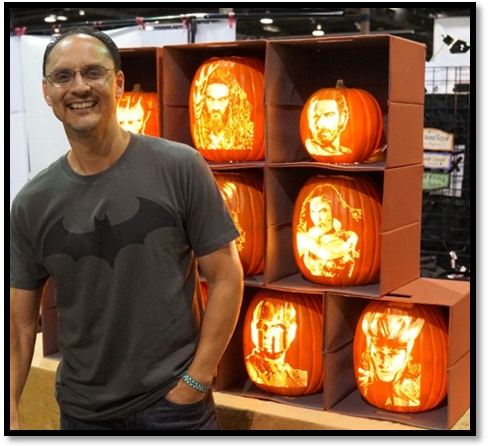 In 2013, Wer was nominated for and won a Geekie Award for his work in the Art/Craft category which led to projects for Netflix, ESPN, Legendary Entertainment and a feature in People Magazine. You can own one of Wer's amazing creations by contacting him at his website. He also does one-of-a-kind commission work by quote.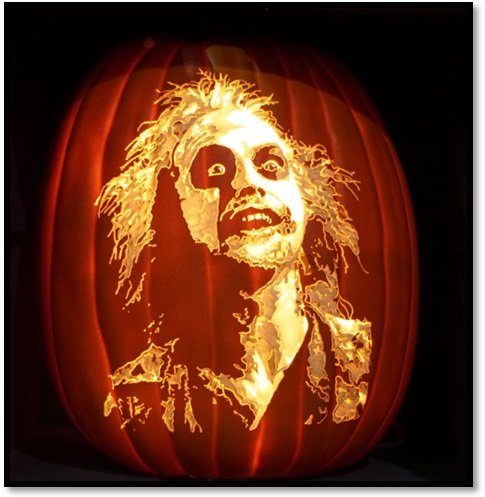 Michael Kulick Art Works receives Goth Chick News' coveted Five Bat Award for this year's event. Kulick creates "splatter" art using enamel paints, thinned down with turpentine, which are brushed, sprayed, and splattered onto white poster board and each one is created by hand (these are not poster reproductions). His style is simplistic and yet does an amazing job of capturing his subject matter in one of the most unique means I have seen in some time. Kulick covers all manner of pop culture topics from icons in movies and music to literary characters. I was particularly taken by his classic monster series and finally decided on a portrait of my beloved Bela Lugosi which is now adorning my GCN office.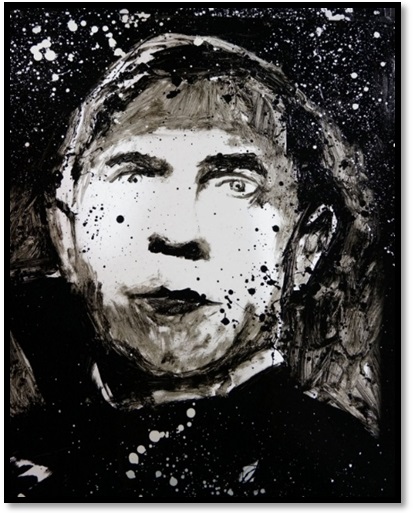 Have a look at his Facebook page to peruse Kulick's vast collection. He loves to do custom work so feel free to contact him at michaelkulickartwork@gmail.com with your pictures, ideas, and requests.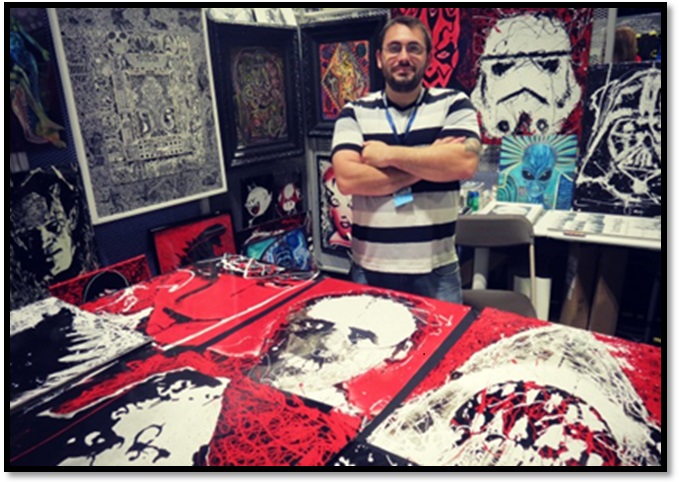 As you've heard, WWCC is chocked full of experiences for the attendees too, such as photo ops, food and beverage tastings, and video plus board game play. But this year's movie promotion was a doozy.
I am personally counting down the days to the September 8th cinematic premier of Stephen King's IT, which is why I didn't balk when Chris Z suggested we get in a rather long queue for "Float: A Cinematic VR Experience".
The line snaked along beside a full sized yellow school bus completely wrapped to look like a derelict vehicle from the town of Derry, Maine where the story of IT takes place. Along the line were various posters with warnings about the intense nature of the experience. Believe it or not, our final stop before preparing to enter the bus was a table where we signed a two-paged waiver form. Because the experience only allowed in 10 people at a time, I had a chance to read through the document carefully and discovered that by signing it I was not only indemnifying New Line Cinemas from liability if I fainted or puked or otherwise expired during my visit, but also allowed said studio to use my image while I was in the experience, as marketing material.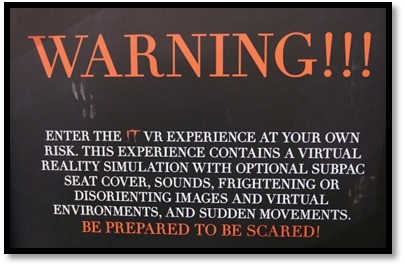 I warned Chris Z that this meant if he screamed like a school girl at any point, he might find himself splashed all over an IT commercial doing so.
He was cool with that, and I was getting pretty geeked at what was about to occur with all this absolving of liability was going on. Which, by the way, pretty much guarantees and anti-climactic ending.
When we finally made it onto the bus and into the experience, it turned out to be a VR commercial for IT. In fact, if you click the link above and have a VR headset at home, you can see the exact same thing for yourself, minus the hour long build up. The whole event was interesting if not worth the hype and we marveled at how far movie trailers have come to now be fully immersive experiences, but there was definitely no screaming of any sort… by anyone.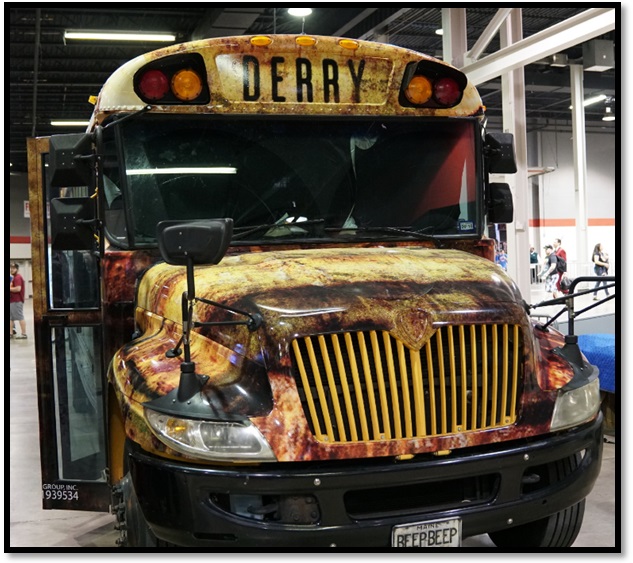 I sincerely hope this is not foreshadowing about the movie.
Wizard World Comic Con hits ten more cities in 2017 including Nashville, Austin and New Orleans, so check out their website for a full show schedule.
Have a question or comment? Post it here or drop a line to sue@blackgate.com.