New Treasures: Amatka by Karin Tidbeck
New Treasures: Amatka by Karin Tidbeck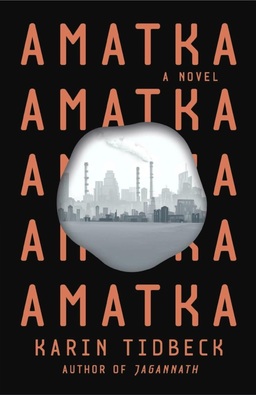 Karin Tidbeck's first collection Jagannath brought rave reviews from China Mieville, Karen Joy Fowler, Elizabeth Hand, and others. Ursula K. Le Guin said, "I have never read anything like Jagannath… These are wonderful stories."
Karin's debut novel Amatka is likewise garnering a lot of attention. Weird Fiction Review calls it "Remarkable… weird fiction at its most inventive and self-questioning." And Jeff VanderMeer says "Karin Tidbeck's Amatka is a stunning, truly original exploration of the mysteries of reality and what it means to be human… a brilliant short story writer has been revealed as an even more brilliant novelist. One of my favorite reads of the past few years, an instant classic."
Print copies of Jagannath are now almost impossible to find. Don't make the same mistake of overlooking Amatka! It arrived in trade paperback from Vintage in June.
Welcome to Amatka…

where everyone has a role, language has strange properties, and nothing — not even the very fabric of reality — can be taken for granted.

Vanja Essre Two is sent to the wintry colony of Amatka on an assignment to collect intelligence for the government. Dissent is not tolerated in Amatka, nor is romantic love, but Vanja nonetheless falls for her housemate Nina, a true believer in the colony's ways. But when Vanja is drawn into a resistance movement, she must choose between love and a revolution, which promises liberation at the cost of tearing the world as they know it apart.
Amatka was published by Vintage on June 27, 2017. It is 216 pages, priced at $15.99 in trade paperback and $11.99 for the digital edition. Read more at the author's website.