An Incomparable Voyage Through Dreamland: The Forgotten Beasts of Eld by Patricia A. McKillip
An Incomparable Voyage Through Dreamland: The Forgotten Beasts of Eld by Patricia A. McKillip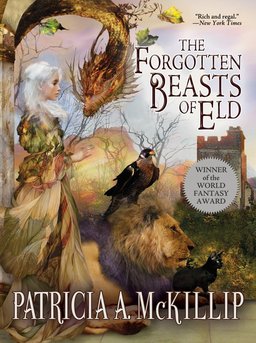 The Forgotten Beasts of Eld
Patricia A. McKillip
Tachyon Publications (240 pages, $14.95 in trade paperback, September 19, 2017)
Reprint edition (originally published by Atheneum, August 1974)
The moment you begin The Forgotten Beasts of Eld, the World Fantasy Award-winning novel by Patricia A. McKillip, you understand you have put yourself in the hands of a masterful wordsmith. McKillip has no peer when it comes to incantatory prose, and her wizardry spells you into a waking dream in this breathtaking tale.
The young wizard Sybel comes from a legendary lineage of animal keepers. After calling a magisterial bounty of magical beasts to her castle, she protects them with the unwavering love of a lioness. When a knight entrusts an infant boy into her care, unbeknownst to the so-called ice-hearted wizard, her life unravels into the pursuit of true love, justice, and the attainment of one's free will.
Though the animals play a prominent role in the tale, the action mainly revolves around Sybel and the two men who love her. Tam, the babe given to her not long after leaving the womb, cares for her throughout the story. Through the numerous hardships that befall Sybel in her quest for justice in a troubled world, he remains steadfast in his love for the woman he considers his mother.
That his father, Drede, King of Eldwold, commits an act of unspeakable cruelty against Sybel does not hamper his conscience from loving both parents. For this reason, I consider Tam the strongest character in the story. In that situation, he may have chosen a side had McKillip intended for his character to have a predictable arc. Instead, she instilled him with an undying love that remains as the stuff of tireless parent's dreams.
The same does not apply to Corin, the Knight who entrusts Sybel with Tam's care. When he resorts to violence in a moment of anger toward Sybel, the radiance of his love for her diminishes to a piercing sliver of gold beneath a door spotted from inside a dark room. It brought to mind how violence does not solve problems of the heart, especially when men inflict it on women.
That Tam behaves in accordance with his title, that of a Prince, shows how much thought McKillip gave to his tremendous character development. Though his father's actions have enough cruelty behind them to drive the most altruistic lionheart into a frothing rage, that Tam keeps his head speaks to McKillip's portrayal of a Prince already inhabiting a King's shoes.
On the subject of Kings, let us not forget the animals who behave in the manner of royals without effort. Ter, Sybel's loyal falcon, gravitates between his mistress and Tam. Out of all of his animal brethren, his arc proves the most fully developed. He shares distinct character traits with Tam in that his love for both of his keepers remains strong, despite the strains that attempt to thwart their bond.
Ultimately, Cyrin, a shrewd and cunning bull keen on riddles, attempts to thwart the love encroaching on Sybel's life. But the maneuverings of Moriah, the lovely feline of the night; of Gules Lyon, a gentle beast devoted to Tam; her faithful dragon, Gyld, and her elusive Black Swan of Tirlith more than make up for Cyrin's deviance by proving themselves steadfast and loyal in their love. I wish McKillip had had more time to delve into their tales, as she did with Sybel and her family. Lucky for us, the enchantment does not stop with the menagerie.
The inclusion of the Liralen, Sybel's ultimate addition to her menagerie, remains her constant dream. The eventual appearance of the creature, an animal of such beauty as to defy words, has the power to draw the breath from your lungs in rapturous joy. Who am I kidding, you'll feel the same way throughout much of the tale.
The Forgotten Beasts of Eld will be published on September 19, 2017 by Tachyon Publications.
---
Zeta Moore's last review for us was The Loney by Andrew Michael Hurley. She is exploring work in care for individuals on the autism spectrum, and nerding out when she can.