Amazing Stories, July 1964: A Retro-Review
Amazing Stories, July 1964: A Retro-Review
This was the last issue edited by Cele Goldsmith — with the next issue she became Cele Lalli, after her marriage.
Ed Emshwiller contributes the cover this time, to my taste not one of his best. Interiors are by Virgil Finlay, George Schelling, and a couple I don't recognized, identified in the magazine only by their last names: McLane and Blair. Norman Lobsenz' editorial discusses the effects of space and alien environments on humans, and goes on to wonder how we can justify terraforming planets on which other species live. Ben Bova's science article, "Operation Shirtsleeve," then discusses exactly that — how to terraform other planets so that humans can live comfortably there (in "shirtsleeves").
Robert Silverberg's book review column, The Spectroscope, first takes on Edgar Rice Burroughs, both on his own (The Cave Girl) and via a slavish imitator (Otis Adelbert Kline, with Prince of Peril). Silverberg's verdict: "unmitigated trash, subliterate claptrap barely worth the time of children."
(My verdict, based on a very limited sample (ERB's first novel, A Princess of Mars aka "Under the Moons of Mars") is a bit more forgiving — claptrap and trash it may be, but it's definitely mitigated — at least early in his career Burroughs offered an energetic glee that made him worth reading despite the silliness.)
Next he reviews a couple of collections by major writers — one is an SFWA Grand Master, the other died too young to be named a Grand Master but would certainly have been one eventually, and one of the very best. So: Silverberg finds James Gunn's Future Imperfect somewhat disappointing next to the best of Gunn's work; but he finds Sturgeon in Orbit surprisingly better: even though it features uncollected early '50s stories it manages to surprise with some good stuff, particularly "The Incubi of Parallel X," a wild piece full of cliches from Planet Stories in 1951 that Sturgeon redeemed with his panache. (I read that story in the Planet Stories issue it appeared in (not in 1951 though!) and I completely agree!)
[Click the images for bigger versions.]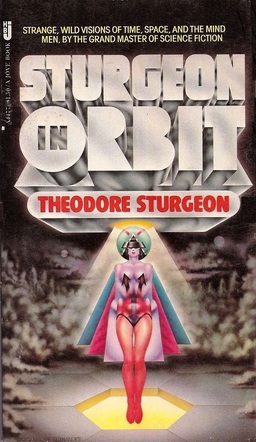 The stories are:
Novelets
"Mindmate," by Daniel F. Galouye (16,600 words)
"Placement Test," by Keith Laumer (10,000 words)
"A Game of Unchance," by Philip K. Dick (8,200 words)
Short Stories
"The Mouths of All Men," by Ed M. Clinton (2,100 words)
"The Scarlet Throne," by Edward W. Ludwig (3,000 words)
Daniel F. Galouye (1920-1976) was reasonably prolific in the magazines from 1952 until the mid 60s. He wrote only 5 novels, at least two of which are very well worth reading (Hugo nominee Dark Universe, and Simulacron-3 (aka Counterfeit World), which was the basis of the rather good movie The Thirteenth Floor.)
He had war injuries (he was a test pilot) that curtailed his production and probably contributed to his early death. I find his work consistently original and enjoyable. Much of it was published in what were consider second tier magazines — particularly Imagination in the '50s, and Amazing/Fantastic in the '60s; and he is one of the reasons I have a considerable fondness for those two magazines.
I should note re the term "second tier" — this was the perception of Amazing/Fantastic, behind that so-called "Big 3" of Astounding/Analog, Galaxy, and F&SF. This reflected in part the historical reputation of Amazing — especially after Ray Palmer's fascination with the Shaver Mystery (and the circulation that generated) imploded the magazine's reputation (which did not improve through Paul Fairman's fairly indifferent editorial stretch); and in part generally lower pay rates. But Goldsmith managed through her energy, and her encouragement of new writers, and her taste, to bring the 'zines to a competitive level with the top three. (Especially as Analog was still in the long slide of the late Campbell era.)
| | |
| --- | --- |
| | |
"Mindmate" is the story of a crusading congressman, Ronald Winston, who is kidnapped and killed, after having his mind impressed on that of Warren Sharp, a lookalike criminal who will do the bidding of Leonard Infeld, the head of the so-called "Fun Houses," where a process called cortical stimulation provides a sort of virtual entertainment. Winston is convinced the process is dangerous and addictive, and he's leading a congressional investigation. Meanwhile, his wife has been secretely visiting funhouses, and his hostility to them has messed up their marriage. Sharp as Winston is supposed to stop the investigation, but he finds himself somehow having unexpected thoughts — apparently those of Winston. (He also forces himself on Winston's wife, or so it is implied.) The story turns on that process (the way the impressed mind can take over the host mind), as well as on a couple of twists, concerning Winston's wife and her unexpected pregnancy, and concerning some truly sinister potential uses of the cortical stimulation process. It doesn't make a ton of sense if examined too closely, but it's still an effective and enjoyable piece. (The twists come after the spoiler space, below.)
| | |
| --- | --- |
| | |
Keith Laumer was another regular in Goldsmith's magazines. "Placement Test" takes a familiar idea, and pretty much takes it in the exact direction we expect, complete with twist. Mart Maldon is kicked out of school just before graduation on a technicality. Without a degree he must take a placement test to find a job, and if he's unhappy in whatever boring job he gets, well, there's always Adjustment (of your brain) to make you happy. Maldon eventually takes matters into his own hands, breaking into the placement center to find his records and alter them … When he's finally caught, of course he learns … details, again, at the end of the article. It's predictable stuff, yes, but fun to read — Laumer had that ability.
The third novelet is by another major writer, the most significant in this issue, "A Game of Unchance," by Philip K. Dick, concerns a colony planet visited by a traveling carnival. They have the usual rigged games, but it turns out one of the colony boys has psi powers — and he can detect that the carnies are using their psi to rig the games. He is able to overcome their efforts and win some valuable prizes — but they turn out to be booby-trapped. The colony is in danger… and then another carnival comes, with perhaps just what they need. And the same deal applies, and the young boy realizes he can outwit this carnival psi individual as well — the colony is saved. But… isn't it a bit convenient that his powers are always just enough to beat the carnival psi powers?
The little known writers this issue present the shorter pieces. Ed M. Clinton Jr. (1926-2006) (his byline sometimes included the Jr., sometimes not) published about a dozen stories in the magazines between 1953 and 1966. The ISFDB also credits him with a collection called Puzzle Box, published in 1946 as by Anthony More. "The Mouths of All Men" tells of two astronauts, an American and a Russian, who join their spacecraft and tumble to Earth together, eventually in peace, after a nuclear war has wiped out everyone else. A bit on the trite side, I thought.
Edward W. Ludwig (1920-1990) published about 20 stories beginning in 1950, and one novel in 1970. "The Scarlet Throne" is a political story, and not too bad, about an Hispanic-American and his family, protesting the money spent on the space program by erecting an outhouse outside a highly publicized launch facility.
*Spoilers for "Mindmate" and "Placement Test"
The twist in "Mindmate" is that Winston's wife is also a replacement (revealed when she, supposedly infertile, becomes pregnant), but that both she and Winston end up taken over by their "original" personalities — fall back in love, and foil Infeld's evil plans.
In "Placement Test," to no one's surprise (especially if you've read Asimov's "Profession"), Maldon's trials are designed to make him go outside the system, and reveal talent to be a Top Executive.
---
Rich Horton's last Retro Review for us was the October 1963 issue of Amazing Stories. His website is Strange at Ecbatan