The Top 50 Black Gate Posts in June
The Top 50 Black Gate Posts in June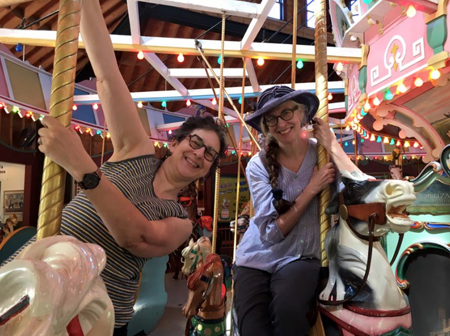 Ellen Kushner and Delia Sherman. Photo by Liz Duffy Adams
June was a big month for interviews at Black Gate. Our top articles were interviews, and our roving reporter Joe Bonadonna placed two in the Top Ten — a lengthy conversation with Author T.C. Rypel (the Gonji series) at #2, and a free-wheeling conversation with two editors of Heroic Fantasy Quarterly, Adrian Simmons and David Farney, at #8. And the #1 article for the month was Elizabeth Crowens's enchanting conversation with the First Couple of Fantasy, Ellen Kushner and Delia Sherman.
Rounding out the Top Five for the month was our report on the ongoing back issue sale at Asimov's Science Fiction and Analog magazine (still one of the best bargains in the industry), a Vintage Treasures piece on the 80s fantasy paperbacks of E. Hoffmann Price, and Nick Ozment's think-piece "When Fantasy and Theology Collide: Some Thoughts on Satan."
Number Six was Derek Kunsken's review of Wonder Woman, followed by a look at another vintage paperback, The Worlds of Jack Vance (1973). Number 8 was a report on the latest issue of Weirdbook. And wrapping up the Top Ten was Ryan Harvey's review of Universal's Kharis Mummy films.
The complete list of Top Articles for June follows. Below that, I've also broken out the most popular overall articles, online fiction, and blog categories for the month.
The Top 50 Black Gate posts in June were:
There were plenty of older articles popular last month as well. The 25 most popular blog posts written before June were:
The Top Black Gate Online Fiction features were:
The top categories last month were:
The Top 50 Black Gate blog posts in May are here, and you can see all 87 posts we made in the month of June here.