An Old-Fashioned Space Opera: The Transcendental Machine Trilogy by James Gunn
An Old-Fashioned Space Opera: The Transcendental Machine Trilogy by James Gunn
I settled in with the latest issue of Asimov's Science Fiction last week, and noticed something unusual… it had two stories by James Gunn, both set in his Transcendental universe, the setting for his novels Transcendental, Transgalactic and the newly-released Transformation. In the comments on my Asimov's piece Amy Bisson pointed out that it was Gunn's birthday, and when I went to confirm that, Wikipedia casually informed me he was 94 years old… 94 and still writing cutting edge hard SF! The field hasn't seen anything like that since Jack Williamson (who won a Hugo at the age of 92, and died in 2006 at the age of 98).
Interestingly, Gunn was one of Jack Williamson's collaborators. They wrote Star Bridge together in 1955. Like Williamson, Gunn began his career in the pulps, selling his first stories to Startling Stories and Thrilling Wonder Stories in 1949. His first novels, including Star Bridge and This Fortress World, were published by Gnome Press in 1955. Carl Sagan called his 1972 novel The Listeners, runner-up for the first annual John W. Campbell Memorial Award, "one of the very best fictional portrayals of contact with extraterrestrial intelligence ever written." In 1996, he novelized Theodore Sturgeon's famed unproduced Star Trek script The Joy Machine. As an editor he's best known for his monumental six-volume Road to Science Fiction anthology series, and he won the Hugo Award in 1983 for his non-fiction book Isaac Asimov: The Foundations of Science Fiction. He became SFWA's 24th Grand Master in 2007, and he was inducted into the Science Fiction and Fantasy Hall of Fame in 2015.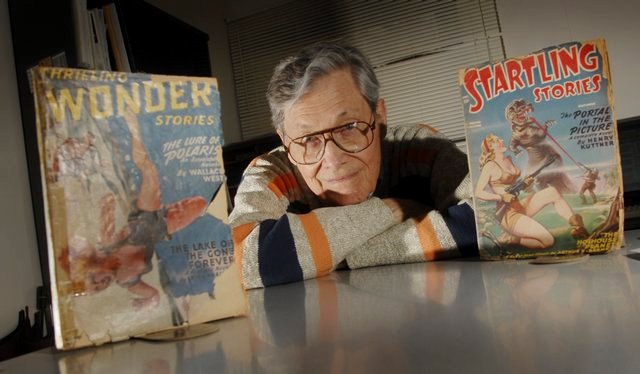 James Gunn and his first two appearance in Science Fiction Pulps
His skills as a writer remain sharp as ever, as Victoria Silverwolf noted in her Tangent Online review of the current issue of Asimov's.
James Gunn proves that he is not just resting on his laurels with two stories set in his Transcendental universe. Both "Transcendental Mission: Riley's Story" and "Weighty Matters: Tordor's Story" depict the lives of characters who will eventually set out on a mission to discover the nature of a device which is rumored to produce perfection in any individual. The reader may be reminded of the pilgrims bound for Canterbury in Chaucer's famous poem. Inevitably, both tales are expository and open-ended. The second story may be more interesting because the author creates an entire alien culture.
So what is this Transcendental Machine Trilogy everyone keeps talking about?
So far it consists of three novels, all published by Tor, and three short stories, all published this year in Asimov's SF.
Transcendental (304 pages, $15.99 in trade paperback, $9.99 digital, August 2013) — cover by Stephan Martiniere
Transgalactic (220 pages, $26.99 in hardcover, $12.99 digital, March 2016) — cover by Thom Tenery
Transformation (208 pages, $26.99 in hardcover, $12.99 digital, June 2017) — cover by Thom Tenery
"The Escape of the Adastra: Asha's Story" (Asimov's Science Fiction, May-June 2017)
"Transcendental Mission: Riley's Story" (Asimov's Science Fiction, July-August 2017)
"Weighty Matters: Tordor's Story "(Asimov's Science Fiction, July-August 2017)
We covered the first two novels in the trilogy back in April of last year. Booklist summarized Transcendental this way:
The story involves a human ex-soldier, Riley, who's coerced into joining an interstellar, multirace pilgrimage in the hopes of identifying the Prophet, the man or, perhaps, the alien being who promises transcendence to another spiritual plane at the end of the long journey. Identify the Prophet, and then kill him — that's the plan… An ambitious and resoundingly successful novel.
Publishers Weekly said Transgalactic was "An old-fashioned and deeply philosophical space opera." Here's the description for Transformation, the final volume.
Riley and Asha have traveled across the galaxy, found the Transcendental Machine, and been translated into something more than human. They've returned to Earth and won over the artificial intelligence which once tried to destroy the Transcendental Machine.

Now they must save the fringes of the Federation.

Planets at the edge of the Federation have fallen silent. The arrogant Federation bureaucracy grudgingly send Riley and Asha to investigate. They join forces with a planetary A.I., a paranoid Federation watchdog, and a member of a splinter group who vows to destroy the A.I. No one trusts anyone or their motives.

They need to find common ground and the answer in order to confront an enemy more ancient and powerful than the Transcendentals.
I'm not sure if the final volume is the end of the series. I guess we'll have to wait and see, like everyone else.
See our previous coverage of the best new SF and fantasy series here.