July/August 2017 Asimov's Science Fiction Now on Sale
July/August 2017 Asimov's Science Fiction Now on Sale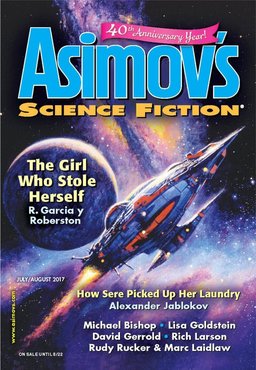 As I mentioned in my last magazine review, I'm a guy who tends to skim magazines. I'm looking for something new, something different, something… yeah, I have no idea what I'm looking for these days. I'm just impatient and I skim. Don't hate me.
Tangent Online is my enabler. They publish up-to-date magazine reviews (that I skim), and these reviews tell me everything I need to know to form a plan of attack in, like, 45 seconds. For example, they tell me that the latest issue of Asimov's Science Fiction has terrifically intriguing tales from Alexander Jablokov, Rich Larson, and James Gunn, among others. Asimov's, prepare to be boarded.
This issue of a magazine which is celebrating forty years of publication features a balance of fast-paced, high-tech adventure stories and intimate character studies. Fittingly, a pair of linked stories by an author with nearly seven decades of experience combine both action and introspection.

Leading off the issue is "How Sere Picked Up Her Laundry" by Alexander Jablokov. The setting is a planet where a large number of alien species live, often inhabiting structures left behind centuries ago by other beings. The narrator is hired to find out who leased a large portion of one such giant building, and why an exterminator died while working on a tunnel within it. She encounters a number of strange creatures while uncovering the mystery. The author creates a complex background and interesting alien biology…. "An Evening with Severyn Grimes" by Rich Larson is set in a future where a wealthy man can rent the body of a young, healthy man as a place to house his mind. The protagonist is hired by a group of terrorists who violently oppose this practice. Her consciousness is downloaded into the many linked computerized devices which fill this world in a plot to assassinate the man, but she has plans of her own… a fairly effective cyberpunk story.

First published in 1949 and named a Grand Master by the Science Fiction and Fantasy Writers of America in 2007, James Gunn proves that he is not just resting on his laurels with two stories set in his Transcendental universe. Both "Transcendental Mission: Riley's Story" and "Weighty Matters: Tordor's Story" depict the lives of characters who will eventually set out on a mission to discover the nature of a device which is rumored to produce perfection in any individual. The reader may be reminded of the pilgrims bound for Canterbury in Chaucer's famous poem. Inevitably, both tales are expository and open-ended. The second story may be more interesting because the author creates an entire alien culture.
Read Victoria Silverwolf's complete review of the latest Asimov's SF here.
The July/August issue contains fiction by R. Garcia y Robertson, Michael Bishop, Rudy Rucker & Marc Laidlaw, Lisa Goldstein, David Gerrold, Sheila Finch, and many more. Here's the issue description from the website.
You'll find two fast-paced novellas in Asimov's July/August 2017 issue. In "How Sere Picked Up Her Laundry," Alexander Jablokov reveals that much is going on beneath the surface in this endlessly inventive tale. Exterminators, dangerous aliens, internecine business deals, a nosy detective, and laundry all come into play in a tale about a planet full of mysteries. Adventure also abounds with abductions, civil war, and spaceships in R. Garcia y Robertson's hurtling story about "The Girl Who Stole Herself." You won't want to miss either of these enthralling tales!

Rudy Rucker & Marc Laidlaw return to Asimov's with a wacky new story about how a couple of surfer dudes discover the secret of "@lantis"; James Gunn introduces us to a couple of pilgrims with ulterior motives as his series continues with "Transcendental Mission: Riley's Story" and "Weighty Matters: Tordor's Story; new author Cadwell Turnbull spins a poignant tale about "Other Worlds and This One"; while Lisa Goldstein offers a disturbing glimpse of the future in "Annabelle, Annie"; "The Patient Dragon" calmly bides its time in David Gerrold's new short thriller; Sheila Finch conducts some heartbreaking "Field Studies"; Michael Bishop introduces us to the enigmatic "Gale Strang"; and get ready for more tension and intrigue when you and Rich Larson spend "An Evening with Severyn Grimes."

Robert Silverberg's Reflections column contemplates collaborative SF writers "Sharing Worlds"; James Patrick Kelly's On the Net commands us to "Hold the Phones!"; Paul Di Filippo's On Books considers new works from Robert Silverberg, Carrie Vaughn, Connie Willis, Rick Wilber, and others; plus we'll have an array of poetry and other features you're sure to enjoy.
Here's the complete Table of Contents for the July/August issue.
NOVELLAS
"How Sere Picked Up Her Laundry" by Alexander Jablokov
"The Girl Who Stole Herself" by R. Garcia y Robertson
NOVELETTES
"Other Worlds and This One" by Cadwell Turnbull
"@lantis" by Rudy Rucker & Marc Laidlaw
"Gale Strang" by Michael Bishop
SHORT STORIES
"Annabelle, Annie" by Lisa Goldstein
"An Evening with Severyn Grimes" by Rich Larson
"Transcendental Mission: Riley's Story" by James Gunn
"Weighty Matters: Tordor's Story" by James Gunn
"The Patient Dragon" by David Gerrold
"Field Studies" by Sheila Finch
POETRY
Wheelwork by Jane Yolen
Titan's Magic Islands by Geoffrey A. Landis
Vacation Checklist by Salik Shah
Grandfather Paradox by John Richard Trtek
Dead Star Reckoning by Robert Borski
Invasion by Bruce McAllister
Challenger: A Sedoka by Jane Yolen
DEPARTMENTS
Editorial: The 2017 Dell Magazines Award by Sheila Williams
Reflections: Sharing Worlds by Robert Silverberg
On the Net: Hold the Phones! by James Patrick Kelly
Next Issue
On Books by Paul Di Filippo
The SF Conventional Calendar by Erwin S. Strauss
See the current issue, with story excerpts and links to free online content, here.
The cover art is by Bob Eggleton.
The issue went on sale June 20. It will be on sale until August 22.
Asimov's Science Fiction is edited by Sheila Williams and published by Dell Magazines. The cover price is $7.99 for 208 pages; a one-year subscription is $34.97 (US) or $49.97 (International). It is also available in a variety of digital formats.
We last covered Asimov's SF with the May-June 2017 issue.
Our June Fantasy Magazine Rack is here. See all of our recent fantasy magazine coverage here.