Future Treasures: A Man of Shadows by Jeff Noon
Future Treasures: A Man of Shadows by Jeff Noon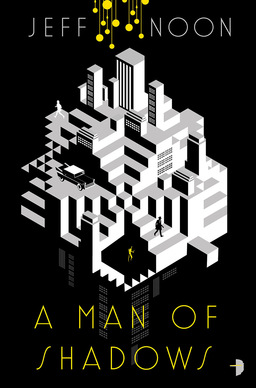 Jeff Noon is something of a legend among SF fans, chiefly for the breakout success of his audacious Vurt trilogy (Vurt, Pollen, Nymphomation). His latest is completely different, a science fiction noir thriller about a PI who takes on the case of a missing girl in an inverted city. I doubt any description I can come up with would do it justice… instead, here's Noon's comments on the Q*bert-inspired cover by Will Staehle.
I was truly excited when I first saw the cover design for A Man Of Shadows. Will Staehle has caught the essence of the novel: the noir atmosphere, the loneliness of the characters, the nature of the invented city with its mirrored images of light and dark, and the Escher-like labyrinth that my private eye hero is trapped within. The story is set in an alternative 1959, and the cover captures both the period feel as well as the more fantastical elements of the book. I couldn't ask for a better design. It's perfect!
See the complete cover reveal at Tor.com. Here's the book description.
Below the neon skies of Dayzone – where the lights never go out, and night has been banished – lowly private eye John Nyquist takes on a teenage runaway case. His quest takes him from Dayzone into the permanent dark of Nocturna.

As the vicious, seemingly invisible serial killer known only as Quicksilver haunts the streets, Nyquist starts to suspect that the runaway girl holds within her the key to the city's fate. In the end, there's only one place left to search: the shadow-choked zone known as Dusk.
A Man of Shadows will be published by Angry Robot on August 1, 2017. It is 352 pages, priced at $14.99 in trade paperback and $6.99 for the digital edition. The cover is by Will Staehle (and you know I'm right about Q*bert). It is the first book in the John Nyquist series.
See all our coverage of the best upcoming fantasy and SF here.