Pulp Literature 13 Now Available
Pulp Literature 13 Now Available
In his review of Pulp Literature 10 last April, Fletcher Vredenburgh wrote:
Pulp Literature has been around for several years now, having published ten thick issues… While it has only a few swords & sorcery stories, I was blown away by PL's quality and richness…. Pulp Literature is filled with a wide variety of genres. Senior citizen detectives, Jewish monsters in contemporary Ontario, poetry, all sorts of good things. Don't let that literature tag scare you off. The editors' love of pulp in so many varieties means they have a love of storytelling and don't neglect it. How such a magazine has escaped wider notice eludes me… Pulp Literature reminds me of Michael Chabon's undertaking to revitalize contemporary literary writing with plot and narrative — which I completely appreciate and love.
That sounds pretty darn good. After I read Fletcher's review I promised myself I'd check it out, so I was delighted to see the Winter 2017 issue had not one but two stories by acclaimed fantasy author Matthew Hughes (Black Brillion, The Damned Busters), one under his full name and a second under "Matt Hughes." (He also publishes under Hugh Matthews, because why not?) Plus there's also fantasy tales by FJ Bergmann, Rebecca Wurtz, Anna Belkine, Carolyn Oliver, Mel Anastasiou, and JM Landels.
But you should move fast — Pulp Literature 13, cover-dated Winter 2017, came out earlier this year, but the Spring issue arrived hard on its heels. Terrific fiction, top-notch authors, great covers and solid value, and the magazine comes out on a regular schedule? I'm not sure how they manage it, but I'm certain there's a deal with the devil in there somewhere.
Here's the TOC for the Winter 2017 issue.
Matthew Hughes brings masterful storytelling to two great tales as a twentieth-century statesman weighs the value of fate in 'The Devil You Don't' and a hapless investigator sees more than he imagines — and less than he should — in 'Fishface and the Leg'.
A hitchhiker and a band of aliens cut loose on a road trip from hell in FJ Bergmann's 'How to Lose a Week', while an organ courier faces down a heart with designs of its own in Rebecca Wurtz's prizewinning tale, 'Xuefei and His Heart'.
'Piano Music' by Susan Pieters uncovers a busy family's true heart; another family balances disappointment with beauty on a shoestring in Jenna Park's coming-of-age tale 'Painted Nails'; and it's hard for kids to keep merry when there's a Santa-shaped monster behind the walls in Anna Belkine's 'Better Watch Out'.
Discover death, darkness, light, and love in poetry by Susie Taylor, Daniel Aristi, Jude Neale, and Elizabeth Armerding.
Anat Rabkin's beautifully drawn 'It Rained Then Too' tells the story of a relationship broken by agony and transformed by revelation.
A young woman faces dark magic and a cursed choice in Carolyn Oliver's 'The Green Thread and the Blue', while a mermaid smuggler struggles with his career choices in Eric Del Carlo's 'Mermail'.
In The Case of the Cavalier's Rapier, Book 3 of Mel Anastasiou's Seven Swans Mysteries in Time, Spencer Stevens gets a second chance at happiness during the English Civil War
And finally, swordswoman Allaigna returns to our pages with gripping adventures rich in enchantment, political intrigue, and the secrets of a royal family in part one of the new serialized novel by JM Landels, Allaigna's Song: Aria.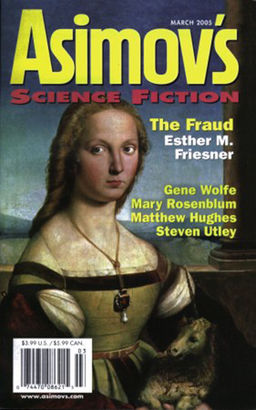 Both Hughes stories are reprints. "The Devil You Don't" originally appeared in the March 2005 issue of Asimov's Science Fiction (at right), and "Fishface and the Leg," one of the author's earliest tales, originally appeared in a "supplement to a weekly farmers' newspaper out of Saskatchewan called The Western Producer" 'way back in 1982. Matt describes it as a detective story. Either way, it's unlikely you've seen this one before, so it's new to you.
The cover, "The Shadow," is by Zoran Pekovic.
Pulp Literature is edited by Jennifer Landels, and published four times a year by Pulp Literature Press. The cover price is $14.99 Canadian for a thick 220 pages. Subscriptions are $50 Can/year ($66 in the US). Check out the complete TOC and order issues at the website.
We last covered Pulp Literature with issue #10.
Our Late May Fantasy Magazine Rack is here, and all of our recent magazine coverage here.