Premiere issue of New Pulp Magazine Broadswords and Blasters, Now Available in Print and Kindle
Premiere issue of New Pulp Magazine Broadswords and Blasters, Now Available in Print and Kindle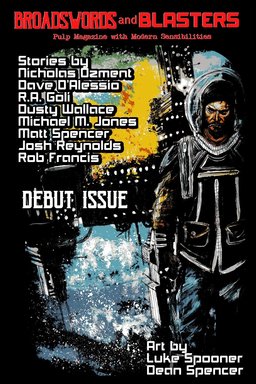 Editors Matthew X. Gomez and Cameron Mount have launched a new sci-fi/fantasy magazine into the fray, touting it as a "pulp magazine with modern sensibilities." The debut issue is available on Kindle for $2.99 or in a print edition for $6.99. They have also been posting regular mini-essays called "Pulp Appeal" on their website, spotlighting seminal pulp authors and characters like Conan, John Carter, Elric, and Fafhrd and the Gray Mouser.
Here is the back copy from the first issue:
The editors of Broadswords and Blasters are proud to present the first issue in a new line of pulp fiction serial publications. The stories in this issue blew us away when we read them, and the overall response confirms what we've always suspected: Action-oriented short fiction is still a hot commodity in the 21st Century.

In this, our debut issue, you will encounter subterranean horrors, time traveling lovers, two-fisted private investigators, space Mafiosi, and torturers turned political rabble-rousers, and that's just a sampling of the great cast of characters you'll meet along the way. Join us in celebrating the art that is pulp fiction. And tell your friends.
Here is the complete Table of Contents.
From the Editors
"Skin Deep" by Nicholas Ozment
"Dead Men Tell Tales" by Dave D'Alessio
"The Executioner's Daughter" by R.A. Goli
"Pension Plan" by Dusty Wallace
"Saturday Night Science" by Michael M. Jones
"Island of Skulls" by Matt Spencer
"The Waters So Dark" by Josh Reynolds
"Thicker than Water" by Rob Francis
The cover art by Luke Spooner/Carrion House, with interior Art by Dean Spencer.
For other magazine news, see our April Fantasy Magazine Rack here, and all of our recent Magazine coverage here.