Modular: Chaosium Announces New Version of RuneQuest
Modular: Chaosium Announces New Version of RuneQuest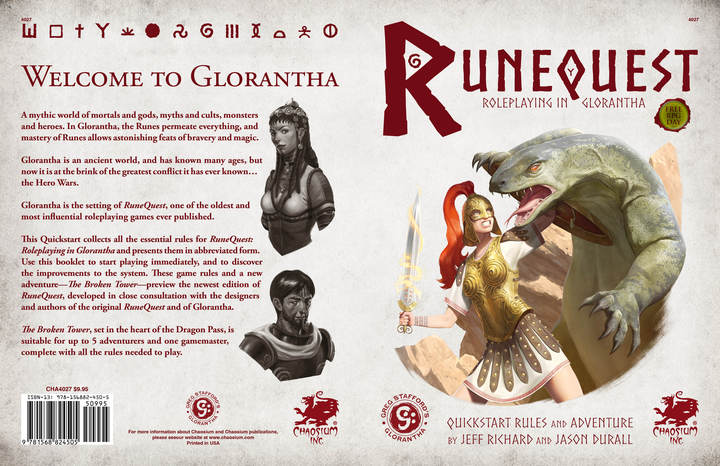 Chaosium announced last week that a new version of its classic RPG will be released by Christmas 2017.
The new edition of the iconic roleplaying game RuneQuest will be formally known as RuneQuest: Roleplaying in Glorantha, or 'RQG' for short, Chaosium announced today… RQG is built off the chassis of the acclaimed RuneQuest 2nd Edition (1980). This enables RQG to be compatible with RuneQuest Classic, the updated reprints of the RQ2 line which Chaosium recently kickstarted to great success.

"Fans had been referring to the new rules variously as 'RQ4' and 'RQ7'", said Chaosium creative director Jeff Richard, "But our new game is simply not a layer atop the Avalon Hill edition (RQ3) or the Mongoose variants that came after that. Nor is it built from the version Design Mechanism produced under license (RQ6). So, rather than try to give the new edition a number, calling it 'RQG' neatly avoids any confusion…"

The products scheduled for 2017 release are the RuneQuest: Roleplaying in Glorantha core rules, a Gloranthan Bestiary, and a scenarios book featuring adventures by game design legends Steve Perrin (RQ1 & 2), Ken Rolston (RQ3's 'rune czar', Morrowwind, Elder Scrolls), Chris Klug (DragonQuest II, James Bond 007 RPG) and the 'grand shaman of gaming' himself Greg Stafford… The first new RQG product is the RuneQuest Quickstart, which will be available in June for Free RPG Day and at the Chaosium website from July 1, 2017.
The products will not be kickstarted. The Art for the RuneQuest Quickstart is by Andrey Fetisov; old-school gamers will recognize it as an homage to Luise Perrine's much-loved cover for the classic 2nd edition.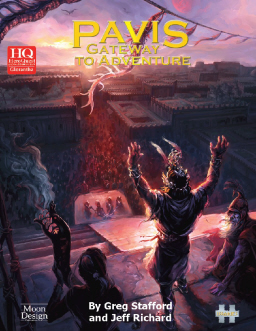 Three years ago, we covered the excellent Design Mechanism RuneQuest supplements produced in support of the 6th Edition rules by Pete Nash and Lawrence Whitaker; more recently we've examined a handful of other supplements as well, including the stellar Pavis: Gateway to Adventure by Moon Design, and the original Borderlands boxed set.
Our previous RuneQuest and Glorantha coverage includes:
Chaosium's Borderlands: Can Playing RPGs Really Make You a Billionaire?
Pavis – Gateway to Adventure: The Classic RPG City is Back! (Part One) by Sarah Newton
Pavis – Gateway to Adventure: The Classic RPG City is Back! (Part Two) by Sarah Newton
The Guide to Glorantha Kickstarter by Sarah Newton
Monster Island by Pete Nash & Friends
The Other Appendix N by James Maliszewski
Monster Island by Howard Andrew Jones
Appendix N: Carrying on the Flame by Pete Nash
Choice of the Petal Throne by James Maliszewski
RuneQuest 6 by Pete Nash and Lawrence Whitaker
RuneQuest: Korantia and Mythic Britain by Howard Andrew Jones
See all of our recent Game coverage here.