Julius Schwartz on A. Merritt, Amazing Stories, and the First Worldcon
Julius Schwartz on A. Merritt, Amazing Stories, and the First Worldcon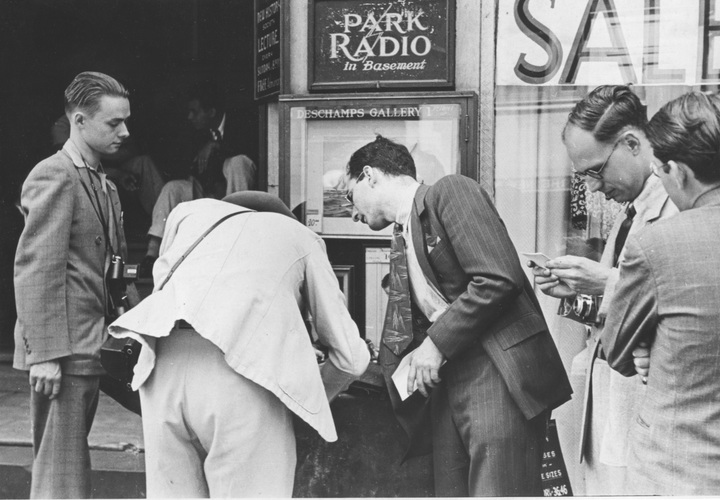 The first Worldcon, July 1939. Left to right: Jack Darrow, Jack Williamson,
Julius Schwartz, unknown, and Conrad Rupert. Photo by Bill Dellenback
While letters from and to Otto Binder made up the majority of the correspondence I acquired from the estate of Clifford Kornoelje (aka in science fiction circles as Jack Darrow), Binder wasn't the only science fiction notable that Darrow corresponded with. One of his other correspondents was Julius Schwartz, remembered today for his roles in both the science fiction and comics fields. I thought I'd post two of those letters from Schwartz — along with some related material — today.
The first letter from Schwartz to Darrow is dated December 12, 1932. The Mort that he refers to in several places is their mutual friend, Mort Weisinger. It has a mention of Astounding, a mention of a dinner that Schwartz (and presumably Weisinger as well) will be having with pulp author David H. Keller. And most particularly, it has an interesting bit resulting from an interview that Schwartz had conducted with A. Merritt two weeks earlier. I don't know if Merritt actually sued Amazing, as Schwartz claims, or whether he just threatened them, but Amazing did run an apology in their June 1933 issue.
[Click the images for bigger versions.]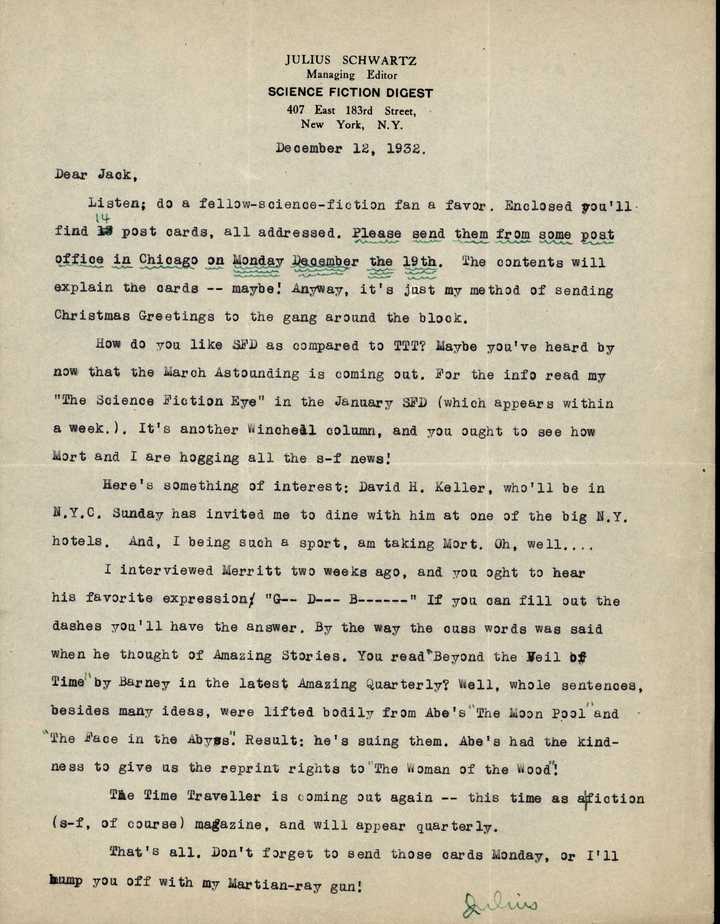 The SFD and TTT that Schwartz refers to are the early fanzines Science Fiction Digest and its predecessor, The Time Traveller, that both Schwartz and Weisinger were involved in. Others involved in those pioneering publications were Forrest Ackerman and printer Conrad Ruppert. Among the other material I acquired from the Darrow estate was a complete run of TTT in very fine condition. However, on one of his visits to our house, I made the mistake of showing the set to my friend, the late Jerry Weist.
Jerry was an enthusiastic collector of early fanzines, and once he saw it, he wanted that set! He finally made me a trade offer of some art for them that I couldn't refuse. I was fortunate enough several years later, however, to acquire a second set of TTT from a member of First Fandom. While they aren't as nice as Darrow's set, they are likely unique. The previous owner had, over a period of time, met up with each of Schwartz, Ackerman and Ruppert and had them sign each issue. Here's the cover to the fourth issue of TTT, signed by them — in the Big News About Authors section, it ties back in to Merritt.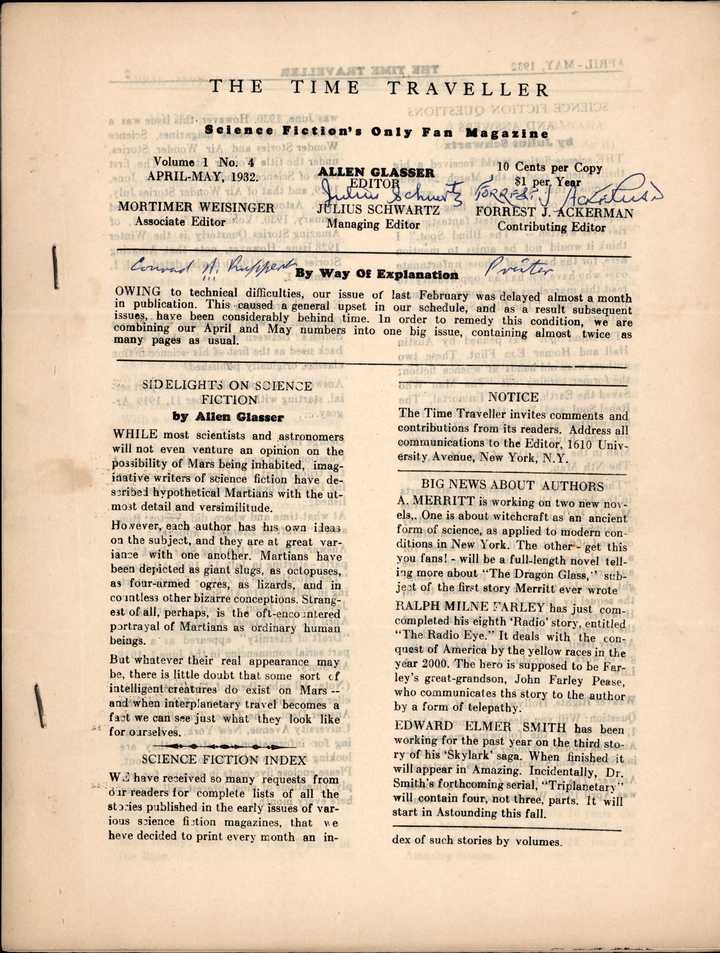 The second Schwartz letter is dated June 12, 1939, and is on his SF literary agency letterhead. It's written about three weeks before what would be the first Worldcon was held in NYC. Here he thanks Darrow for his dollar contribution to the Science-Fiction Convention, and mentions that they estimate it'll cost $250 to hold it. Times have changed! But in particular, he exhorts Darrow to make sure he makes it to the convention for its first day, July 2, 1939 (Darrow, travelling from Chicago, was thinking of arriving on July 3).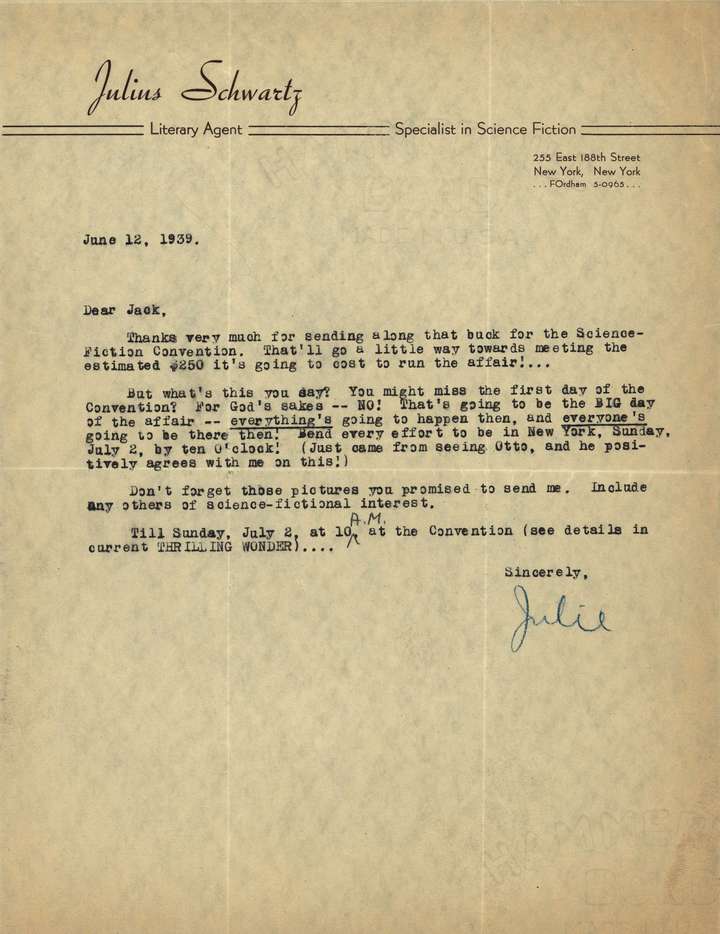 [As an aside, also included in the Darrow material I acquired were two copies of the program book for that Worldcon — one of which he'd had signed by several of the attendees — but what's interesting is that while the bulk of each is the same, not all the pages are identical in each one, so there were apparently at least two different versions of the program book. But that will be for another post.]
In any event, Darrow did arrive in time to attend on July 2. With him was his friend, Bill Dellenback (later a photographer with the Kinsey Institute), and Darrow and Dellenback took several photos of the convention, as well as shooting some film footage. While the film footage has never turned up, among the Darrow estate material were several photos from the con. The one at the top of this article, taken by Dellenback, shows (left to right) Darrow, Jack Williamson signing something, Schwartz, an unknown person (can anyone ID him?), and Ruppert. I also found awhile back on the internet another photo, which must have been taken within moments of this one (photographer not IDed, but perhaps Dellenback as well), showing the same group (with Darrow and Schwartz now next to each other), so I'll run that below as well.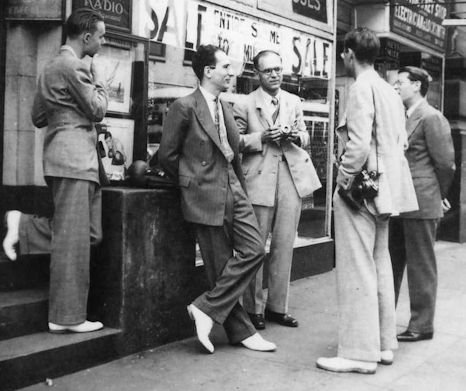 See the previous posts in this series:
Hubert Rogers' Astounding Covers — And His Fascinating Correspondence with Robert A. Heinlein and L. Sprague de Camp
Can You Help Date This John W. Campbell Pic?
The Great Pulp Gathering: That Time Jack Williamson, L. Sprague de Camp, Frank Belknap Long, Edmond Hamilton, John W. Campbell, Manly Wade Wellman, Otis Adelbert Kline and others met at Mort Weisinger's House in 1937
Jack Binder and the Early Chicago SF Fan Club
Otto Binder on John W. Campbell
Otto Binder on H.P. Lovecraft and Robert E. Howard
---
Doug is a collector of pulps, as well as of pulp, science fiction and fantasy art. He co-founded and co-organizes the Windy City Pulp and Paper Convention. For many years his Tattered Pages Press published the pulp fanzine Pulp Vault, as well as other books on the pulps. He was one of the authors of The Adventure House Guide to Pulps, and has edited several pulp anthologies, including the Best of Adventure series. His book, Uncovered: The Hidden Art Of The Girlie Pulps, an in-depth study of the spicy pulps and their art, was named ForeWord Magazine's 2003 Popular Culture Book of the Year. In 2013, Bob Weinberg, Bob Garcia and he collaborated on The Collectors' Book of Virgil Finlay, a collection of Finlay's gorgeous art.