An Adventuring Band of Cats in Old Delhi: Nilanjana Roy's Wildings Novels
An Adventuring Band of Cats in Old Delhi: Nilanjana Roy's Wildings Novels
Nilanjana Roy's Wildings novels have become international bestsellers. Not bad for a pair of books about a tribe of feral cats in an old neighborhood in Delhi, India, who communicate by whisker mind-link and battle a series of sinister threats. The Sunday Guardian called The Hundred Names of Darkness "An astounding achievement — that rare book which marries high art with what is already becoming a feverish, cult-like following… Roy has crafted a world that is as believable and every bit as lovingly rendered as Gaiman's Sandman." There are only two books in the series:
The Wildings (323 pages, $18.95 in trade paperback/$9.99 in digital formats, January 12, 2016)
The Hundred Names of Darkness (401 pages, $18.95 in trade paperback/$14.99 in digital formats, July 12, 2016)
Both are published by Random House Canada, with covers designed by Kelly Hill.
Here's the description for The Wildings:
In the labyrinthine alleys and ruins of Nizamuddin, an old neighborhood in Delhi, India, lives a small band of cats. Miao, the clan elder, a wise, grave Siamese; Katar, loved by his followers and feared by his enemies; Hulo, the great warrior tom; Beraal, the beautiful queen, swift and deadly when challenged; Southpaw, the kitten whose curiosity can always be counted on to get him into trouble… Unfettered and wild, these and the other members of the tribe fear no one, go where they will, and do as they please. Until one day, a terrified orange-colored kitten with monsoon green eyes and remarkable powers lands in their midst — the first in a series of extraordinary events that threatens to annihilate them and everything they hold dear.

The Wildings is a gorgeous evocation of Delhi, a love paean to cats and a rich, often savage tale of survival and conquering one's fears.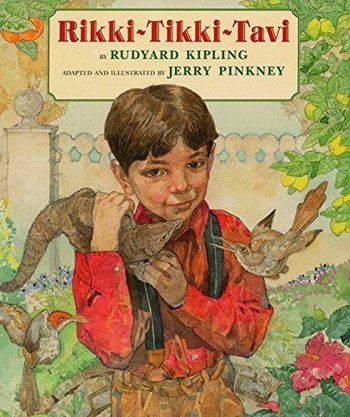 And here's The Hundred Names of Darkness:
In the sequel and conclusion to her critically acclaimed, internationally bestselling novel, The Wildings, Nilanjana Roy takes us back to the Delhi neighborhood of Nizamuddin, and its unforgettable cats — Mara, Southpaw, Katar, Hulo and Beraal. As they recover slowly from their terrible battle with the feral cats, they find their beloved locality changing around them. Winter brings an army of predators — humans, vicious dogs, snakes, bandicoots — along with the cold and a scarcity of food… Unless Mara can help them find a safe haven, their small band will be wiped out forever. With the assistance of a motley group of friends including Doginder, a friendly stray; Hatch, a cheel who is afraid of the sky; Thomas Mor, an affable peacock; Jethro Tail, the mouse who roared; and the legendary Senders of Delhi, Mara and her band set out on an epic journey to find a place where they can live free from danger.
These books are being compared to Rudyard Kipling's "Rikki Tikki Tavi" and Richard Adams' Watership Down, and that's the kind of thing that grabs my attention. The Canadian magazine Maclean's says:
Roy has created an immersive world of scents and sounds — we feel the corrugated steel roofs under paws, learn the best places to stay dry in a monsoon. The sleek queens, brawling toms and tail-chasing kittens live by a feline moral code, and you can feel their claws unsheath at the thought of the human world plotting their destruction… It's an absorbing debut… It's enjoyable to be reminded of how much life teems in our cities, and of just how many stories have nothing to do with us.
I'm not sure if either volume has been published in the US, although they're both available through online sellers like B&N and Amazon. I bought my copies for around $5 each at bargain book outlet BookOutlet.com, which still has copies of both in stock.
See all our recent coverage of Series Fantasy here.